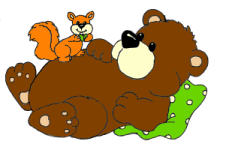 Source
In Great Britain in the forest of Bisham Woods Berkshire, lived a great Bear named Willou, this great Bear liked to winter all winter, even in the spring he loved to sleep, one day the great Willou was lying sleeping under a tree of nuts, where he loved to spend the day after making a meal, when he was suddenly awakened by a tingling that he felt in his belly and when he woke up he realized it was a Squirrel, well yes, it was Jazmin, a mischievous squirrel that played and he walked throughout the Forest looking for food and that he rode on the belly of the bear because he mistook it for a stone since he wanted to reach some delicious nuts that were in the tree in which the bear was lying.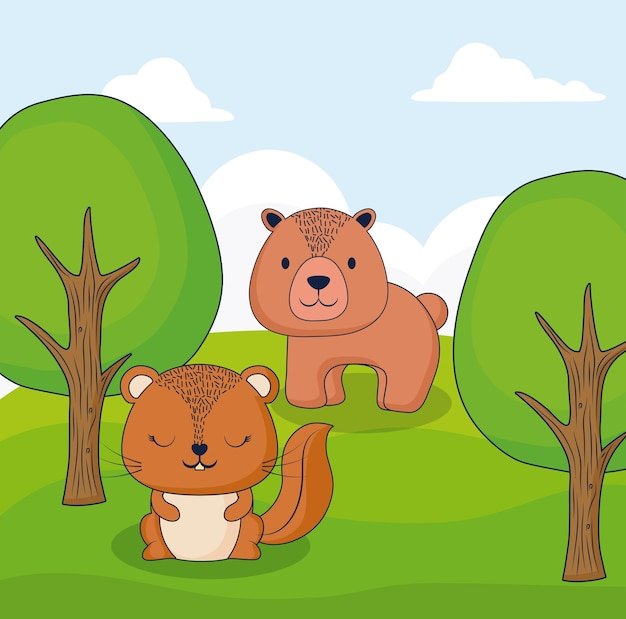 Source
The great bear Willou when he realized that he had a squirrel on him immediately tried to catch her and threw his sharp claws at Jasmine, but she slipped away and jumped quickly, Willou chased her throughout the forest and she ran and ran and the bear She was chasing her, until at one point the big bear caught her in the same place where everything had started, at that moment Willou said to Jazmin "who the hell do you think you're coming to wake me up while taking a drink?" and Jazmin all scared replies "I'm Jazmin, sorry big bear for waking him up, I just mistook his big belly for a piedar", to which Willou replies "How dare you? Besides waking me up, you also try to insult me?" no, no! Mr. Bear is just that I wanted to reach some delicious nuts from the tree, but please I ask you to let me go, I promise that I will help you another time "," help me! " said the bear, "what a laugh that makes me" and the big bear began to laugh and laugh out loud, "how can you help me" and the bear kept laughing and laughing, so much so that he decided to let Jazmin go, " You have made me laugh so much that I will let you go since you made my day ", immediately Jazmin ran off and got lost in the forest.
Source
That same afternoon in the osque the hunters Felix and Rodrigo were, setting some traps to catch bears, they placed them and it was time for lunch and they went home to eat and then return, the great Willou Bear walked through the forest and without realizing it he was caught by one of the traps, he immediately tried to let go but the more he tried, the more he got tangled up in her, they were very strong ropes and he couldn't let go, so Willou started to despair and get scared asking for help, " Help, help, please help me, someone to help me ", Jazmin who was still looking for nuts heard in the distance the cries of the Bear, at first she got scared and thought about not helping him because she thought that the great Bear would catch her again, but then he thought that she had promised to help him at any time, so he decided to go help the big bear.
Source
Upon arriving at the site, Jazmin saw the great Bear Willou tangled between several ropes and was desperate to get out before the hunters arrive, she said "wait, big bear, I'll help you" to which Willou replied "How will you help me? You are very Little I don't think you can do anything "," if I'll help you, you'll see "the squirrel replied.
At that moment, Jazmin decided with her sharp teeth to start biting the rope until she managed to break it and free Willou, quickly the two of them ran from the place, Willou mounted Jazmin on his back and they went very far from the place directly to the nut tree Where Willou took his hunks, Willou hoped he could thank Jazmin for what she had done.
Source
Willou leaned back on the tree and on her belly I mounted Jazmin and said to her "take all the nuts that you like from now on I will serve as support for whatever you need, what do you think if we go through the forest together and I help you to grab nuts and you help me free myself from the traps ", Jazmin loved the idea and from that moment they decided to be unconditional friends and support each other in the moments when it is most needed.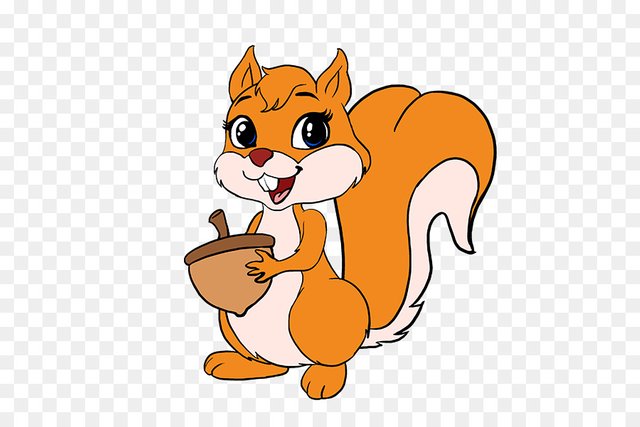 Source
Comprehension Questions:
1.- In which country in the world does the story take place?
two,. What was the name of the Forest where the bear and the squirrel lived.
3.- What was the name of the main characters in the story.
4.- Under which tree did Willou like to take his forest?
5.- With what did Jazmin confuse Willou's belly?
6.- What promise did Jazmin make to Willou if he set her free?
7.- What were the hunters called?
8.- What was the trap in which the big bear fell?
9.- What did Jazmin break the trap with?
10.- What does friendship mean to you?
Reading objectives:
At the end of the story, the children must know how to identify the characters, establish what are the values ​​involved in the plot and answer all the questions from the understanding.
Established for children between 4 and 5th Grade of Primary.
Activity duration time: Between 25 and 30 minutes