Greetings wonderful needle artists and supporters!
Welcome to @needleworkmonday's Featured Posts #82 on HIVE!
Although this is our 1st post on HIVE, rest assured that the community on HIVE is not a new start, but a continuation for us all in sharing our love and passion for needle art!

This is a weekly curation showcasing the needlework of our very own HIVEians. Every Monday we get together to share our love and passion for the needle arts using the #needleworkmonday tag. On all other days we use the #needlework tag. We enjoy each other's creations, ideas, patterns, tips and shortcuts.

We strive to bring to you great quality work filled with tutorials and inspiration. Please help us keep these wonderful needle arts alive and thriving by supporting our creative work and community!

Before we get to our featured posts, we must announce the 1,000HP Delegation for 30 Days Winner for the first week of April.

As mentioned in our last post, the NeedleWorkMonday's Four Week Community Posting Drive Challenge continues on HIVE from the first week of April until the first week of May!
Those who posted directly from the NeedleWorkMonday Community this week and eligible to enter the drawing for a 1000HP Delegation for 30 Days from @shanibeer are as follows:
@neumannsalva, @mers, @jurich60 and @inici-arte...
Congratulations @mers!!! 🎉

If you would like your chance to win please follow the posting guidelines (found in our FAQs below) and post directly from the NeedleWorkMonday Community!
Now, on to our featured projects this week...
A touch of crochet on a nightdress uplifts it to the next level and @mers shows us how this can be done with beautifully crocheted granny squares. The elegance of the crochet pieces, joined together on to a dainty flowers fabric makes this a perfect gift.
As @carolinacardoza pointed out a phrase she has heard many times:
"baby stuff is the most beautiful thing there is"
How true it is with these cute baby shoes. One can not keep their eyes off them once they have these shoes in their keepsake and @carolinacardoza shares with us how this can be created.
@jurich60 struts her stuff in her post this week with this striking crown, crocheted out of an ah-ha moment she had as part of an entry for a contest. She came up with the pattern herself and included a video tutorial on how we can easily whip this out too.
Thank you for stopping by to view our featured posts for this week. Please stop by their posts and show them some love with a read and an upvote for sharing their handmade creations. To see more needle arts, please check out the #NeedleWorkMonday tag and check back here with @NeedleWorkMonday every Wednesday / Thursday for the weekly Resteems and Curation posts!!
If you are a needlework artist we'd love to have you join us every Monday to share your work and inspire this community to give a craft a try.
On Monday's, please use the #NeedleWorkMonday tag and on other days, please use the #needlework tag (without the word Monday attached) so we can find each other's work.
Read all about it here.
For more information on #NeedleWorkMonday and the community please visit our FAQs!
Please take note of our updated posting guidelines.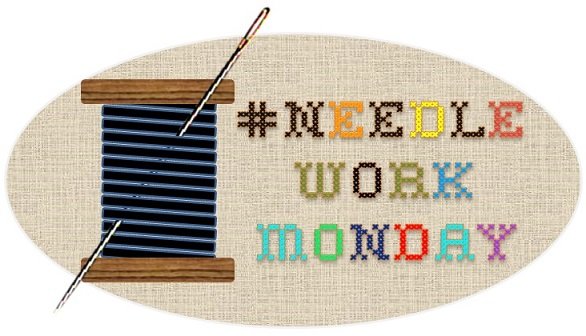 #NeedleWorkMonday founder: @crosheille 🧶
Hostesses (admin): @muscara, @shanibeer and @marblely 🧵
🌷 Today's curation is written by @marblely 💻🖱✍🏻
Our Motto: Support & Inspire!

Calling all #NeedleWorkMonday artists who have posted on #NeedleWorkMonday in 2019 and 2020 to join us on HIVE:
@afkoelen, @aitommylr, @akipponn, @apanamamama, @barbara-orenya, @beautifulbullies, @birdsinparadise, @blanca56, @borrowedearth, @brittandjosie, @buckaroo, @carolinacardoza, @cassidydawn, @cindyhartz, @creativemoon, @cryptocariad, @danmaruschak, @devyleona, @dizzyapple, @dkkarolien, @Eglep, @elenka, @erikah, @fabianaporteles, @felt.buzz, @fiberfrau, @fotostef, @foxyspirit, @garnet1, @geetharao, @gillianpearce, @girlbeforemirror, @grizzabella, @hanedane, @harmonyval, @inici-arte, @innahandmade, @irenenavarroart, @izaid, @jamethiel, @jluvs2fly, @johano, @jurich60, @kaerpediem, @kaylinart, @kimmac, @kimstar, @lordvdr, @marblely, @maribelf, @marleyn, @mers, @metzli, @minismallholding, @moshaflower, @mrscwin, @muscara, @nathen007, @neumannsalva, @oceanmoon, @pandicornio, @partrician1, @pempumaking, @pettymaus, @phoenixwren, @purlisland, @purplealyss, @pyemoney, @raynen, @rebeccabe, @redheadpei, @riyuuhi, @romeskie, @rubberduckiemom, @sarimanok, @sayee, @shakkei, @shanibeer, @sheilamenher, @sherylneil, @starjewel, @tahiaarq, @tali72, @tati25, @tattoodjay, @tesmoforia, @thistle-rock, @vangie, @vliet, @walkerland, @watchfulmomma, @wolfhart, @wondermaey, @xeliram, @yiobri, @zellypearl