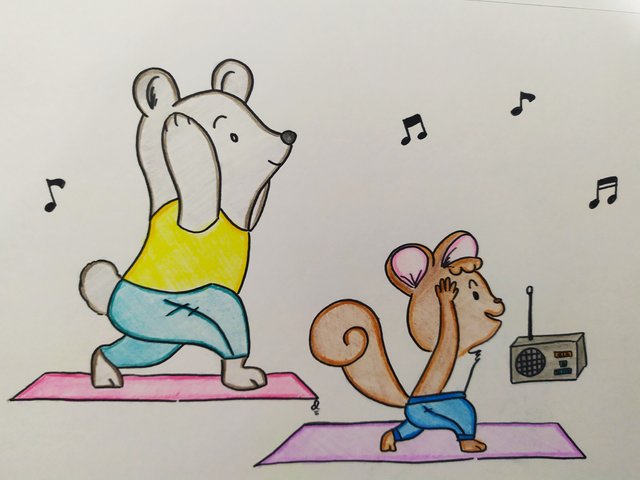 Hello, friends!
Today i finished drawing these cute animals, a bear and a fox were doing morning aerobic. So easy and cute to draw.
Material & things needed:
a drawing paper
a 2B mechanic pencil
an eraser
a 0.2 drawing pen
a black marker
36 delirun colour pencils
Staedtler luna watercolour pencils
How to draw & colour it:
First, i started from two fox ears, then its' head. Then hands, its' trousers and feet. Complete with the mat below and also its' big tail.

Now draw the bear started from one hand, face with the ears, cloth, trousers and feet. Also complete with the mat below. Then, draw some music notes and a radio.

After finished, bold it all with the marker and also with the drawing pen. Small detail parts bold with the drawing pen.

Then, erase the pencil sketch and colour it with the colour pencils. Used bolder colour to colour near the borderlines. I used some greys for the bear while for the fox i used the brown colours.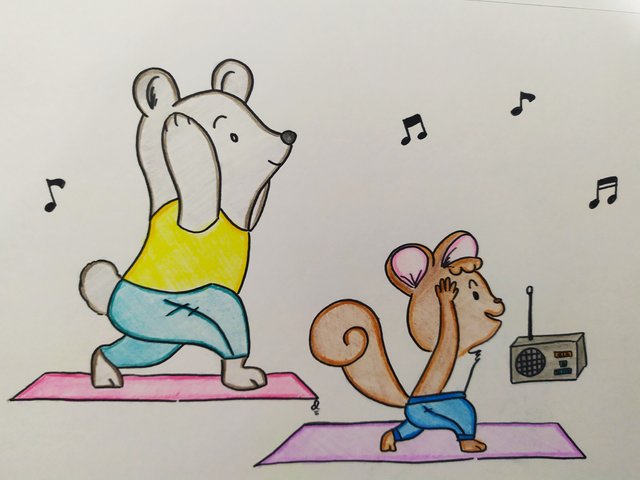 Hope you like it.
Happy drawing and colouring!