🖐🏻¡Hola mi gente bella! / Hello, my beautiful people! 🖐🏻

🥖🥖🥖🥖🥖🥖🥖🥖🥖🥖🥖🥖
Después de una semana preparando pan todos los días, al fin hemos logrado este resultado: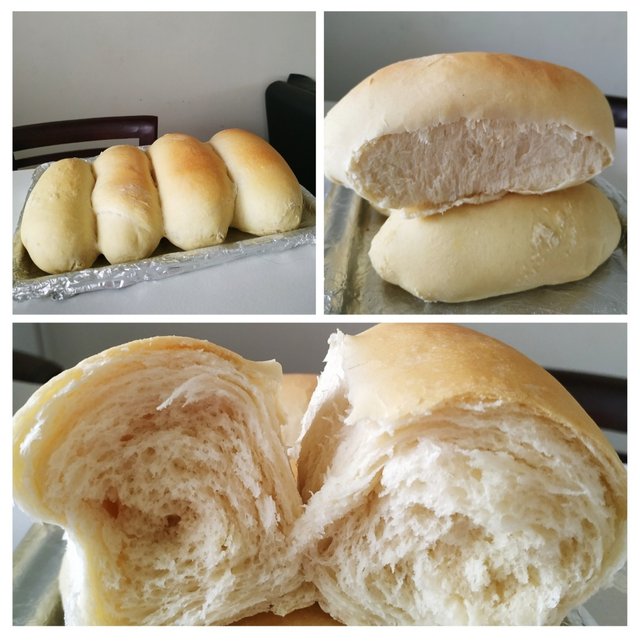 La fiebre de hacer pan está haciendo de las suyas, cada día cambio un poco las proporciones o los ingredientes sólo para ir conociendo el efecto en el resultado final. En primer lugar cambié los 200 gramos de mantequilla por 7 cucharadas de aceite, porque me parece que así consumimos menos grasa en el pan. La primera receta la hice con 2 tasas de agua , 1 1/2 de harina y 3 huevos. Ahora lo preparo con 1 y 1/2 de agua, 1 kilo de harina y dos huevos.
Breadmaking fever is having its day, every day I change a little the proportions or the ingredients just to get to know the effect on the final result. First of all I changed the 200 grams of butter for 7 spoonfuls of oil, because it seems to me that this way we consume less fat in the bread. The first recipe was made with 2 cups of water, 1 1/2 of flour and 3 eggs. Now I prepare it with 1 and 1/2 of water, 1 kilo of flour and 2 eggs.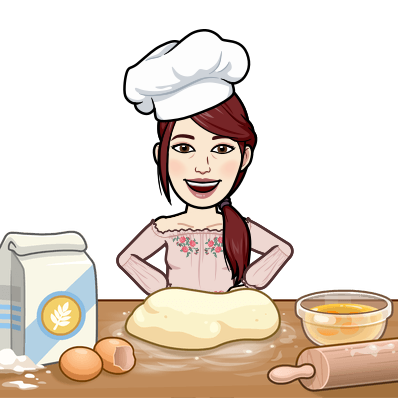 Todos los panes, con cada uno de los cambios han quedado muy ricos, sin embargo, hoy quedamos fascinados con la contextura del pan: quedó súper suave y esponjoso. Pero eso lo logramos no con los cambios de proporción en los materiales, sino dejando reposar por una hora la masa, una vez modelado el pan y colocado en la bandeja, antes de meter a hornear.
All the breads, with each of the changes have been very rich, however, today we are fascinated with the texture of the bread: it was super soft and spongy. But we achieve this not by changing the proportion of the materials, but by letting the dough rest for an hour, once the bread has been shaped and placed on the tray, before putting it in the oven.
Debo mencionar que mi esposo y yo hacemos el equipo perfecto porque a mí me encanta la parte de la preparación de la masa y él es excelente estirando la masa y armando los panes.
I should mention that my husband and I make the perfect team because I love the dough preparation part and he is excellent at stretching the dough and making the breads.
🥖🥖🥖🥖🥖🥖🥖🥖🥖🥖🥖🥖
Después de todas las modificaciones estas son mis proporciones finales para preparar pan:
After all the modifications these are my final proportions for making bread:
---
1 1/2 kilo de harina de trigo 2 cucharadas de levadura 7 cucharadas de aceite 1 1/2 tazas de agua 2 huevos 1 cucharada de sal 1/2 taza de azúcar
1 1/2 kilograms of wheat flour 2 tablespoons of yeast 7 tablespoons of vegetable oil 1 1/2 cups of water 2 eggs 1 tablespoon of salt 1/2 cup of sugar
---
🥖🥖🥖🥖🥖🥖🥖🥖🥖🥖🥖🥖
Preparación / Preparation
✓ Añado en un tazón, una taza de agua tibia con la mitad del azúcar, agito para que se disuelva y luego le incorporo las 2 cucharadas de levadura en polvo. Mezclo brevemente y lo dejo reposar por 10 minutos dentro del microondas.
✓ In a bowl, add one cup of warm water with half the sugar, shake to dissolve and then add the 2 tablespoons of baking powder. Mix briefly and let it stand for 10 minutes in the microwave.
✓ Ahora le incorporo la otra media taza de agua, los 2 huevos, el resto del azúcar, la sal y el aceite. Mezclo un poco, buscando disolver la sal y el azúcar en el agua.
✓ Now I add the other half cup of water, the 2 eggs, the rest of the sugar, the salt and the oil. I mix a little bit looking to dissolve the salt and sugar in the water.
✓ Seguidamente añado el kilo de harina, de una vez al recipiente y empiezo a amasar, hasta que la masa ya no se pegue de las manos. Si hiciera falta añadir un poquito más de harina.
✓ Then I add the kilo of flour, at once, to the container and start kneading, until the dough no longer sticks to my hands. If necessary, add a little more flour.
✓ Después se pone a reposar la masa, para dejar que la levadura haga su efecto. Yo la dejo por una hora. Igual es deseable que se coloque en un lugar cálido y oscuro.
✓ After the dough is put to rest, to let the yeast do its work. I leave it for an hour. It is still desirable that it be placed in a warm, dark place.
✓ Pasada la hora, se extiende la masa con un rodillo formando rectángulos del tamaño que quieras los panes.
✓ After the hour, the dough is spread with a roller forming rectangles, the size you want the breads.
✓ Ahora enrollas los rectángulos, los sellas en los bordes y los colocas en la bandeja previamente enmantequillada.
✓ Now you roll up the rectangles, seal them at the edges and place them in the previously buttered tray.
✓ Este punto es importante: después de moldeados los panes, deben dejarse reposar una hora más para que sigan creciendo por el efecto de la levadura.
✓This point is important: after moulding the breads, they must be left to rest for another hour so that they continue to grow due to the effect of the yeast.
✓Finalmente van al horno, previamente calentado a una temperatura de 180 grados centígrados, por 40 minutos.
✓Finally they go to the oven, previously heated to a temperature of 180 degrees centigrade, for 40 minutes.
---
🥖🥖🥖🥖🥖🥖🥖🥖🥖🥖🥖🥖
Con esas cantidades a nosotros, que somos cuatro personas, nos alcanza para desayuno y cena.
With those amounts we, who are four people, have enough for breakfast and dinner.
Lo mejor es que aún tengo ideas en mi mente para seguir preparando pan, es apasionante poder hacerlo como quieras y además es más económico que comprarlo listo en la panadería.
The best thing is that I still have ideas in my mind to keep making bread, it's exciting to be able to do it the way you want and it's also cheaper than buying it ready at the bakery.
---
🥖🥖🥖🥖🥖🥖🥖🥖🥖🥖🥖🥖
Abrazos para todos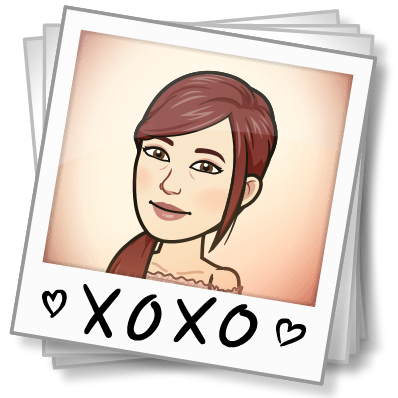 Hugs for everyone
---
🥖🥖🥖🥖🥖🥖🥖🥖🥖🥖🥖🥖

Fotografía propia, editada con la aplicación April, descargada desde Play Store para Android. Emoticones personalizados con la aplicación Bitmoji descargada también de Play Store. Traducción cortesía de la página web deepL.com
---
Own photo, edited with the April application, downloaded from Play Store for Android. Customized emoticons with the Bitmoji app, also downloaded from Play Store. Translation courtesy of the website deepL.com