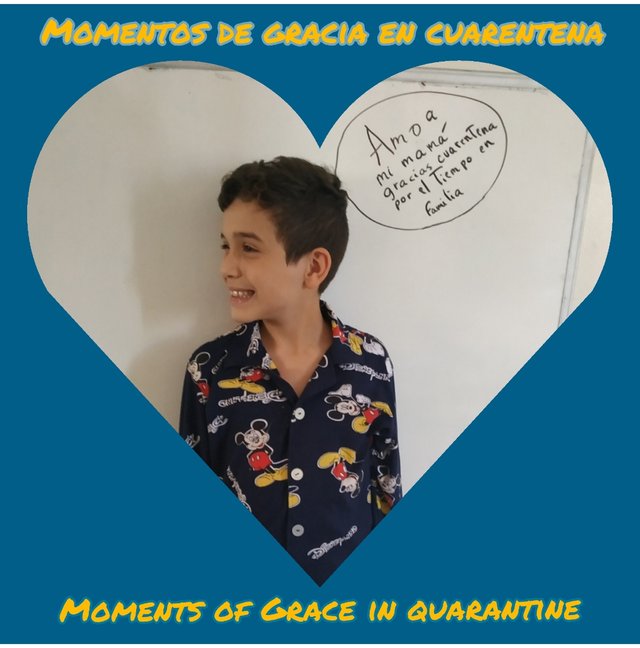 On the blackboard my son wrote: I love my mom. Thank you quarantine for this family time
---
---
Es el amor la gracia más grande que podemos dar y recibir. No hay manera más sublime de vivir que desde el amor. Si lo tenemos, somos una fortaleza y tenemos la certeza de que la vida es un milagro y que empieza desde nosotros.
Love is the greatest grace we can give and receive. There is no more sublime way to live than from love. If we have it, we are a strength and we have the certainty that life is a miracle and that it begins from us.
La 1 Carta a los Corintios 13 nos da una idea de la magnificencia del amor. Me fue difícil escojer sólo un versículo para compartir:
1 Corinthians 13 gives us an idea of the magnificence of love. It was difficult for me to choose just one verse to share:
1 Carta a los Corintios 13:2,13
[2]Aunque tuviera el don de profecía y descubriera todos los misterios, -el saber más elevado-, aunque tuviera tanta fe como para trasladar montes, si me falta el amor nada soy.
1 Letter to Corinthians 13:2,13
[2] Even if I had the gift of prophecy and discovered all the mysteries, - the highest knowledge, - even if I had so much faith as to move mountains, if I lack love I am nothing.
---
Mis hijos, en una de sus tantas creaciones, hicieron una nubecita en la pizarra para escribir un "pensamiento" y tomarse una foto, para dar la idea como de una de esas historietas escritas. Mi hija tomó esa fotografía a su hermano y luego, cuando la vi, quedé conmovida. Pude notar que tienen la capacidad de valorar el tiempo que pasamos juntos; que aún siendo niños y después de casi un mes encerrados en casa, han aprendido a ver oportunidades en las dificultades, a ser luz en la oscuridad.
My children, in one of their many creations, made a little cloud on the blackboard to write a "thought" and take a picture, to give the idea of one of those written comics. My daughter took that picture of her brother and then, when I saw it, I was moved. I could see that they have the ability to value the time we spend together; that even as children and after almost a month locked up in the house, they have learned to see opportunities in difficulties, to be light in the dark.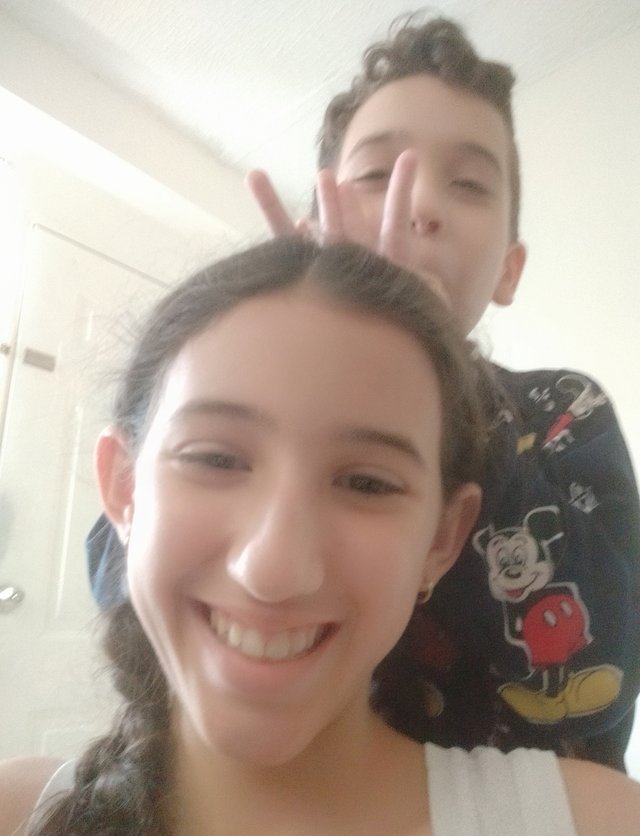 Mi corazón se siente desbordado de amor, bendecido y afortunado. Si todos los que amamos y somos amados viviéramos desde ese sentimiento y supiéramos que es lo más valioso que tenemos, el mundo sería muy distinto.
My heart feels overflowing with love, blessed and fortunate. If all of us who love and are loved lived from that feeling and knew that it is the most valuable thing we have, the world would be very different.
---
Estar en casa también nos permite consentirnos, así que bien temprano mi esposo nos preparó un rico desayuno.
Being at home also allows us to indulge ourselves, so very early my husband prepared us a nice breakfast.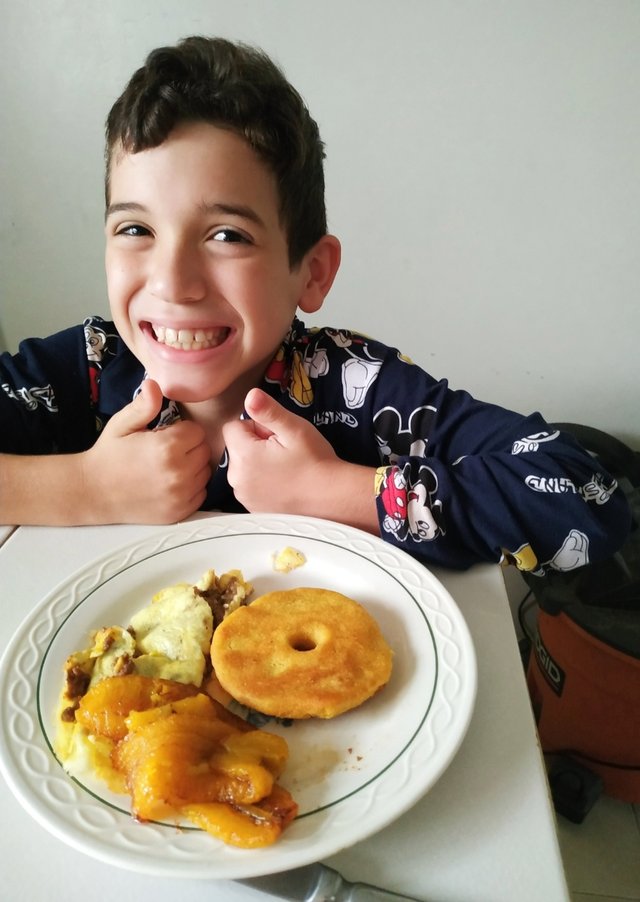 Luego le dije a mis niños que les prepararía un almuerzo sorpresa. Estuvieron la mañana a la expectativa y cuando estaba cocinando intentaban acercarse con picardía para averiguar de qué se trataba.
Then I told my kids I'd make them a surprise lunch. They waited for it this morning and when I was cooking they tried to sneak up on me to find out what it was.
Les preparé unos bollos rellenos de carne, hervidos en consomé de pollo. A ellos les encanta.
I made them some meat-filled buns, boiled in chicken broth. They love it.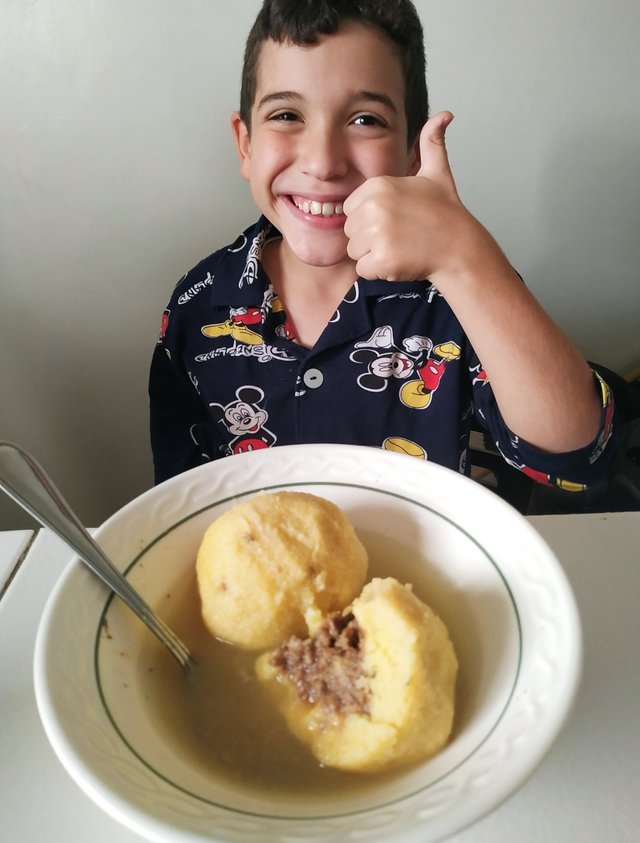 ¡Y para la cena los consentí con pizza!
And for dinner I spoiled them with pizza!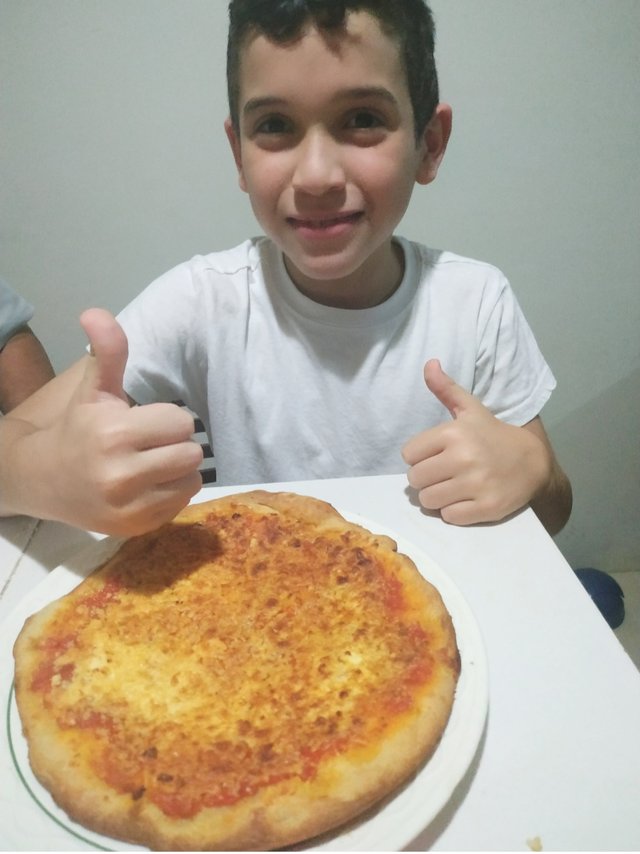 Esta es una de las pocas veces que me animo a tomarle fotografías a las comidas y mi modelo tuvo buena disposición para regalarme estas imágenes.
This is one of the few times that I dare to take pictures of meals and my model was willing to give me these images.
---
Gracias a ustedes por su lectura. Sé que también deben tener a alguien que les ama y da calidez a su alma. Después de eso, lo demás es ganancia.
Thank you for your reading. I know you must also have someone who loves you and gives warmth to your soul. After that, the rest is profit.
---
---
Imágenes propias, la primera editada con Inshot una aplicación para edición de imágenes y videos, descargada desde Play Store para Android. Traducción cortesía de la página web deepl.com.

Own images, the first one edited with Inshot an application for image and video editing, downloaded from Play Store for Android.
Translation courtesy of the deepl.com website.