"What are you talking about? It is Independence Day! Of course, we all celebrate."
John talked about how different the day was being with few celebrations and much mourning.
John ratified: "I would like things to be like in previous years, I was alone at home, seeing the reports of past years and the president in campaign with few followers, it is predicted that this will go on for a long time"
Helen replied:
"Now we must take care of ourselves, change our habits and food, already in fact in the city where I live the air is cleaner and reaches the aroma of the countryside"
Fleas lay eggs at an amazing rate
John said to her, who with a laugh laughed when she heard that occurrence from her friend.
John, insisting, asked "Helen, will we meet again?"
"No John, I'll still be traveling and I don't know when I return"
At that moment in the kitchen of John's house, an alarm was heard warning that his soup was ready.
Helen, listening to it, said:
"John, I see that you have to attend to family matters. I'll call you again tomorrow"
The doorbell rings at the entrance to John's house. He got up from his seat in the living room. To open the door:
a smear of chocolate on her face
She had that blond-haired child in her arms. When she greeted John, she said:
"Excuse me neighbor, I came to help me heat a soup for the child, in my house I ran out of gas"
John ushered them both in. She going to the kitchen at once finished putting out the food that John was making and put the child's soup on the stove.
John, in the living room began to play with the child, he when seeing how dedicated, he said:
"Sir, I have a secret for you, in case you don't know!
My mother is in love with you "
© 2020, Felix Garcia P. All rights reserved
Dear friends
This is my entry for the 3 part weekend freewrite challenge of @mariannewest. If you want to participate here you have the rules at the following link.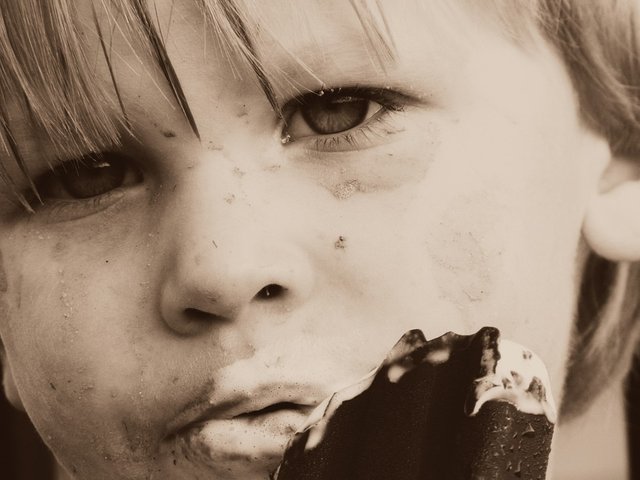 Image source pixabay.com
Thanks so much for reading.
Waiting for your upvotes, comments and rehive.
Also, don't forget to read the latest posts from our new page
FREEWRITE HOUSE!

[Image gif authorized by @freewritehouse]