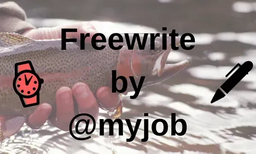 This is my post for #freewrite Friday prompt beans and rice hosted by @mariannewest
I decided to make the big trip to Round Island this morning. I got a late start, didn't leave the house till 7:30 and got to the railroad tracks which is about 3 blocks from home and there was the slowest moving train coming, 3 minutes sooner and I would have been by it. The snowbirds are here and they all were on the road, traffic was bad. I blame it on the snowbirds but truth is, it is all the people going to work who work for the snowbirds.
I finally made it to Round Island, got my boat in the water, was not far from the ramp and skipped a pompano. I anchored and caught 3, I sat there for about 15 min and had no more so I moved. I did not catch anything on the next 2 anchorings. I text my husband and asked if he is catching but he never answered. I anchored again and caught 3 more, again texted hubby and no answer, I am starting to get pissed because he is not answering me. I anchored again for nothing. I can see my husband and he is not moving all around so I figure he is catching and maybe he does not have the time to answer me. I caught 4 more then moved out to the tip of Sawhorse, which is in the middle of the river. I was not there very long and caught 2, then the front hit.
I was anchored stern into the wind, it was southwest but when the cold front came through it swung around and blew like 35 out of the north. I got my stern anchor up so water would quit coming over the stern, but when I did this and the boat swung around all my lines were all crisscrossed. I knew that was going to happen but I would rather untangle lines rather than getting my boat off the bottom. I got all the rods in and bow anchor up and headed for a cove that we call the Hell Holes, it would be calm in there and I could put my rods away. Before I got to the Hell Holes I saw my husband and he was headed there too.
After the day we had, I decided we were not having beans and rice for dinner. We had shrimp and pompano. My husband ended up with 28 pounds and I had 22.