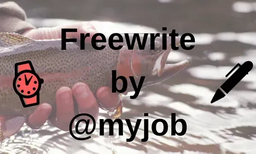 This is my post for #freewrite Sunday prompt lame hosted by @mariannewest
I spent the day bleaching my boat and coolers, well half the day was more like it. The other half I oiled my reels and made all new dropper lines. The damn horny toads and blowfish bite the line and when they do this they cut it halfway into and when you get a fish on the line will break. I also did laundry, by this time the day was over.
I am not sure what to do with this lame ass dog. Don't get me wrong, I care about the dog but she is crazy. When my husband gets home she sounds like she wants to eat him, he filmed her and showed it to me. As soon as I get home she is fine with him, crazy or what? I let her out at night and if I let her back in she comes in, but if my husband tries to get her to come in she just stands there barking at him. She has gotten better in the house but she still takes spells of barking at him. We have treats and I am not giving any to her, my thoughts are that maybe she will get used to him if only he gives her treats. My Granddaughter had a trainer come look at her but he said he wants to see how she acts around the other dogs but my daughter wants to wait till her arm heals from the last fight she tried to break up.
It looks like we are going to get to fish 3 days this week. Thursday we are to get another cold front and my husband told me with this one we better be off the river before the weather hits. It is going to be bad, bad and bad. Last Friday when we were caught out in it I thought it was as bad as I want to be on the river, I was taking waves over the side of my boat the wind was north and I had to go east so I was sideways to it. I hooked my bildge pump up and let it run until I got back in a cove.