'The Horrors of Kwiksave' is a candid recollection of my memories working at Kwiksave (the now-defunct discount supermarket chain) as a 'Stock Lad'.
I wasted over FOUR years of my life in this maggot-infested hellhole and still occasionally wake up drenched in sweat after enduring a nightmare in which I am working there still.
Some of the names have been slightly changed simply to save my arse in case anyone takes offence at some of the details regarding my facts or opinions.
Many of the people mentioned are now dead as this happened so long ago, but their siblings are not.
This is the 'HIVE Special Edition' of a multi-part autobiographical story (with a little over-embellishment on some of the details) I posted on STEEM over 2 years ago.
It contains a LOT more detail and content than the original and will fill in many gaps that were missed the first time around.
Other Articles in this Series:
Chapter One: A Prelude to the Best Job in the Land


Chapter Two: The Job Center
...'December 1980'...
'WARNING: BAD LANGUAGE BELOW'
It is now December 1980 and John Lennon is about to be shot dead in New York by a madman.
'Thatcherism' is taking its hold as the Conservative government attempts to fix the issues of a long age Labour government.
Britain is in the midst of high unemployment; it's a grim time to be looking for work. Just listen to the song 'One in Ten' by UB40 and feel the atmosphere.
@slobberchops is also now unemployed and browsing the job adverts in 'The Job Centre', Rawtenstall, East Lancashire, England.
I lolled at some of the positions I could see. 'Machine Operator' paying £50 a week? Could I ever dream of earning so much?
'Slipper Works Tea Lad'. Fuck that, it was only £30 a week, even less than my last job with free bullying included.
Some of my old school buddies had done the 'factory route' and their typical daily roles were made up of brewing cups of tea all day and cleaning the staff bogs.
The Asda salary was £31 a week and that was before tax. 'Maggie' stole an extra £3 of that bringing my bottom line down to a stunning £28, and then my parents wanted a cut of that too.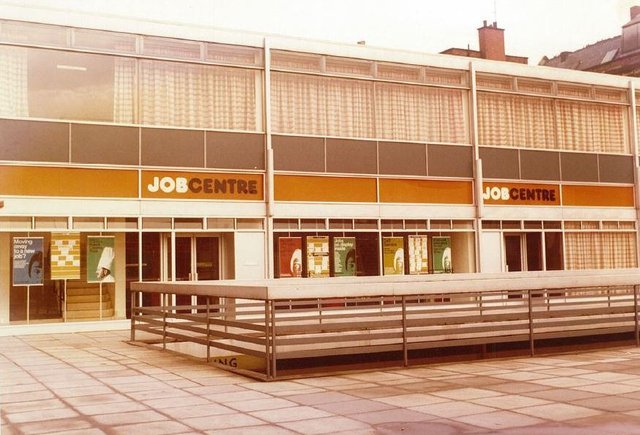 ...'it might look swish with that fancy designer sign, but don't be fooled. The Job Centre jobs in 1980 were typically, Bog Cleaner, Road Sweeper and Tea Boy'...
Working life was shit, and only marginally better than school.
I was a slightly built lad, or to put it another way a skinny bastard, and on occasion managed to get away with half-fare on the local buses even at 17 years of age, though they were starting to get wise to me.
The things one had to do to save a little cash. I had stopped short of wearing a school uniform but it had crossed my mind.
...'and then I saw it, in all its glory, grandeur and splendour'...
It was as if it had been waiting just for me to see it, a card that physically drew me in, making my nose painfully smack against the drawing-pin filled whiteboard full of other terrible jobs.
…'WANTED: Stock Lad – URGENT!'…
The job of my dreams; the job to surpass all others and it was something I could do with my masses of experience and £35 a week. Fucking hell, that was a 10% rise!
...'much like this doorway to heaven, the STOCK LAD card seemed to me like an escape from unemployment hell'...
I grabbed the card with so much force it nearly tore, and briskly marched to the front desk.
'Ahem', I said to the snoozing middle-aged woman behind the desk, drool dripping down her grizzled, slightly hairy chin.
She was holding a fag in her left hand that was starting to burn the desk and visibly jumped at my voice.
As I was not much of a conversationalist at the age of 17, I simply handed grizzlechin the card.
'Have you any supermarket experience?', came the first question as she stared at the card with a glazed, uninterested look.
'Yes', came my terse reply.
'..and where have you gained this experience?', she continued, the voice as monotone as a Status Quo record.
'Asda' – no need for details I figured.
'How long did you work there?'
'Almost 2 years', came the exaggerated answer. One glance up would have seen the obvious lie.

Source
grizzlechin sighed and took a deep draw of the cigarette that now contained a huge wad of burnt ash, blowing most of the smoke into my face.
'… and why did you leave?', she drawled, boredom oozing from a scratchy voice that was at least an octave lower than it should have been.
'cough, needed a.. cough, splutter, change, cough, splutter'
This one should have put me on the spot, but fortunately, I was convulsing so badly due to the smoke inhalation that grizzlechin simply nodded.
Satisfied with my choked filled, incohesive response she picked up the telephone and started dialling.
Source
...'not me, but the hair length was similar. These old farts didnt half have a problem with us unruly youths'...
After a few, yeses and no's, followed by 'his hair is a bit long', and 'I think he might wash it occasionally' she hung up.
The supervisor at Asda often gave me unnecessary shit for my long hair, was I going to be subject to more of this tedious middle-aged lecturing?
'Can you go to the store now? it's Kwiksave on Bacup Road'
If there was one thing that was simpler in 1980, it was getting an interview.
To be continued...
Cover Picture is a combination of free sources from here and here, combined and edited with Luminar 4. Shopping cart icon is a FREE Pixabay image.
Any uncited pictures are copyright ME!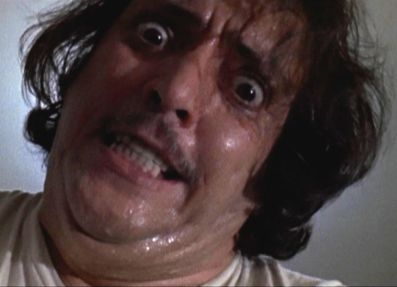 If you found this article so invigorating that you are now a positively googly-eyed, drooling lunatic with dripping saliva or even if you liked it just a bit, then please upvote, comment, rehive, engage me or all of these things.