Derived from the curriculum of Legitimate Illiteracy is the verse, 'Grow On Deep'.
'Grow on deep' is a giant call-to-action. While 'giant', this particular giant action is one that is very easy to carry out. It is a very humanly-exhaustible action.
In this simple phrase, is power too! Tangible to every spectrum of life is 'a measure of depth'. There isn't that much success in 'shallow' overall, even though we live in a 'painted world' where 'what is shallow, is what is popular'.
It is no coincidence thus, that there an 'ever-growing rarity in the 'great men' industry in a world that is said to be advancing. 'Greatness' is reached at; it is dug. Speaking of 'digging', in this case, we refer to 'dig, dig, dig' (diggist), indicative of 'incessant continuity'.
Note that there is a 'tangible irony' in place in the phrase, "Grow on deep". While it speaks of 'growth' (upward), it covers 'depth' (downward) too. Among other things, this is indicative of 'balance', very potent element, when undertaking routes involving 'growth', especially 'growth that is deep'.
'Grow on deep' is the basis for the shirt below. May you obtain a copy of this shirt, adorn yourself in it, take up the mantle of 'Growing on deep' and pass the message across to every passerby in your way, for 'humanity is the brother next to you'.
---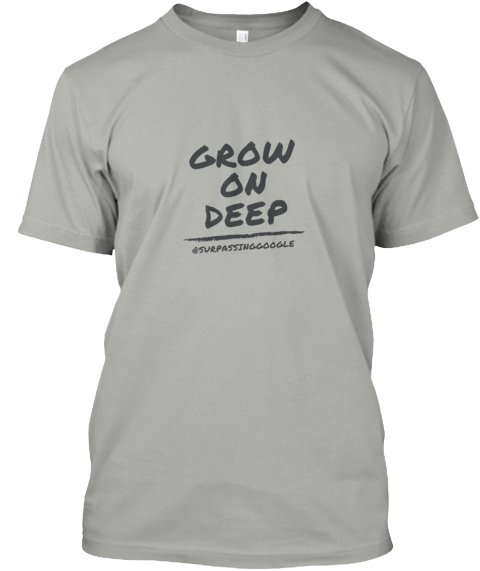 Proceeds from each sale will go towards the setup of a physical hub called 'Macrohard' located in the Philippines, for 'brother programmers'. Read more!
PRICE - 15 USD
More About 'Grow on deep'
This a ulog-quote 'Grow on deep' is derived from the curriculum of 'legitimate illiteracy'.
Legitimate Illiteracy intends to reveal the 'rare intel' contained in the no-books as derived from the down-to-earth spaces of mama earth. This knowledge is tangible to the collective human evolution. 
Well, to abate the rarity in the 'great men' industry, there needs to be a revelation of 'the no-books' to compliment what has been written of 'the books'. By this means, knowledge becomes whole (balanced), better formulated for 'human evolution' and this is where 'legitimate illiteracy' comes in.
'Grow on deep' affects every industry today! Whether it is innovation, enterpreneurship, knowledge-acquisition, human interaction etc, 'grow on deep' directly affects how much you can see, which in turn directly affects, where you stand. So, where do you stand?
Where you are conscious about 'growing on deep', each human activity suddenly constitutes an avenue to 'mine your human'. 'Human activities' that were once 'ordinary' thus, become 'un-ordinary', having more testimonial essence.
Now, let's incorporate the playful dynamics above into the world of innovation. Realize that 'innovation', regardless of its complexity, will cater to humans. That said, you will easily notice that where you can remove the 'ordinariness' from once 'regular human activities' using your innovation, your once 'ordinary innovation' begins to rank great too! Humans make use of your innovation to tap into their shine, providing more testimonial use-case for your innovation. By virtue of the resulting indispensability of your innovation, your innovation leaves the ranks of 'generic' and onto becoming a stand-out, renown, great.
Your boy Terry
Let's Discuss This Further
Did you know that we can fix many challenges as soon as today? I am willing to help.
---
UloggersTV intends to render assistance to any human with regards to their 'hassle, aspiration, needs etc' as early as today.

Do well to subscribe to UloggersTV and turn on notifications and whenever you are ready, say 'you have ordeal' or say 'you are seeking the ever-missing piece of your puzzle on any subject or industry, kindly contact me on 'comsilbronze4@gmail.com' and we will work together within the course of one live-stream (dedicated to you), whereupon i will share my insight as a 'legitimate illiterate', share my screen to help you with tangible online resources that can help you further and share the resources that i have, whatever is available. We will find solutions today!
PRICE - 15 USD
---