So lately, i started playing out the curriculum from the school of 'legitimate illiteracy', a school that everyone will eventually be able to school in, regardless of their levels of literacy and that will emanate 'brothers' (generation-fixers) and we have one active participant so far, in the person of @adesojisouljay. Our whatsapp group has grown to 14 people and we have our Ulogs community clocking some 300 subscribers soon, each of whom we would eventually invite to take part in our school.
Here the current two activities and you can participate too:
Recall, that i am setting up a hub called 'Macrohard' in the Philippines? Well, 'legitimate illiteracy' is an important part of that hub. Each curricular activity that stems from that hub, with be directionally ingrained with 'legitimate illiteracy'. This way, we can inculcate that 'brother' element among our participants.
One major activity that will happen constantly in our hub is the art of ulogging. From the moment you step into the hub, from your very 'log-in' process, you would have ulogged. We will craft every prop in such a way.
As you login your name per day, to announce your presence, you will have an extra column in our log-device that invites your ulogacy. (Note that unlike a 'legacy' which is static, a ulogacy is dynamic; incessant and possess of a 'mining the human' paradigm.)
We have to encode matters and tackle each nuance. It is more realistic, more heartfelt, when people do stuff of their own volition and without outright incentive, where the primary by-product of their participation is 'human evolution'. To be 'beautifully disruptive' rather than 'disruptive' thus, we play out an entire curriculum. We simply add a directional element (i.e a 'mining the human' element) to once regular human activity making them 'un-ordinary'.
We have started the motion now and intend to become more effective with the school 'legitimate illiteracy', when the hub fully starts. Hoping we begin to have participation from many more people, we will fill uloggerstv to create long-term awareness to the concept of ulogs and we will encourage participating uloggers to publish their entries to blockchain-based platforms where we have some influence to support them with some rewards, create further awareness to blockchain technology, introduce them to the world of blockchain etc as they become true fans and 'brothers' of what we represent.
These participants will also form the base of our projects. Note that the content-base for each of innovation is 'ulogs'. We will need 'a strong base of 'certified uloggers' to form the core of each of our projects. This way our Teardrops ecosystem can improve whether 'bulls or bears' because 'humans' are involved.
Kindly see these two ulogs from @adesojisouljay and look to support him:
Your boy Terry
I am currently running a kickstarter (crowdfunding) directly on Facebook, whereupon you can support this endeavor with a donation. To become a donor: https://bit.ly/macrohard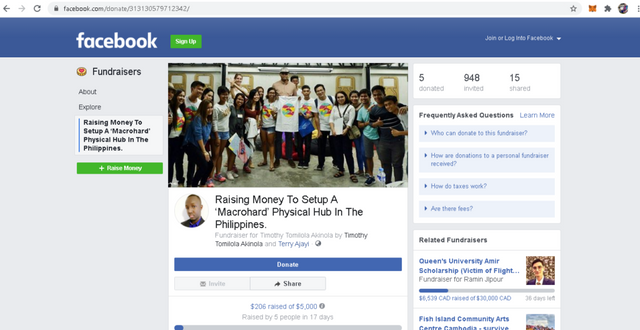 ---
---
Note: Another easy way to contribute to our seed-fund now, is by purchasing a t-shirt from our Teespring apparel store.
Proceeds from sales, will also go towards the setup of our Macrohard hub.
Let Us Work Together On Your Challenge

Do well to subscribe to UloggersTV and turn on notifications and whenever you are ready, say 'you have ordeal' or say 'you are seeking the ever-missing piece of your puzzle on any subject or industry, kindly contact me on 'comsilbronze4@gmail.com' and we will work together within the course of one live-stream (dedicated to you), whereupon i will share my insight as a 'legitimate illiterate', share my screen to help you with tangible online resources that can help you further and share the resources that i have, whatever is available. We will find solutions today!
---