So, did you know that there will be an entire school called 'Legitimate Illiteracy' that will become known even by world standards. It is in motion and its curriculums are being modeled.
In this particular school, 'every(any)one' can school even for free, regardless of their levels of literacy. The aim of this school is to fix 'the rarity in the 'great men' industry' and emanate 'brothers'. This isn't a far-fetched aim.
As i continue to formulate the dynamics of its curriculum, i put particular focus in the 'application' of its courses. Many times, we learn stuff and that is easy. The application of what we have learned even in the tiniest of nuances is where 'greatness' lies. Where each detail of what we embark on, begins to carry a touch of what we have learned, now 'that's something'.
Considering the above, as part of our curriculum, there will focus on 'creating 'stimuli' respective to each verse that we teach', inciting 'on-the-spot reaction' from our students. We will then assess their reaction and score it based on its 'depth, identity and variation-span'. We seek to establish the 'expanse of their mind's eye, then we will seek to add more vision to it. 
Currently, i am running an endeavor filled with 'extra-curricular' activities, particularly the 'art of ulogging', which we are using to model aspects of our curriculum. In our first 3 activities, we have simply asked participants to ulog their understanding of these 'three simple 'legitimate illiteracy' verses':
You can participate in the ulogging activities above too. To get direct updates on daily tasks, kindly join this Whatsapp or you can visit 'https://uloggers.xyz' daily
After their participation, i will respond with my own ulog, giving participants feedback on how they have fared; then, i will expatiate each verse, applying them across a wide range of industries.
Next, per verse, we will formulate a series of 'simple yet directional stimuli'. Then, we will create simple respective tasks that invites respective participants to respond to a stimuli that we have created. We will assess their response and return feedback.
Again, with legitimate illiteracy, anyone can participate. Based on 'ulogs', legitimate illiteracy has an 'un(dis)talented' paradigm. 'Participation in 'legitimate illiteracy' is mostly as 'difficult as 1, 2, 3'.
Speaking of creating 'stimuli', it can be as simple as; "coconut fell on your head, what do you next?"
As you school in 'legitimate illiteracy', you should begin to become of 'your own identity'.
"Where you are too-too-too predictable, who are you." @surpassinggoogle
Today, as part of my efforts to setup our 'Macrohard hub', a hub located in the Philippines that will also teach 'legitimate illiteracy', i was able to buy another high-end PC, 'a Ryzen 3'.
In these lockdown-times, things are unbelievably expensive and well, PC parts are scarce. Only people with old stock, have stock and they hoard it or sell it extremely high. I had looked for the PC the day before, without success and today, when i taught i had success, the price of the PC was suddenly way much higher than i had budgeted.
'50-USD' went into 'transportation' in these two days !
There is so much still missing in the niche of 'knowledge acquisition' today and so much hype is appropriated to 'secular education'.
Tied to 'security' (money-success) for the most part, 'secular education' as is obtainable today isn't structured to stir 'breakthrough in human'; it is quite rigid or static and not contextually empowering enough of the human's mind's eye.
People become robotic mostly, too defined, very-programmable to a system or a cycle. It is no coincidence thus, that 'with all the PHD(s)', we lose out on 'great men'.
We practically share an identity and this days our resemblance with 'the rest of the world' is ever-pinpoint, that we even share 'mannerisms'. There are entire nations today, with the same handwriting.
It's 'the masks' now. May the masks not too-linger, post-corona.
Speaking of 'schools' again, are we taught to 'love' in today's schools for instance? Why then is it too hard today to find humans who love? Where the basis for school-curriculums today is 'love', can you imagine how powerful that can be; and if you can't imagine it, how so?
Do you know how 'un-ordinary' the 'resulting innovations' from schools that directly teach 'love' will be; how un-destructive the 'resulting chemistry' will be; how world-adjusting the 'resulting books' will be?
How much 'life' is directly taught by school-curriculums today?
I will pause a bit!
"Add some English into the Mathematics." @surpassinggoogle
Your boy Terry
I am currently running a kickstarter (crowdfunding) directly on Facebook, whereupon you can support this endeavor with a donation. To become a donor: https://bit.ly/macrohard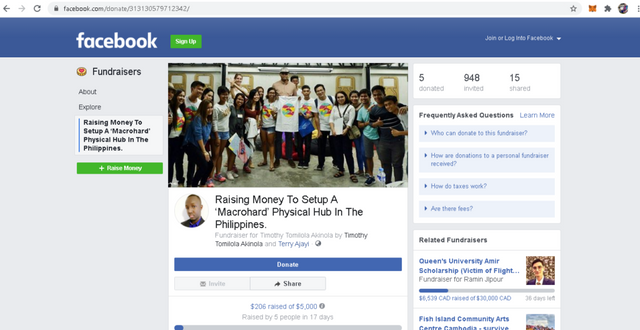 Note: Another easy way to contribute to our seed-fund now, is by purchasing a t-shirt from our Teespring apparel store .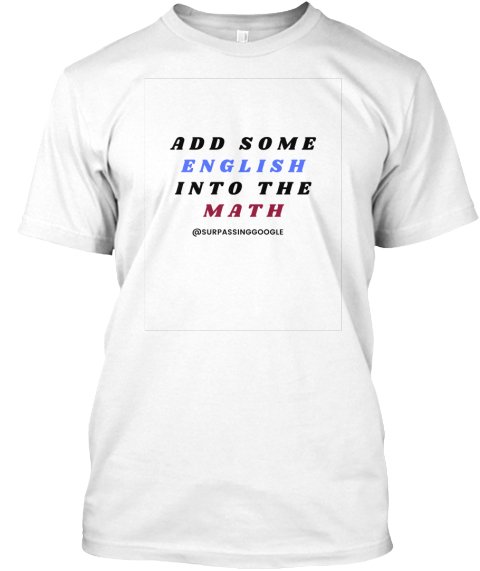 Proceeds from each sale will go towards the setup of a physical hub called 'Macrohard' located in the Philippines, for 'brother programmers'. Read more!
---
Let Us Work Together On Your Challenge

Do well to subscribe to UloggersTV and turn on notifications and whenever you are ready, say 'you have ordeal' or say 'you are seeking the ever-missing piece of your puzzle on any subject or industry, kindly contact me on 'comsilbronze4@gmail.com' and we will work together within the course of one live-stream (dedicated to you), whereupon i will share my insight as a 'legitimate illiterate', share my screen to help you with tangible online resources that can help you further and share the resources that i have, whatever is available. We will find solutions today!
---