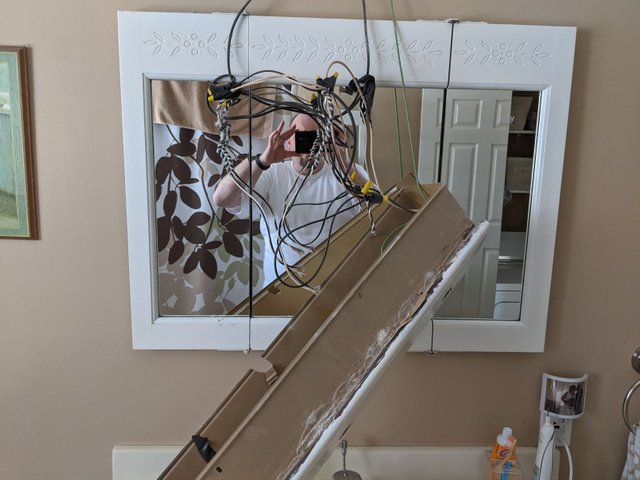 ---
Going into last weekend I had my Saturday all planned out... Since @mrsbozz and I went to see James Hood's Mesmerica on Friday night we had to go get groceries on Saturday morning. After that I planned on helping clean the house, running my generator for a little bit to keep the gas from going stale an then laying on the couch and watching some TV.
Those plans were partially thrown out the window when my wife mentioned she had a coupon for some air filters as you can read about in this post.
Running the generator wasn't a huge deal, but while that was happening I was also trying to fix my broken snowblower. In the process of doing that I somehow managed to break it even worse! That was the point I gave up hope of fixing the snowblower and moved on to installing the vehicle filters.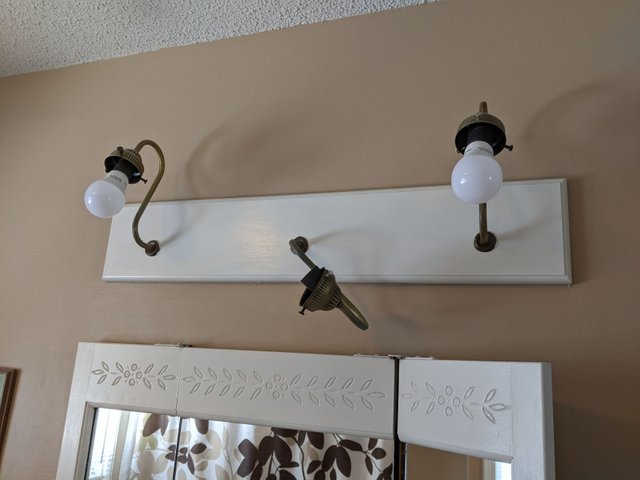 ---
Feeling pretty good with myself at having survived dismantling the car glovebox and putting it all back together I came back in the house only to have @mrsbozz mention a light being out in the bathroom.
You guessed it, it was the middle one in the picture above. I tried a different bulb and that didn't fix it. So then I started to tear it apart to see if it might be something else. I used my multimeter to test the voltage and I was getting a solid 110 to the socket.
I told @mrsbozz I could try replacing the socket, but she said she didn't really care for the light anyway. That my fellow Steemians is where the fun began!
I took some pictures and sent them to my good friend Mike who owns a handyman business. He agreed with my conclusion that the light mount was a custom job and it was hard telling what we would find if I pulled it out.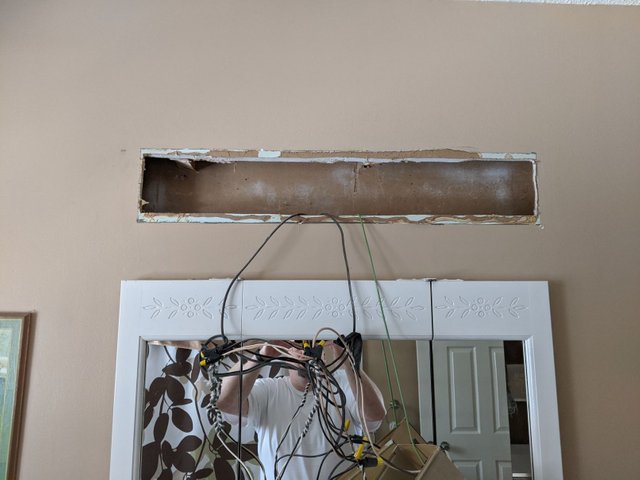 ---
Hoping for the best I went all beast mode and found that there was nothing holding the light in. It had just been slid inside of the hole that they cut in the drywall. On top of that, they cut through the wall studs to put the light in.
You can see in this photo and the opening photo the mess of wires I was looking at. It was at this point I started to think that I might be in over my head and I called up good old Mike again to see if he was busy and if he wanted to come over and play.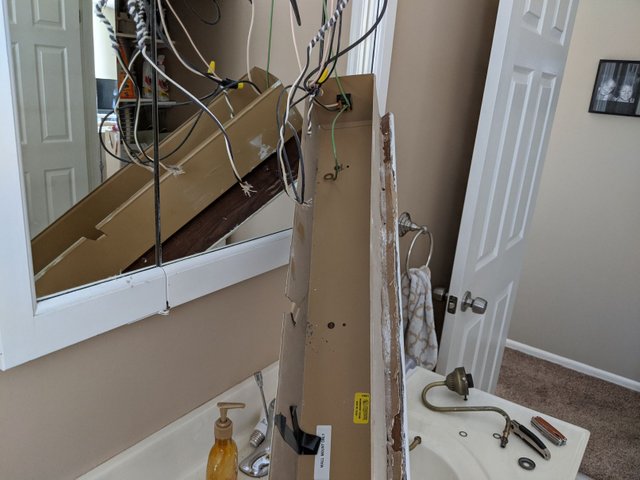 ---
He was just finishing up something else but said he would on his way in about ten minutes. Meanwhile I started working on disconnecting the last of the wires so things would be ready to go for him when he got there.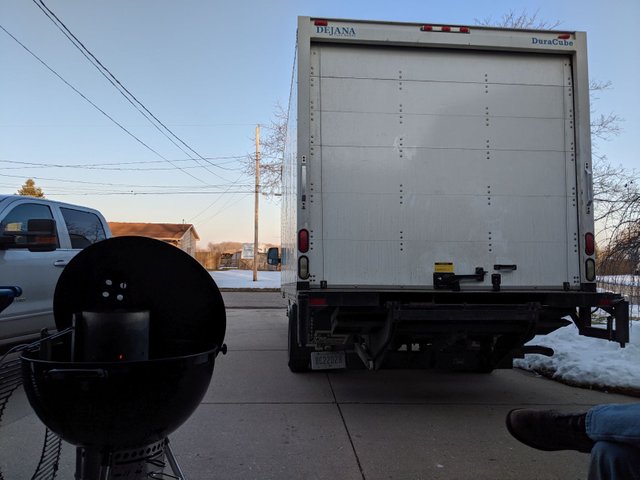 ---
Mike is a pretty smart fella and he must have known that this was going to turn into a much bigger job than I thought it was because within about twenty minutes he was backing this into my driveway.
He recently purchase this small panel van and converted it into a mobile workshop. I didn't get a photo of the interior, but he has all manner of tools in there as well as a countertop complete with a table saw and miter saw. It is pretty impressive. He is hoping to have three more trucks like this by the end of 2021 so he can send crews out to jobs.
I've known Mike for about thirty years now and it may not happen within his time table now, but it will happen.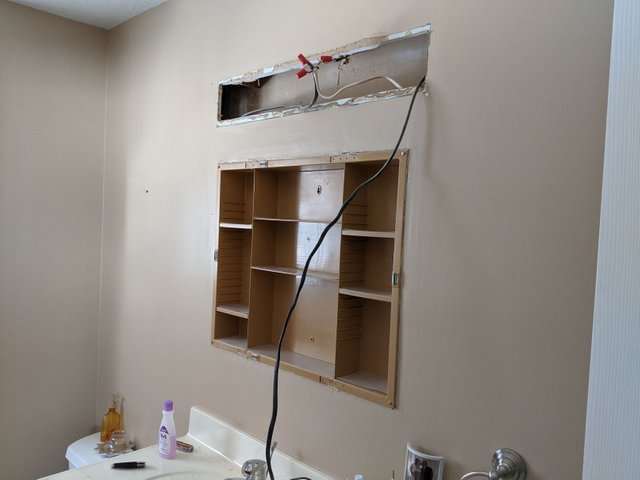 ---
With the light finally removed, we realized that they had done some funky wiring with the electricity. Additionally, because they had cut through the studs Mike wanted to pull the medicine cabinet out to get a look at what was going on inside the wall.
It should have been a simple matter of removing a few screws and pulling the cabinet out, but of course the person that installed it wouldn't make it that easy on us. Instead of screwing it in as is the norm, they had used construction adhesive and pressure fit the cabinet into the hole.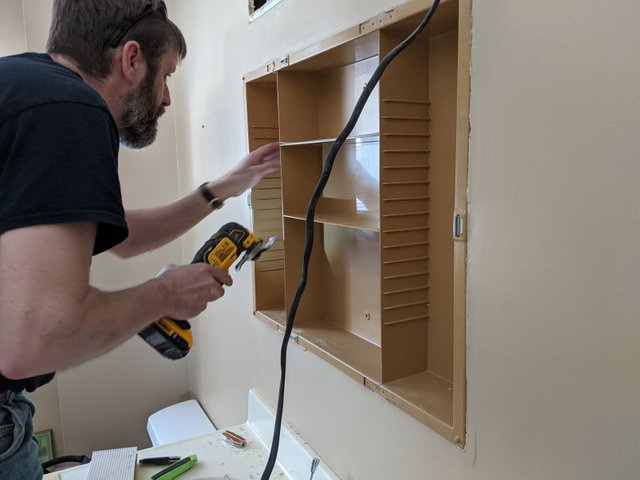 ---
So Mike had to cut it out!
We are still in the process of working on this almost four days later, so I am going to stop this post there and write a follow up post when it is all finished. There is even more excitement to come, so make sure you keep an eye out for the next post!
---
---