There was an invitation-only shop in the middle of a technological boulevard. This particular shop was selling the newest invention of the year: computers with many buttons with emojis, files, shortcuts for everything, etc. I was invited inside and started looking around.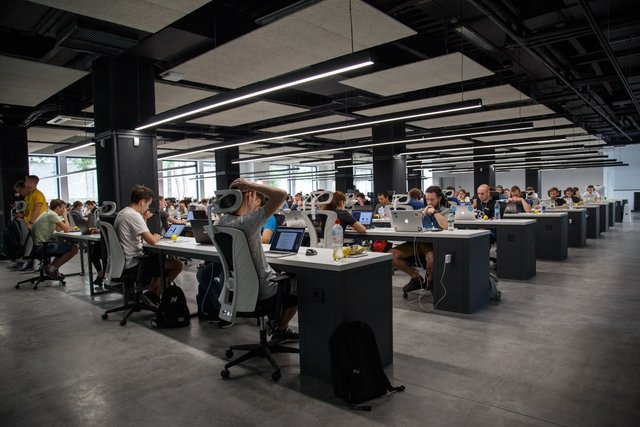 The computers were like a dais with a screen. There were two levels of keywords the way church organs have two levels. Everything that the hand could touch was ergonomic. On top, there was a big and flat monitor with a button pad on each side with at least 12 buttons each.
I started exploring these buttons and saw that you could add your favourite features to them. They had even invented a very nifty interface that reminded me of Elementor, where you could drag and drop scripts, programs, images and anything onto a representation of a button and have it be there. I was very excited about this, regardless of how useful it could actually be.
Doubts
However, when I had a problem, I asked a girl who was there about it. She looked angry because apparently I was trying to abuse the system. She started deleting stuff and asking me about it. I told her that there was a "person" who had taught me ways to do things. She responded that everything I mentioned was forbidden.
She looked at me incredulously and pointed with her finger at a note that was beside the screen that had two stricken-through words, and one of them was "copywriters". I can't remember what the second word was, but it was something like "reporters". At first, I felt the software was badly designed for my purposes, but after this scene, I understood that it was an intentional exclusion.
The dream starts to fly by
I tried to talk with the girl a bit more, but she got angry and asked me to leave. I stayed put, not touching anything, just passively watching time go by. People passed by, but I didn't want to let go. I was angry and rebellious and wanted some sort of revenge, something to get my pride back because the girl had mistreated me. Time passed by and the dream ended.
I remember a few other scenes, like me hugging my brother while we ran around the kitchen, then crying because someone had died, then a sticky mess in the middle of a room with a shoe stuck on it.