Had an awesome Wednesday hanging out with friends... Besides awesome friends... I treated myself with one of my favorite food... CHEESE... Don't say it... Don't tell me... Cheese is yummy and I love cheese... 🤣🤣🤣🧀🧀🧀
Yesterday and today I had lots of cheese... I know... OK... No... Don't tell me... I know... I don't eat like this everyday... Just that it happens these two days... Craving... It should be over now... I think... Hahaha...
Had a KFC Loaded Go Bowl yesterday morning when I was waiting for @joannewong. The staff was very nice... I asked for more cheese and she added more for me... 😍😍😍🧀🧀🧀 If you have not eaten a Loaded Go Bowl, well, a Loaded Go Bowl is crispy fries and crunchy Zinger chunks with melted cheese.
The Loaded Go Bowl was a little too little... Not enough to stop my cheese craving... So after meeting up with Joanne and friend... I went back to KFC again... Uhm... Another KFC... Nearer to my house... And this time I ordered myself a Loaded Potato Bowl... And I asked for more cheese too... And I got a flooded Loaded Potato Bowl...
Before the cheese flood

After the cheese flood

So what's a Loaded Potato Bowl...? What's the difference with a Loaded Go Bowl? A Loaded Potato Bowl is yummy mashed potato with some sweet kernel corns and crunchy Zinger chunk with melted cheese...
Lots and lots of carbs... I know... But once in a blue moon craving for this is OK... 😀😀😀
So my cheesy crave extended till today... I had a cheesy pork burger... It's a set lunch... Reasonable price for a big portion...

The pork burger tastes awesome... Juicy... And cheesy... Together with the set i had some fries, soup, drink and a scoop of ice cream. A good deal... Less than RM17 (about USD4)
Yummy in my tummy... Happy me... And this is my Happy Thursday... What about you? Anything special you would like to share with us? Wish you a great day!
HOW TO JOIN MAKEMESMILE
a. Basically, it will still be the same as the first season. Your post can be in writing, singing, video, poem, drawing, photography, etc... The most important element is your post Make "ME" Smile. Remember, the ME is whoever read/view/listen your post and this includes YOURSELF.
b. Your content must be ORIGINAL CONTENT.
c. Please include at least 50 words in your post.
d. Leave your post link at my post comment area (optional, but will help to remind me to visit your post)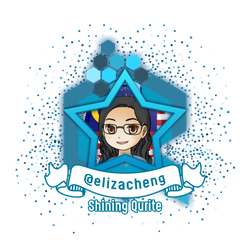 If you like the idea of CREATE and EARN (just like here in Steemit), then do you know that everyday while we connect with our family and friends through chatting, texting, voice and video calling, we can EARN from that too? Click on the image to start EARNING from connecting with your family and friends!