Before I start, let me say, this is not a tutorial, I'm just sharing my experience. This should have been a #needleworkmonday posts but @crosheille has announced she's stepping back from being active on Steem recently, so no need to wait till Monday as the challenge most likely won't be continued. While I'm a little bit sad as this would have been my first sawing post, I can fully understand her as real life and family always comes first. If you're reading this, I'd like to thank you for running the challenge and the community for so long. I guess the community will go on as we like to share our creative work.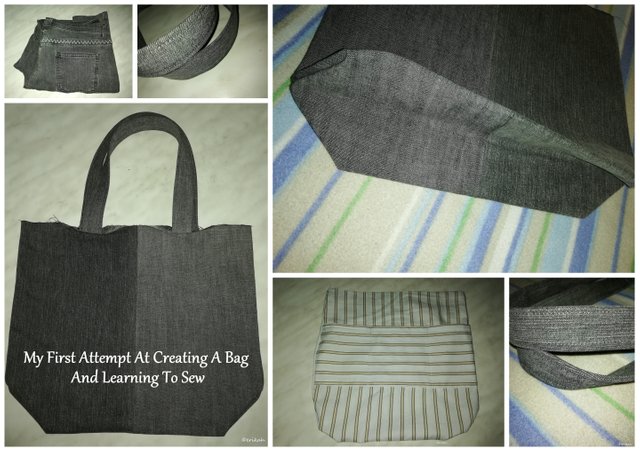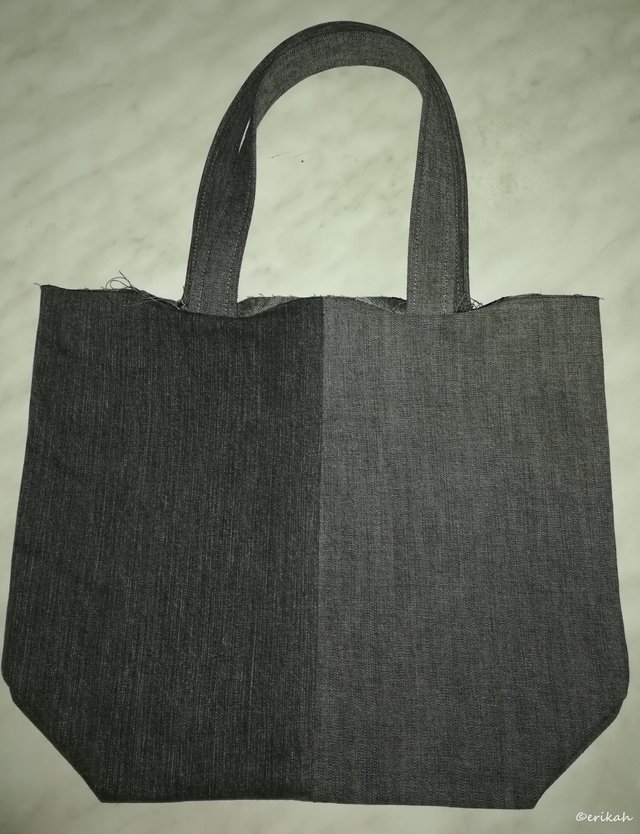 About Me
I said earlier that this can't be a tutorial as it's my first piece using my sewing machine and I'm still learning. I have experience sewing by hand but using a sewing machine is a totally different thing.
My grandmother was a seamstress, my mother as well but she specialized in leather. I grew up having a sawing machine and someone was always using it. Not me though. My mother was always against it, she said she wants to spare me from ruining my back and eyes, so I stayed away from it. I've been watching them being angry most of the time with that old sewing machine and I guess the desire to use it has never been born in me.
Three or four years ago I got an electric sawing machine, it was a gift from Germany and kept in in the box till now. There must come the time for everything, things can't be rushed and I guess the time for me to start using it has come now. This must come from inside and must be done willingly, not forced by anyone or/and anything. Otherwise it won't be a pleasure, just obligation and a burden.
Motivation
I'm on Twitter as well partly to stay informed, partly to share my Steem posts and help advertising our community and blockchain. Obviously creativity always has been part of my life. I've been doing jewelry and other stuff, so I'm following a few crafters on Twitter. There's a lady who's making bags and watching her tweets day by day gave me the push I needed to start my own project.
Eatsy is a great place to get inspiration from, there are so many nice things listed for sale, if you go there you can hardly exit without buying something.
My next step has been watching a lot of videos on YouTube to learn as much as I can as at the moment I don't really have anyone who could teach me, which nowadays is not a problem. I guess you can learn a lot if not everything by watching videos, reading blogs and practicing. Recycling & Creativity
Recycling & Creativity
My plan has been always to use recycled fabrics not only to reduce costs but also because the nearby second-hand shop is a goldmine when it comes to fabrics. There are days when everything is sold for about $0.25 and you can get tons of fabric for nothing. I believe in the 5R and these fabrics can get a second life in a bag or in something else.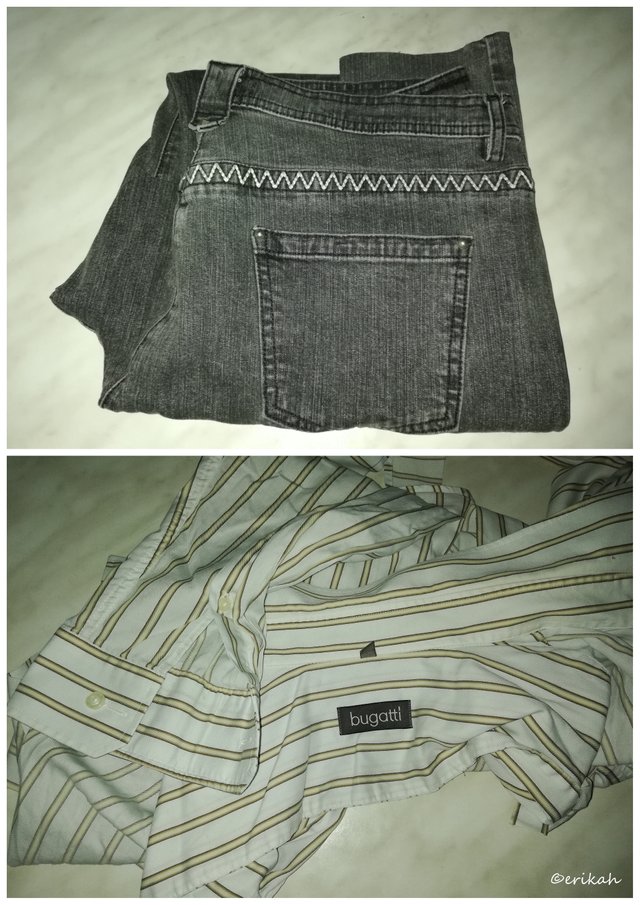 For this project I'm using a pair of jeans and a shirt which was brand new by the way. I needed two colors for the bag. The tutorial video is using blue and the wrong side to create a contrast. I didn't want so much contrast, so I'm using both sides of the gray jeans, this way the contrast is not so visible, so it's perfect.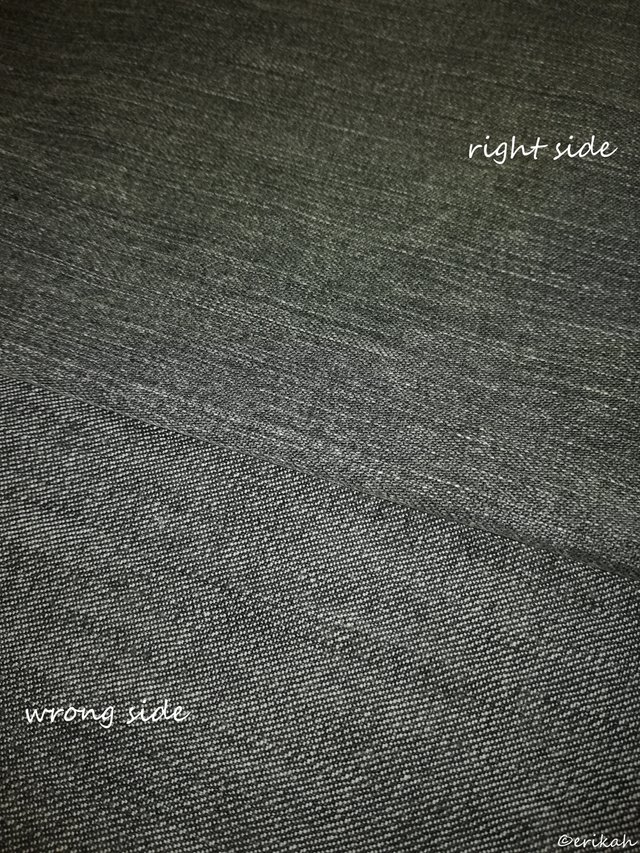 If you look at it carefully, you can detect the difference.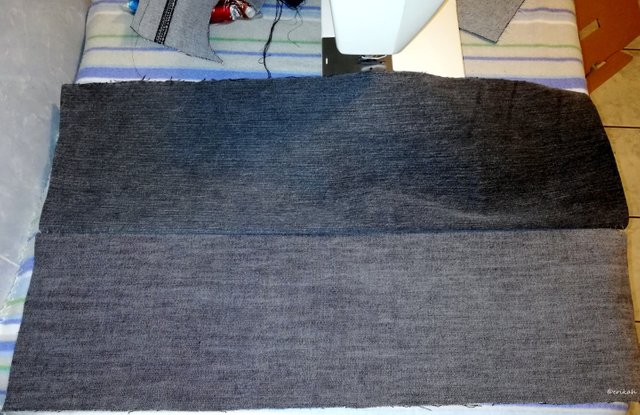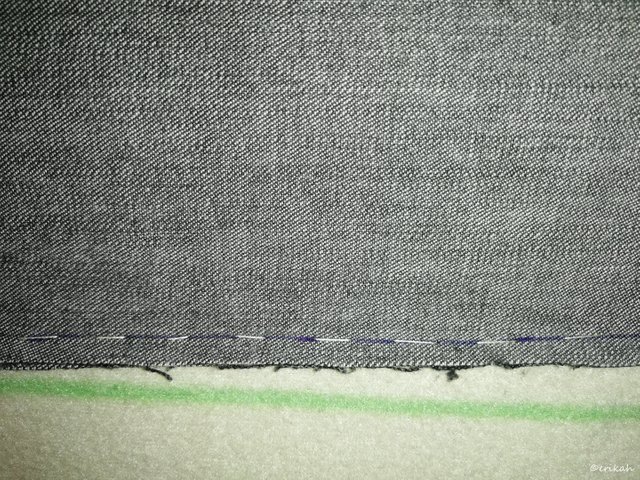 The bag is made of two pieces sewed together. This phase is maybe the most important as everybody is going to look at it and basically it's the first place you look as it's in the middle of the bag. Because I'm a beginner and had no idea if I could make a straight line or not, I chose to play safe and mark the line with a thread to guide me while sewing.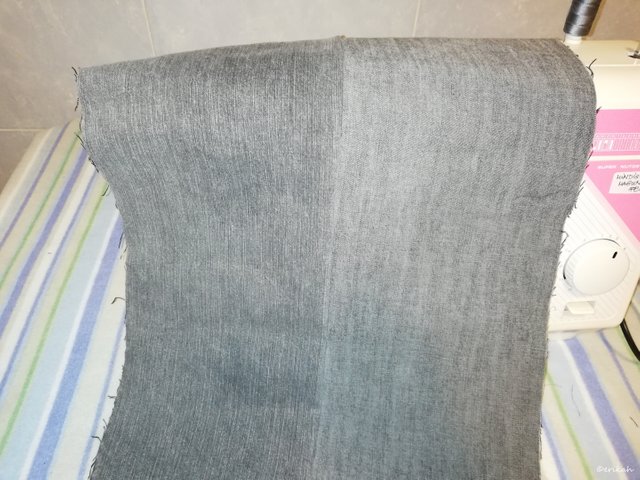 This is the two pieces together. At first glance it looks perfect, isn't it?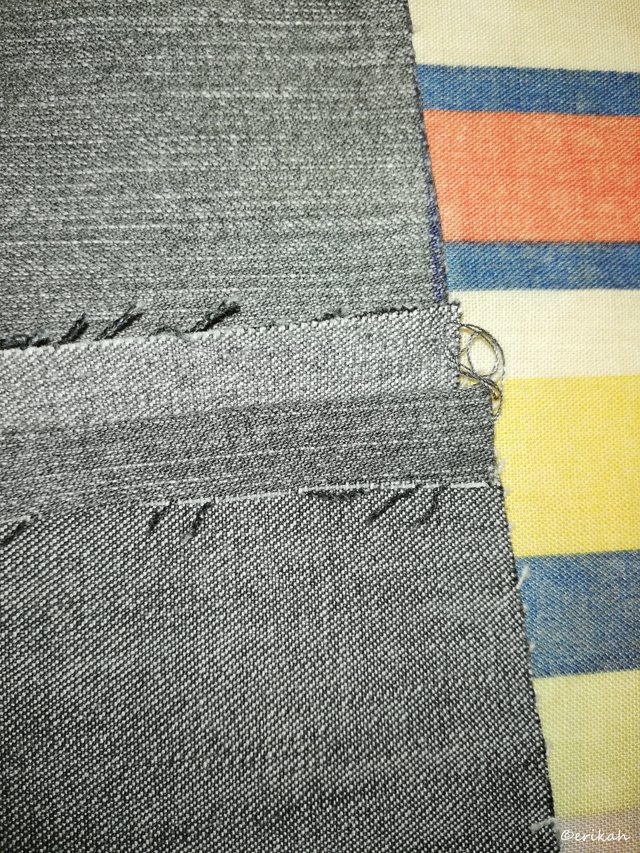 In fact it's not. There's 0.5 cm more at one side and that means there is 0.5cm less on the other side. It is a mistake but not fatal, I can correct that.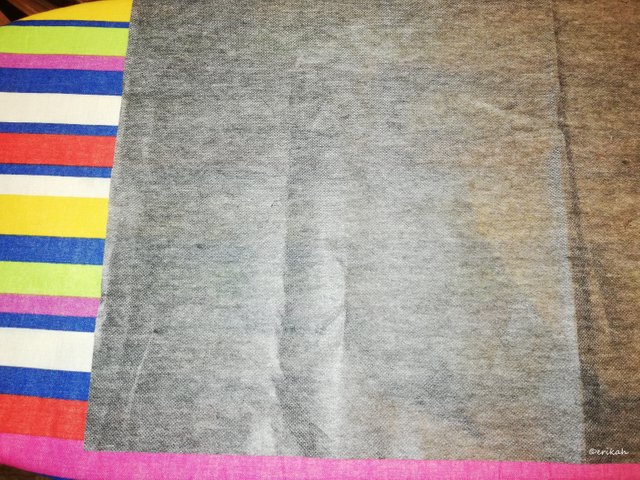 This is the interfacing I'm using to make the fabric more resistant.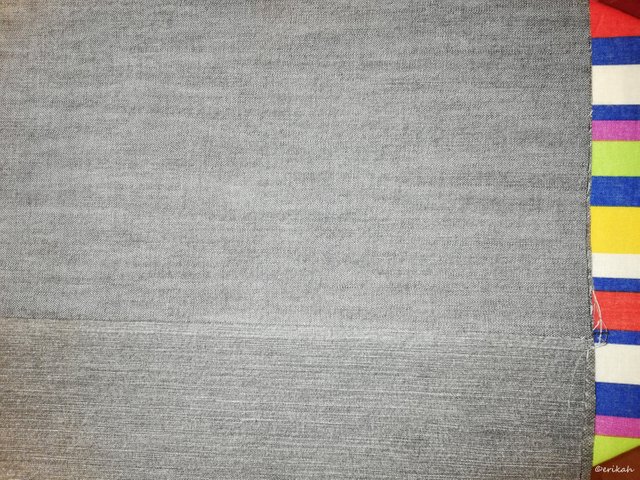 After applying the interfacing by ironing, I had to cut the excess from both sides and thus the piece became 2 cm smaller, which is fine, not the end of the world, I just have to adjust the other pieces accordingly. It's math, not rocket science.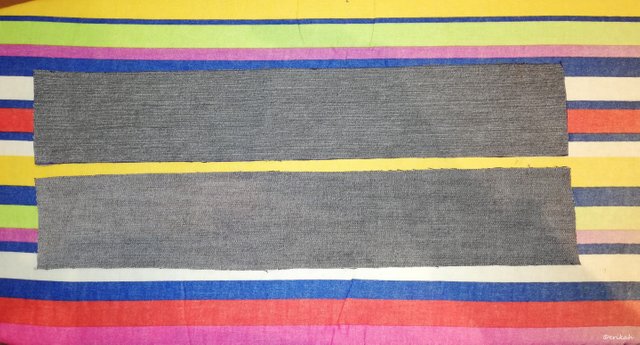 The carry straps were the most terrifying part so fat. I was literally terrified of them as if you can't make them straight, there's no cure or remedy, you need to redo them.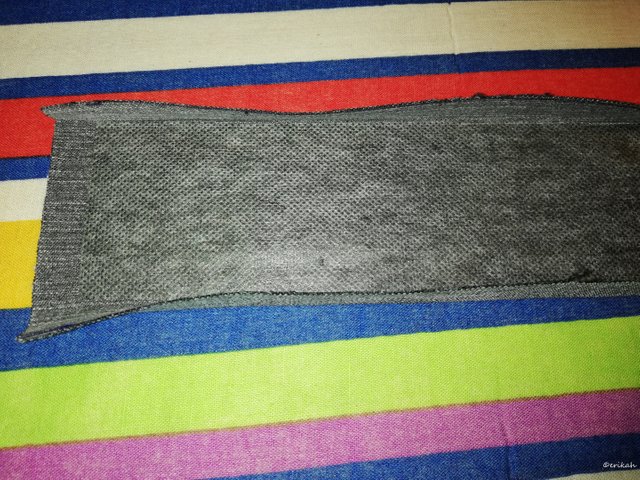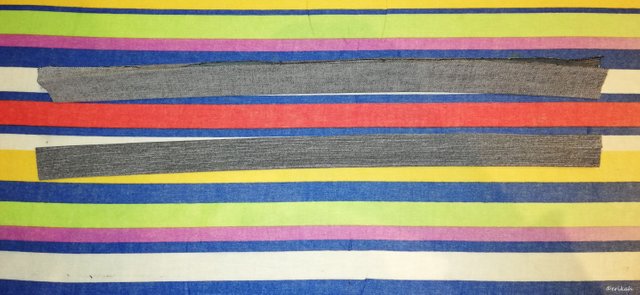 This is after applying the interfacing and ironing. At this point I wasn't so terrified, felt like I can do it after all.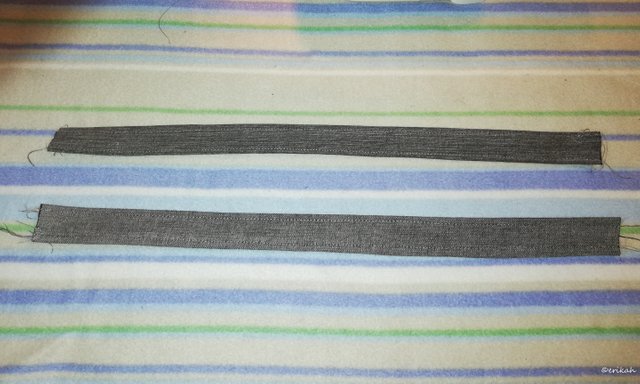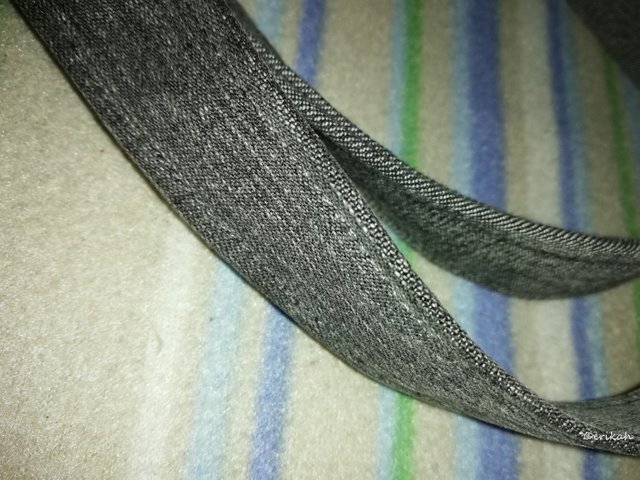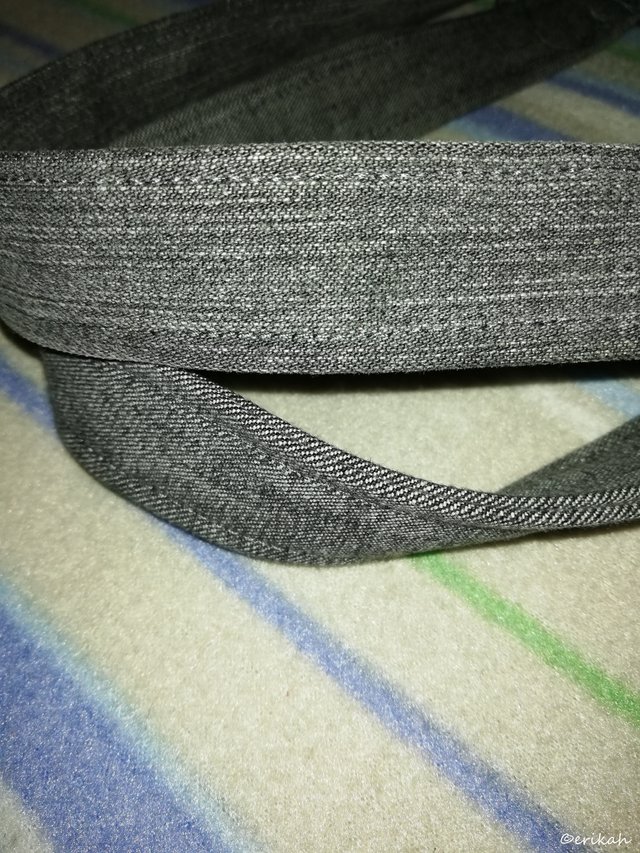 And here they are, both straps are pretty great in my opinion. Turns out it's easier to work with thick fabric. I was so happy these two came out ok.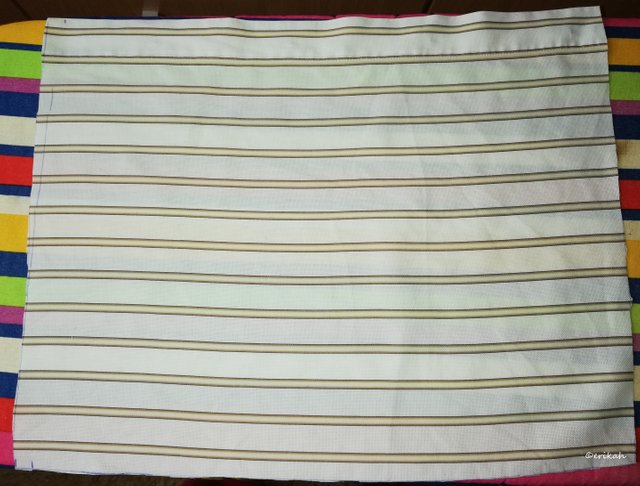 The next scary thing was the lining. Working with thin textile is not exactly what I'm enjoying as while trying out the sewing machine I had some trouble keeping the fabric straight. Also I need to be more careful with the marker, not to leave traces like that. Shame on me :)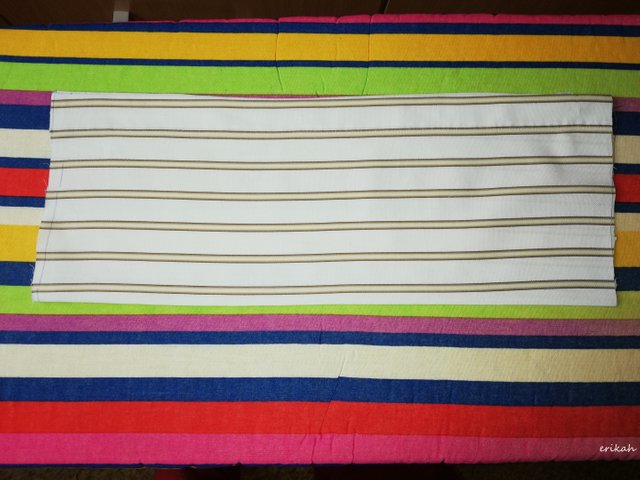 This is the interior pocket of the bag. It has three, so this piece of fabric must be tailored to be three pockets.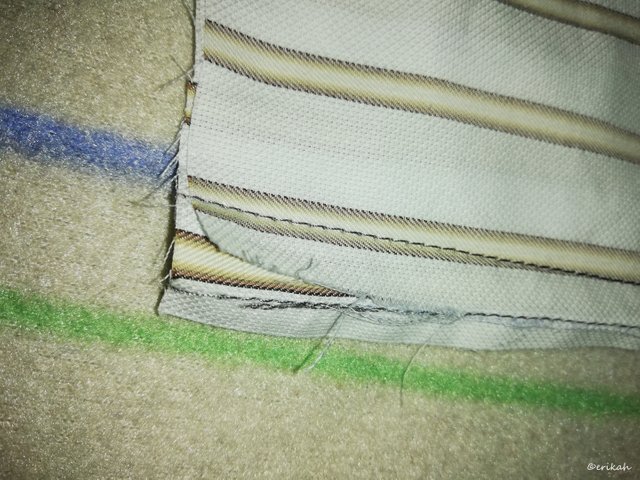 As you can see, I had to work twice as after sewing it together, one end looked like this, due to not matching the sides right. So I had to sew it another time and take away 0.5cm.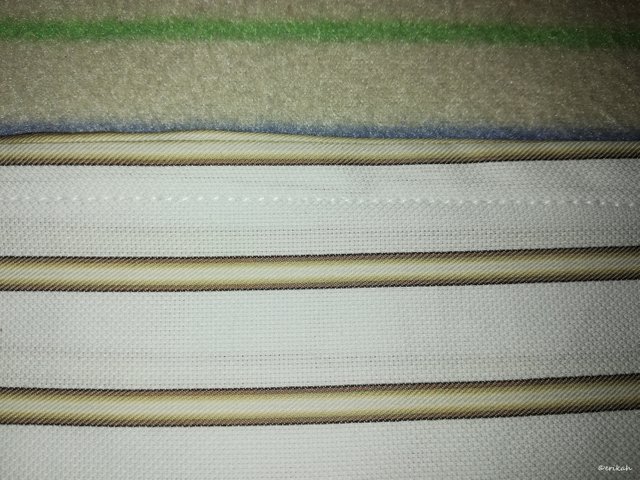 It is done and looks acceptable, most important it won't break.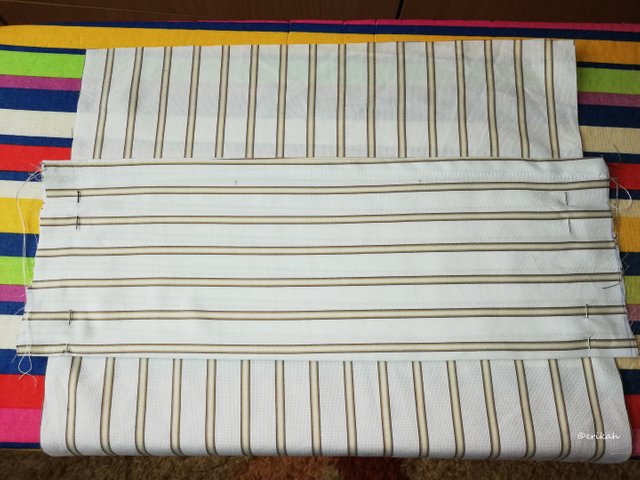 The pocket part and the lining. As you can see, I had to cut off a part from each side.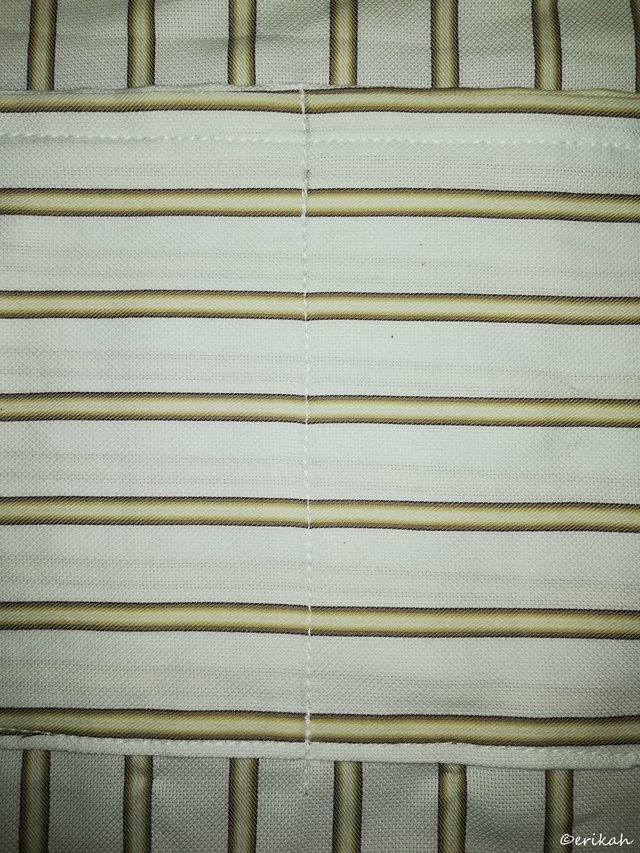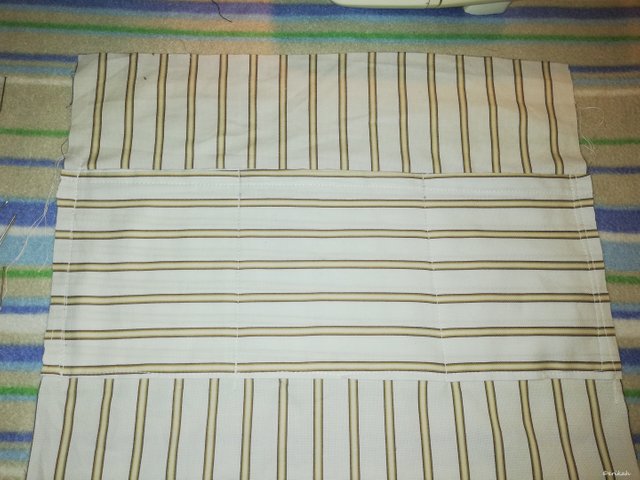 And voilà! Pockets are done! Turns out the fear was unfunded as it wasn't so hard. I made sure to do a good job as pockets are important and working poorly would have resulted in damaging it pretty quickly, especially with my smartphone.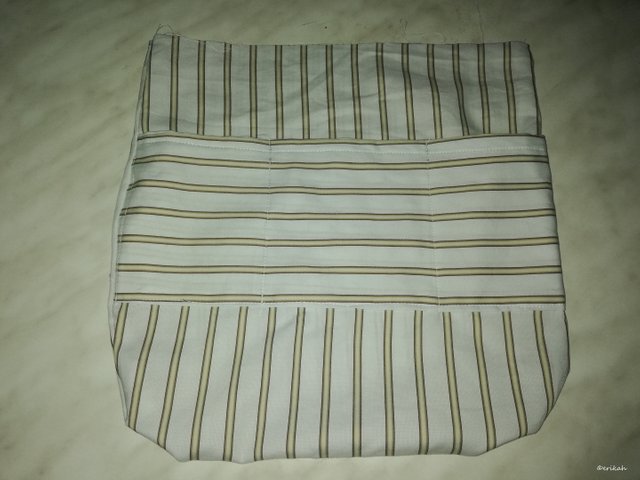 The lining, which still needs work as the corners must be done, but it's already looking good.
At this point it looks like I need to redo the straps as are shorter than I'd like them to be and its better to do them right, then not be able to use the bag the way I like to. There's still plenty of material, so no need to panic. I can use these for another project as I'm not going to stop here.
This is just the first part of my post as there's much more work to do, there comes the hardest part, sewing the bag and the lining together, plus the zipper, that terrifies me as I don't have the piece for the sewing machine that allows me to sew zippers easily. I need to go to a couple of shops to see if I can buy one, if not, I need to order one online.
What I Have Learned So Far
Accuracy is key here, sloppy work leads nowhere. Not that I'm sloppy but I need to be more careful. Even though I've made a lot of mistakes, I've been able to correct them and hide the flaws so far. I'm thinking of this as a learning project and not something I have to sell at the fashion market in Milan or Paris, this takes off the pressure and allows me to work without stress. Good thing there are a bunch of videos that you can learn from.
At this point I'm not afraid of the sewing machine anymore, it looks like we're not going to be enemies and it's not working against me anymore :D
Stay tunes for the next episode, I'm hoping to come back with the finished product.