This post should have been a #needleworkmonday post but I can't wait till Monday. Besides, it looks like I'm going to have another bag ready till then, so I can do a post on Monday as well, to show you my new bag.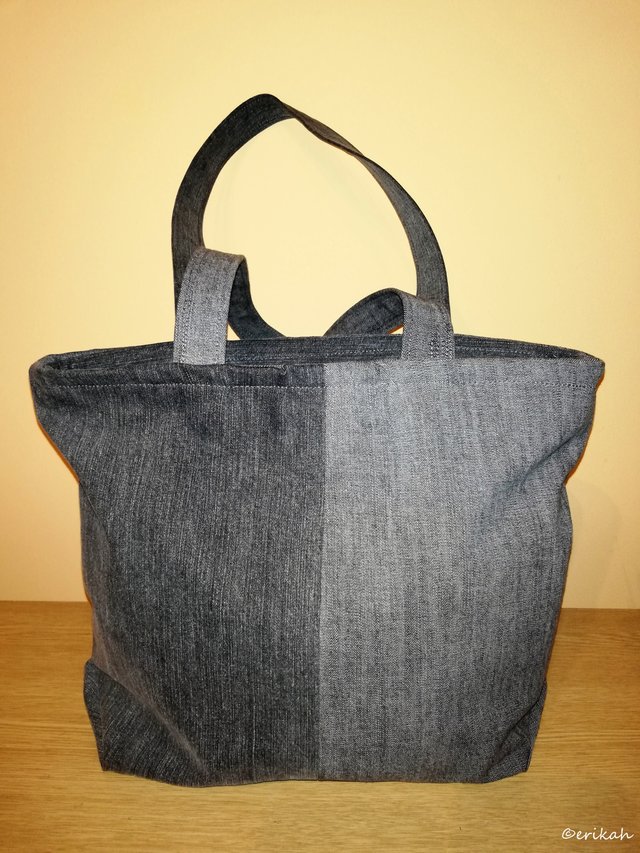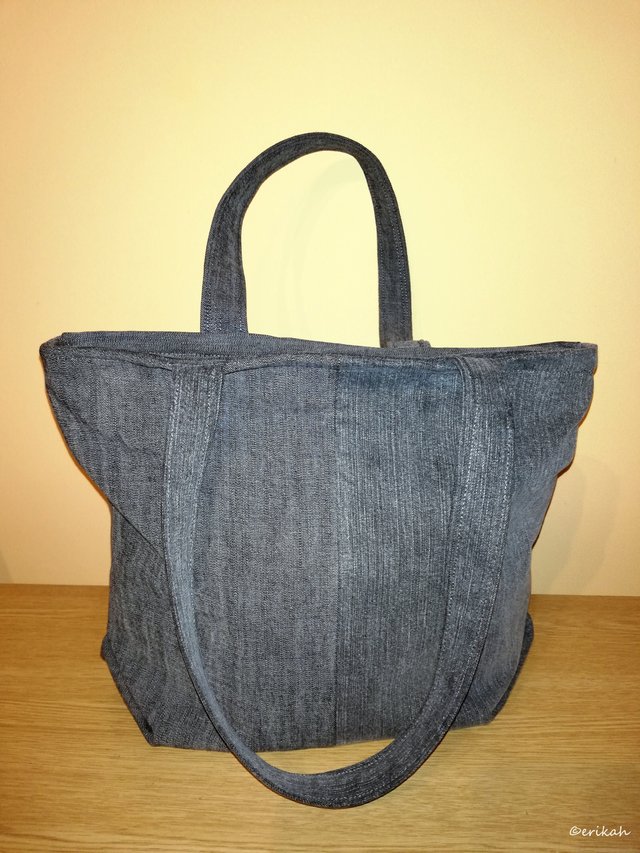 A couple of days ago I posted about my My First Attempt At Creating A Bag And Learning To Sew. In that post I showed the process to a half finished denim bag and promised to be back with the finished product.
Today I'm back to show you my firs handmade bag and tell you about the rest of my adventure.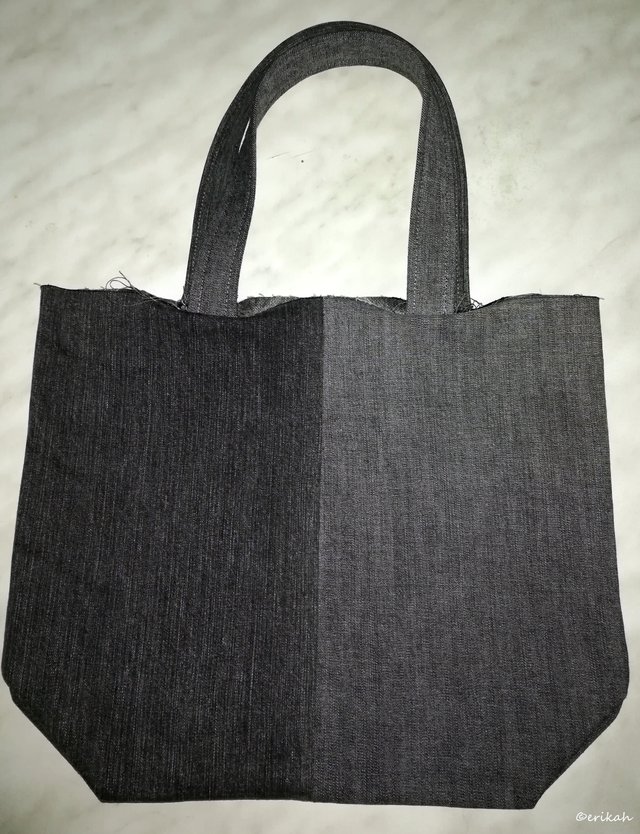 This was the phase where my last post ended, I needed to continue from here.
The next step would have been the zipper. I've only did one zipper in my life and that came out terribly wrong. Not to mention that there's a special piece for zipper, one that I don't have and can't even buy one as each sewing machine has its own type and this one is from Germany.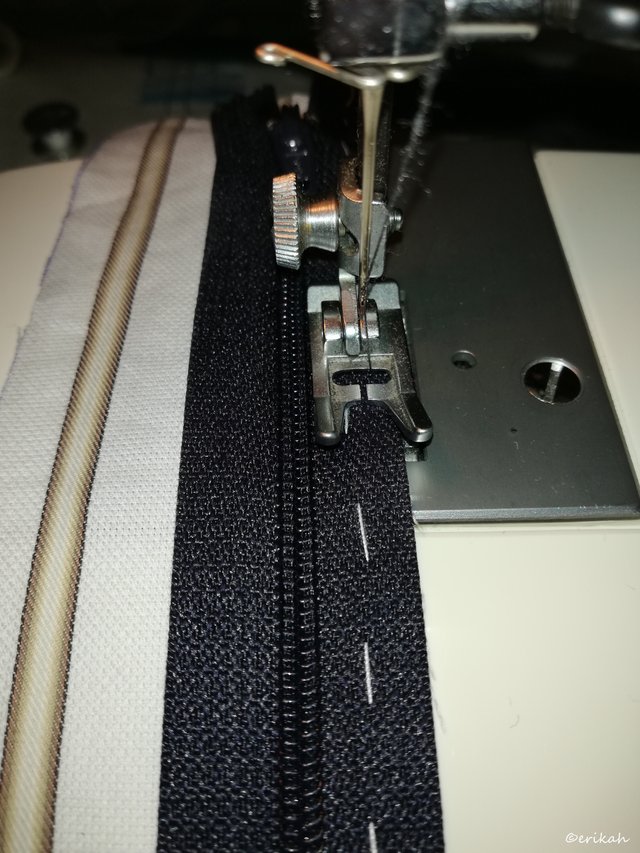 Not having the necessary tool, all I could do is improvise, try the impossible. The photo above shows you I had a few millimeters to work with, so no room for errors. That's why I used a white thread to help me, guide me.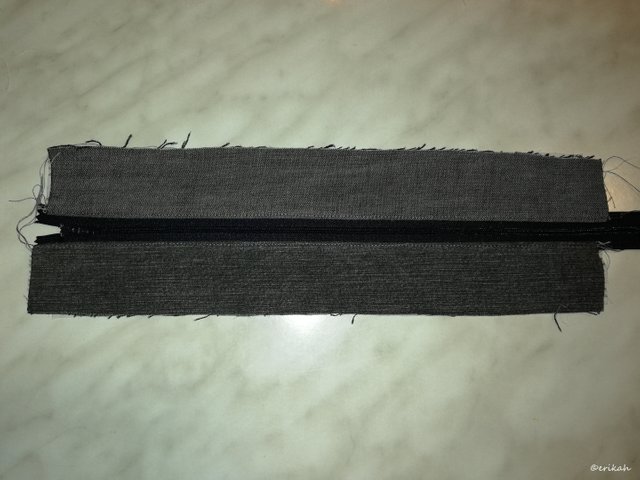 And here it is! I did it.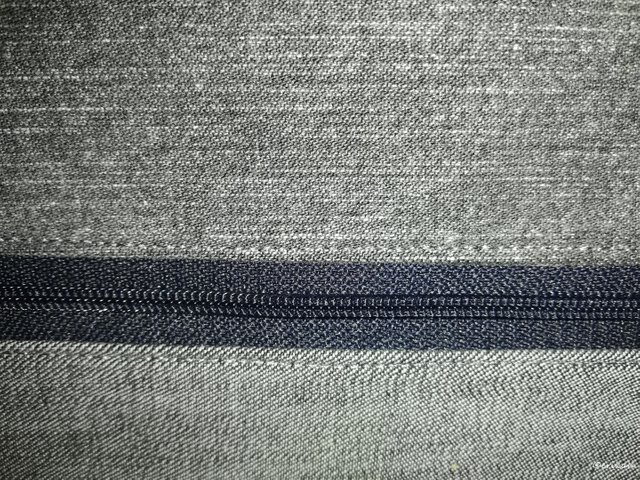 The thread is also gray, so it's not clearly visible but it's ok.
The rest went pretty well. I'm not saying everything was perfect but there were no major issues.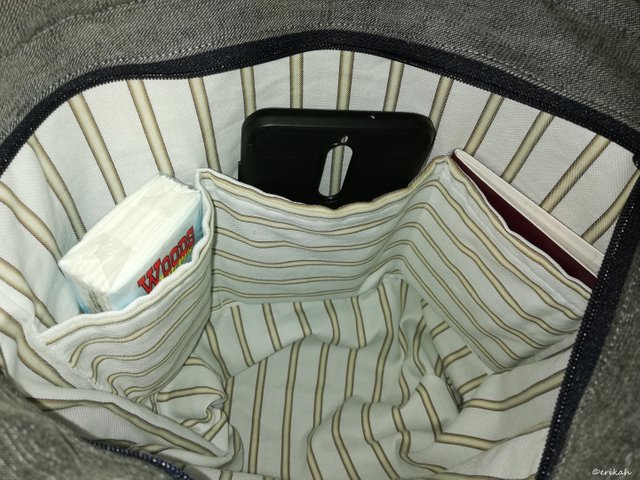 This is the inside. The tutorial video had three compartment pocket planned and I found it very useful. As a woman, I like to have more than one pocket in my bag.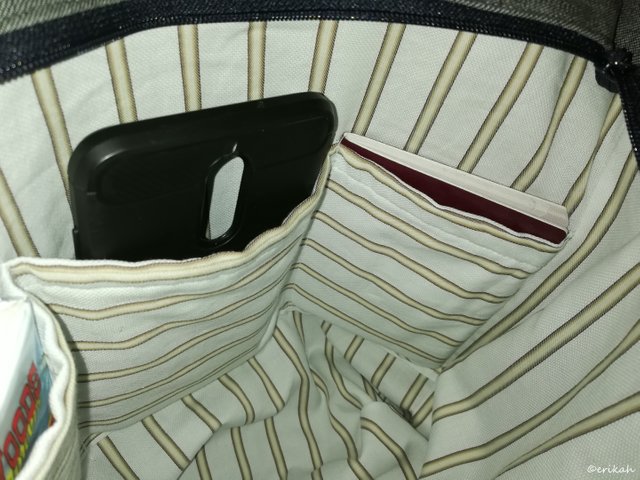 I can keep my phone in one, the other could be for ID or passport (that's my passport in the right pocket by the way) and the third one can be for keys.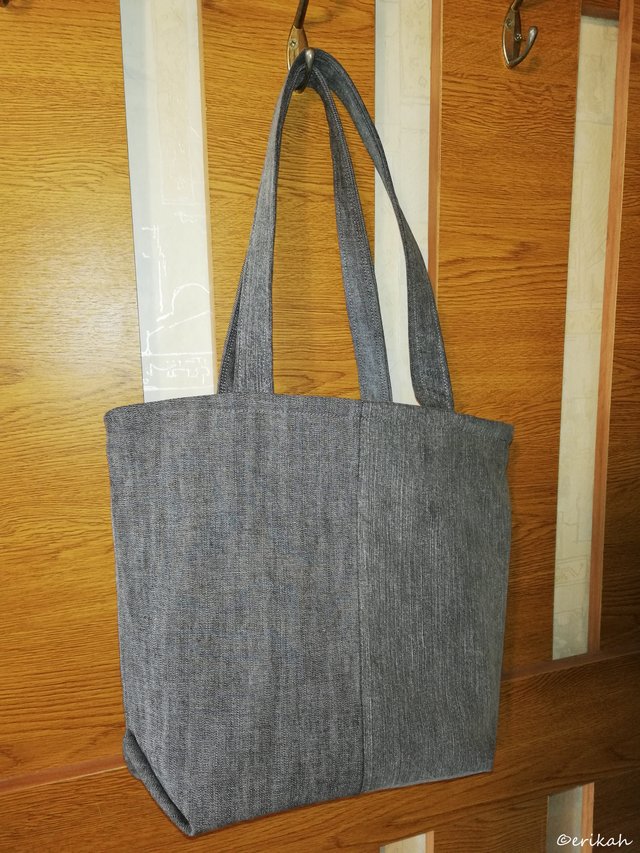 In my first post I said that may have to redo the carry straps and I did as there were too short. These are 10cm longer and better than the previous ones.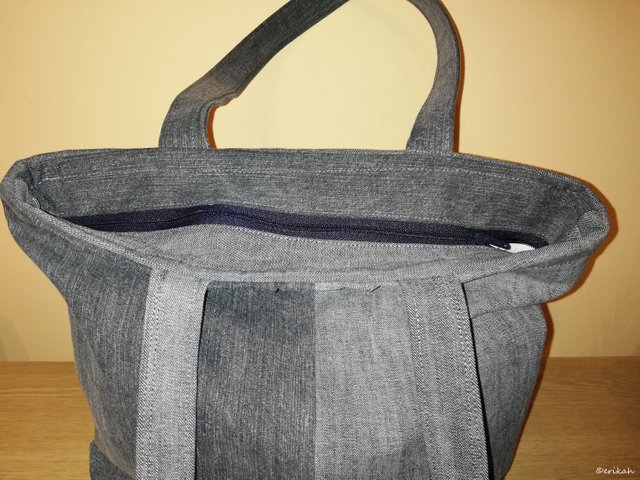 The bag is two toned as I used the right and the wrong side of the jeans.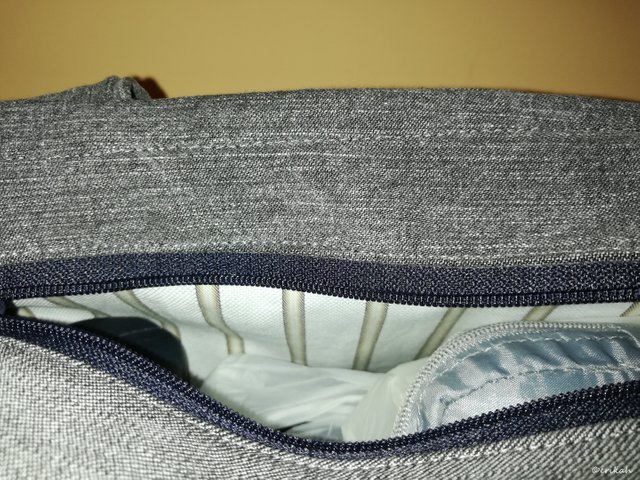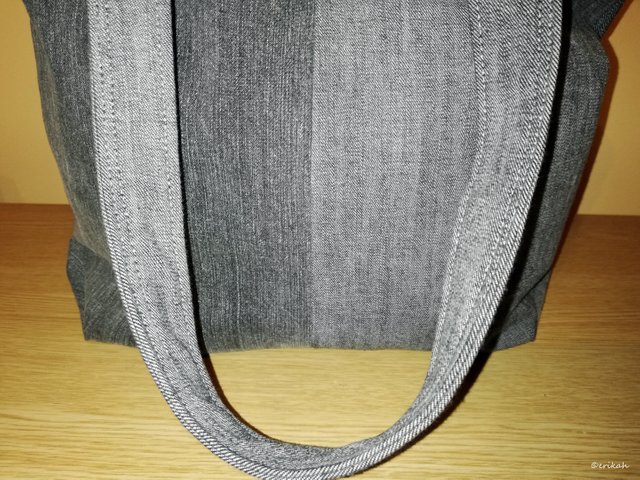 About The Experience
If you haven't read my previous post, this is my very first bag and almost my first experience with the sewing machine. I've used it a couple of times before but not to create something but to repair this and that, mostly small things. I've never done any sewing course or have learned from someone. My only help were the videos I could find on YouTube. When I started working on this bag, I haven't even known how to set up the tread as I've totally forgotten it.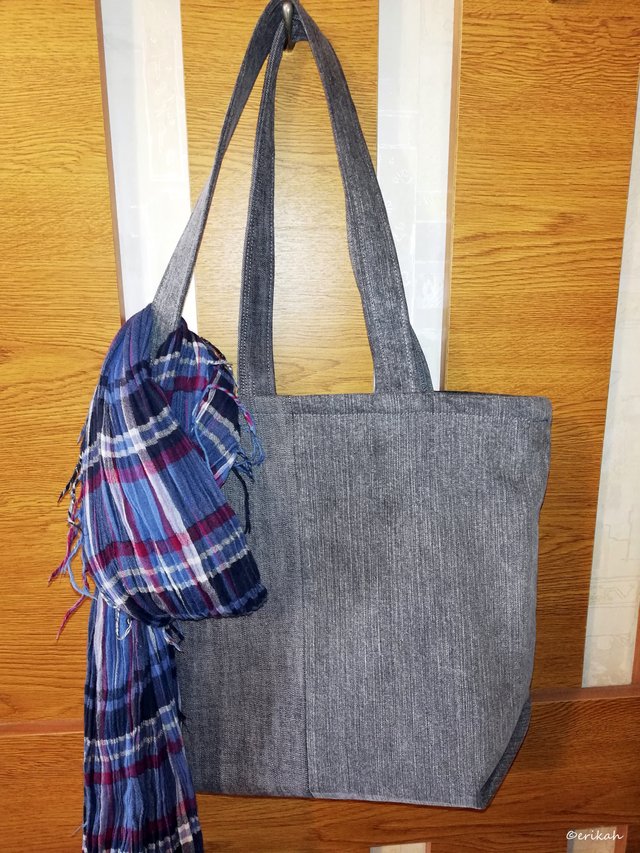 As a complete beginner, I must say you can learn this by yourself. If I could do a bag without any help, anyone can. It may look scary at the beginning but if you're consistent, you can do it. It was difficult at the beginning as I had the feeling the sewing machine is working against me and not with me, which in fact was my fault as I didn't do things right.
My plan with this bag was to learn and practice. I've said it doesn't have to be perfect as it's my first piece and I need to start somewhere. Now that it's finished, I'd say it came out ok and will use it in the future.
Plans
Now that my first bag is finished, I feel like doing more as it's been fun. There are so many tutorials about everything you need and even more. I'm pretty sure I can get better at this and create new things.
It's always good to learn new things, develop new things and who knows, maybe I can create things for others. I'm already working on my next bag and have a lot of fabric for more.
Recycling
As I said in my previous post, all fabrics used are from the second hand shop. These are mostly brand new, unused items, of very good quality, like Tommy Hilfiger, Esprit, s Oliver and so on. My plan was from the beginning to recycle fabric, give them a second life and it's working. That shop is a real gold mine for me. The lady already knows when it's stock liquidation, I'm showing up and leaving with a bunch of jeans and shirts.
I know quite a few people creating wonderful things using recycled fabrics, I'm going to be one of them.