English
Parade in Commemoration of the Bicentennial of the City of Bogotá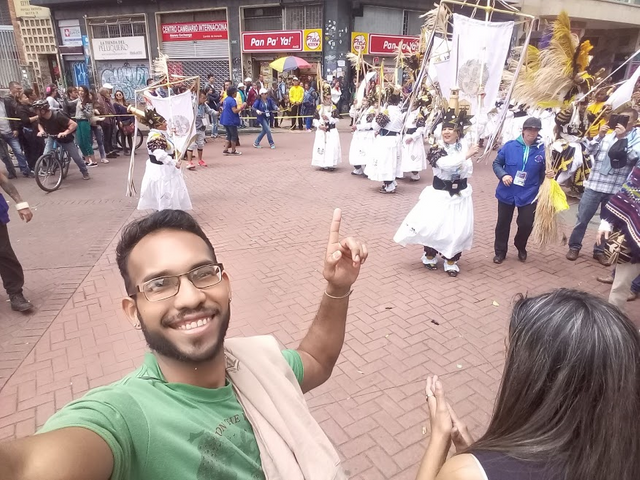 A few months ago, while I was in the city of Bogota, you can witness the parade commemorating the Bicentennial of the city of Bogota.
That day the city was celebrating and it was not for nothing, it was celebrating the 200 years of the city, it was a unique and colorful moment.
From the beginning to the end the parade was full of groups and very colorful costumes, the cultural manifestations reflected in that parade showed the essence of the Colombian citizen in its multiple historical facets.
A day of celebration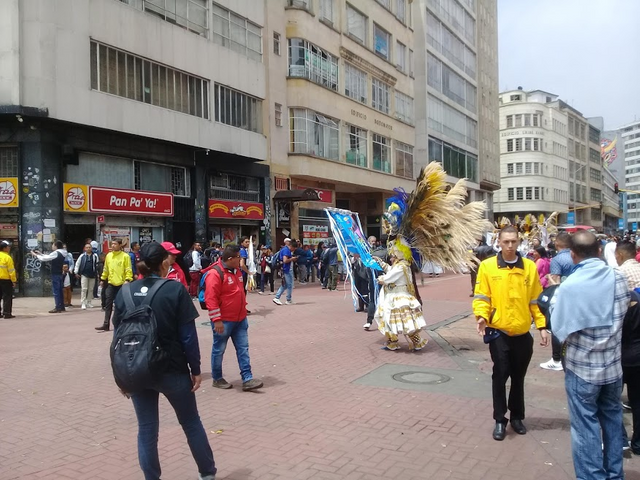 That day we went to the cultural center of the city, my friends and I did not know for sure that the parade would pass by there, so for all of us it was a pleasant surprise, after a few minutes of waiting after our arrival finally the parade started overflowing with rumbas, energies, songs, drums and many colors.
Actors of theaters and dancers accompanying the comparsas, the openings were really good, the traditional costumes were really extraordinary loaded with much creativity and ingenuity.
Comparsas, songs, choreographies and carriages
The parade was structured by different dynamics, from comparsas, floats or carriages and choreographies, the most sublime moment for me was when I saw the aboriginal delegation parade and dance in front of everyone. The indigenous delegation made an active presence in the parade with a quite striking and original participation.
Their dances demonstrated to the public a little of their essence as native peoples, showing that despite technology and modernization they remain connected to nature and its elements.
I invite you to enjoy some unpublished images of that parade
***
Spanish
Desfile en Conmemoración al Bicentenario de la Ciudad de Bogotá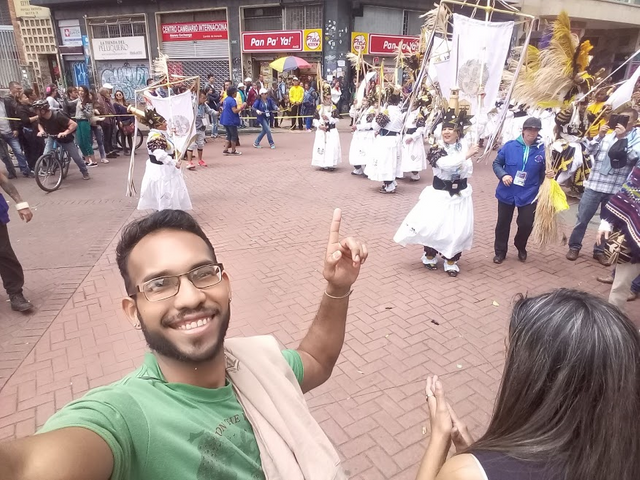 Hace algunos meses atrás mientras me encontraba en la ciudad de bogotá, puede presenciar el desfile conmemorativo del Bicentenario de la ciudad de Bogotá.
Ese día la ciudad se encontraba de celebración y no era para menos, se estaba celebran los 200 años de la ciudad, fue un momento único y colorido.
De principio a fin el desfile estuvo nutrido de comparsas y atuendos muy coloridos, las manifestaciones culturales reflejadas ahí en ese desfile mostraban la esencia del ciudadano Colombiano en sus múltiples facetas históricas.
Un día de celebración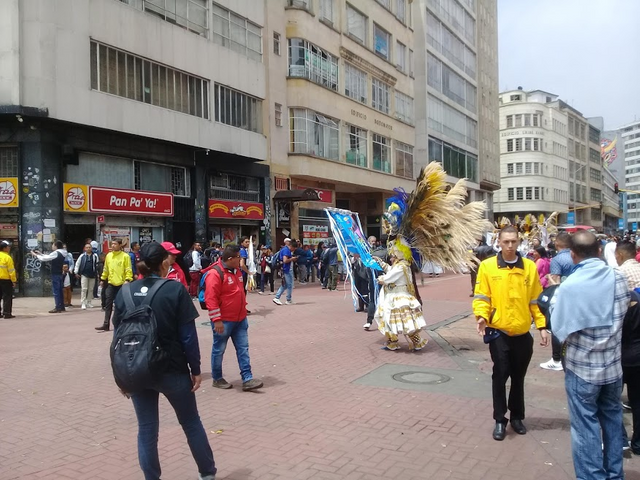 Ese día nos dirigimos al casco cultural de la ciudad, mis amigos y yo no sabíamos a ciencia cierta que por ahí pasaría el desfile, así que para todos nosotros fue una grata sorpresa, luego de algunos minutos de espera luego de nuestra llegada finalmente se dio inicio al desfiles desbordado de rumbas, energías, cantos, tambores y muchos colores.
Desde actores de teatros y bailarines acompañaban las comparsas, los opening fueron realmente buenos, los disfraces tradicionales fueron realmente extraordinarios cargados de mucha creatividad e ingenio.
Comparsas, cantos, coreografías y carruajes
El desfiles estuvo estructurado por distintas dinámicas, desde comparsas, carrozas o carruajes y coreografías, el momento más sublime para mí fue cuando ví la delegación aborigen desfilar y danzar en frente de todos. La delegación indígena hizo presencia activa en el desfile con una participación bastante llamativa y original
Sus danzas demostraban al público un poco de la esencia de ellos como pueblos originarios, demostrando que a pesar de la tecnología y de la modernización ellos siguen conectados con la naturaleza y sus elementos.
Les invito a disfrutar algunas imágenes inéditas de aquel desfile
---
˜"°•. ˜"°•
#marscrea
•°"˜ .•°"˜
---
▂▃▄▅▆▇█▓▒░Mars - Crea░▒▓█▇▆▅▄▃▂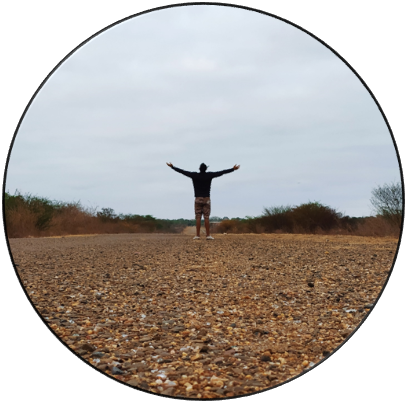 ˜"°•. ˜"°•

Living

•°"˜ .•°"˜
---
---
-@manuelramos - Creating Quality Content-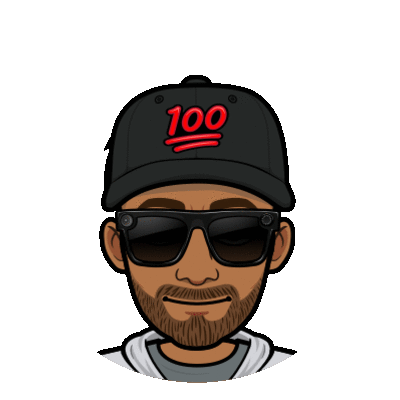 ˜"°•. ˜"°•

Simply Mars

•°"˜ .•°"˜
---

---
---
Loves - Lives - Thanks
---
---

Some of the communities I follow and support

---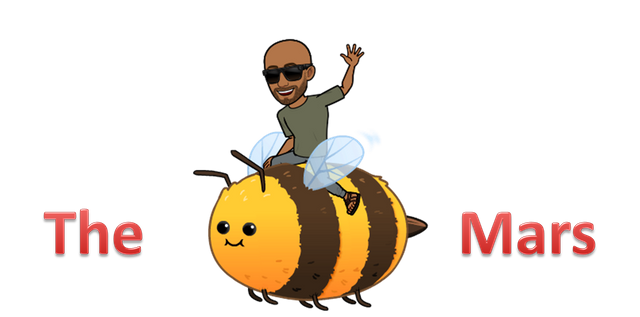 ---

Do you want to know more about me?





---
The Gifs, Banners, Stripes and the Maquetado are the product of my creativity
---

Thanks for reading, I'll see you in a next Publication !!!

I still have a lot to tell
╭══• ೋ•✧๑Mars๑✧•ೋ •══╮


╭∩╮

(︶︿︶)

╭∩╮


╰══• ೋ•✧๑Mars๑✧•ೋ •══╯

✳ S̻͛̊̅i̤̫͇m͙̖̾͋̃͗͗ͭp͖̘̒̋l̰ͬ̒̋͐y ̮͙̞̺ͩͪ̍ͨM̻͛̄a͍̩͚̪̤ͮ̒r̜͇̠ŝ͖͔̩̋̉ ✳

.