Influence is defined as the capacity to have an effect on the behaviour of someone else.
Pretty powerful when you think about it.
Everyone wants to build influence.
But only a few put in the work.
You often see markets getting saturated.
No matter what industry you are in...
The participants look around and think there is a lot of competition.
But look closer.
How many of those people are actually serious?
When you look closer, you'll often see most of the people have half foot in and half foot out.
They are lollygagging & moving in circles.
But are they elevating?
Nah, not all of them.
Only a few are.
That's why Pareto Principle is the principle of human nature.
It's always just a few who rise to the top.
There are hundreds of soda companies around the world.
But there is only one Coca Cola.
There are tons of players in the NBA.
But only a few superstars.
There are tons of online retail companies.
But only one Amazon.
You get the point.
The reason Pareto principle holds true time and time again is because human nature always kicks in.
-Laziness is a subconscious act.
-And hard work is a conscious one.
Humans are wired to take the path of least resistance.
Aka... the subconscious route.
When I was a little kid, I wondered why the richest people on Earth just didn't spread out their money to everyone in the world.
In that case, everyone would win! Right?
Nah, wrong.
The same people will end up getting their money back.
It's because money is simply a byproduct of their knowledge, street smarts & habits.
They are wired this way.
Not saying the people who are less fortunate don't deserve the money.
What i'm saying is that the solution isn't always as easy as it seems.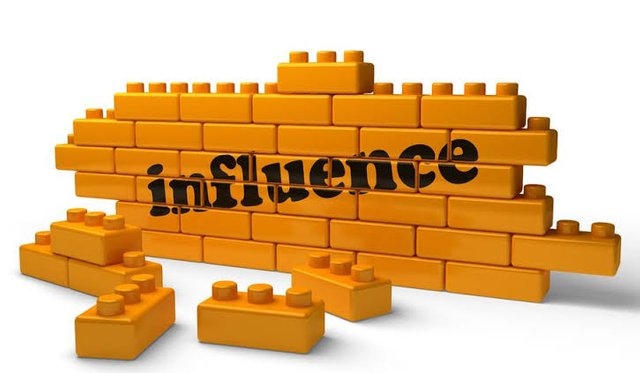 Image source
Which brings me to the title of the article.
How does one build influence?
By showing up everyday.
There should be a path that you are walking.
And each day you should be taking a minimum of a step.
That's it.
One day, you'll take 30 steps.
Another day, you'll take 1300 steps.
And one day, you'll take 1 step.
All good.
All the steps are adding up in the right direction.
As you take these steps, others are going to get curious & be like:
'Hmm.... where is this fellow walking? And why are they walking with such conviction? Hm... they may be onto something! I'll follow em.'
And that bystander will follow you.
It just begins with 1 follower.
Humans follow humans who are followed by other humans.
That's another life law.
When I got my first follower on Steemit, I was happy.
But he was my best friend. He was supposed to follow me.
All good. A follower is a follower.
And its just been a matter of staying consistent every day.
Now I have 900+ followers.
This isn't to brag.
But to show you that it's all about having a vision & taking incremental steps towards that vision.
Influence is simply a byproduct of you following a genuine passion.
They look at you & wonder how you make it look so easy.
But little do they know... you are just having fun.
If i didn't have a single follower or daily upvoter, i'd still do what i do.
It's because I enjoy it.
Ask yourself if you are enjoying what you do.
I've never shitted on people who have a 40 hour a week job like a lot of people on steemit.
Because if you enjoy something, you enjoy it.
If influence is what you're chasing, then you are playing the wrong game.
Chase your best self.
Everything else is secondary.
That's how you play a game that others are too blind to see.
Till tomorrow
Trilston 💲