Hi Splinter warriors!!!
It been a while I participated in the share your battle challenge. Last challenge was a Life Card and Life Splinter is a No for me. This week's card isn't really from my favorite deck too but it's much better than Life Splinter in my collection.
My Death Deck is a little bit more stronger than my Life Deck, So I am participating in this after trying out so many battles or maybe rules that'd be favorable for me to win a battle with the week's theme(Card).
About The Card
Phantasm is a melee attack monsters from Death Splinter Family with Flying ability. Flying ability gives cards that has it an increased chance of evading melee and range attack from enemy monsters with no flying ability.
Cards like Phantasm are very useful in a battle where there's Earthquake rule. This rules usually says Non-flying monsters take 2 melee damage at the end of each round, this simply means that in a battle with this rules, players are expected to use Monsters with Flying ability to avoid earthquake damage.
This is one of the biggest reason I love this card. I have cards with flying ability mostly in my Death Deck and I'd go for Death splinter whenever there's this rule set.
My Phantasm is a level 2 card, I must confess that I get to know some cards only when I get them in quest or season reward, this therefore means that I got Phantasm from one of the two rewards. I appreciated the card because of its ability.
About The Battle
Yes!!!
The battle was quite interesting, when I say Interesting, it means I really loved it. The kind of battle I enjoy are battles that I either don't loose any card till the end or loose just one or two. This particular battle with Phantasm is one of those.
The rule for this battle says just one thing,
Melee Mayhem
Melee attack monsters can attack from any position - Quite explanatory
How sweet!!!
Cards selected for the battle
Goblin Mech
Spirit Miner
Prismatic Energy
Sand Worm
Phantasm
The battle was a 42 Mana Cap battle and that was really big. Considering the rule and using it to my advantage, I decided to go with high Mana cards with good abilities, I didn't use any Range attack monster since Melee can attack from any position and there's nothing as good as this. This rule set always give melee the chance to behave like a Magic attack monster even though melee ordinarily will only attack from the first roll.
The reason I had to select the Spirit Miner and Prismatic Energy was because they won't hit Armor before health, they hit health directly. Although rule says Melee can attack from any position but it still have to hit armor before moving to health and I never can tell what my opponent is bringing.
Phantasm
Card did really well in this battle. I have it as the last man and my calculation was that, opponent will come with more melee cards because melee monsters can attack from any position. Phantasm Flying ability would make it have an increased chance of evading melee and range from monsters without this ability, so If opponent comes with melee cards without Flying abilities then I can have upper hand of winning.
Strategy really work putting Phantasm as the last card on the roll with its ability.
THANKS FOR READING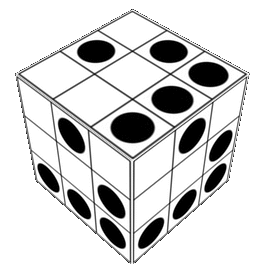 Posted via neoxian.city | The City of Neoxian