When to turn on the air conditioner? body's natural ability to remove heat!
This morning
I watch TV in the living room
Little grandchildren
want open Air conditioner
I told them
Sit down, stay quiet, blow the body/hair, and wait until it's not hot
They live upstairs and are hotter
Climbed the stairs again and walked down
To feel particularly hot
But on the first floor
Sitting on the sofa
Blow down the electric fan
After the body's fire dissipates
It won't feel hot anymore
In my opinion
It's bad to keep blowing air
Will affect the body's natural ability to remove heat
The human body has the function of natural heat removal
When the temperature is relatively high
The body will perspire
Use sweat to remove heat from the body
If you are often use air-conditioned
Will affect this ability
So if you can , do not to blow cold air
Try not to blow cold air
I also put these messages of the body's natural heat rejection
Inform grandchildren
Don't let them think I am want to save electricity money
I am want you for a good health
Personally feel
The following situations
No need to blow cold air
Celsius temperature < 28.5 degrees
Celsius temperature = 29.0 degrees, with breeze and humidity.
Celsius temperature = 29.5 degrees, with stroke and humidity.
At 1F at home, the humidity will be higher, and the humidity upstairs will be lower.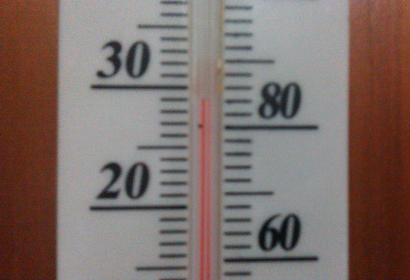 何时开冷气?人体自然排热!
今天早上
我在客厅看电视
小孙子们一下来
就要打开冷气
我和她们说
坐下来,静一静,吹吹风,等下就不热了
她们住在楼上, 比较热
又爬楼梯走下来
才会觉得特别的热
但是在一楼
坐在沙发上
吹下电风扇
等身体的火气消散之后
就不会觉得热了
个人认为
一直吹冷气是不好的
会影响人体的自然排热的能力
人体有着自然排热的功能
当温度比较高的时候
人体会排汗
利用汗水来排除体内的热气
若是常吹冷气
将会影响此能力
所以能够不吹冷气的话
就尽量不要吹
我也把人体的自然排热的这些讯息
告知孙子们
不让她们以为是为了省电费
而是为了身体好
个人觉得
下面的这些情况
就不需要吹冷气
摄氏温度<28.5度
摄氏温度=29.0度, 有微风 , 湿度中.
摄氏温度=29.5度, 有中风 , 湿度中.
家里的1F, 湿度会较高, 楼上的湿度会较低.