The first article on Magic the Gathering I wrote gained zero interest but I'm hoping there's some MtG players and Investors on Steemit. I lived in Phoenix, AZ at this time and was introduced to the game by a work colleague.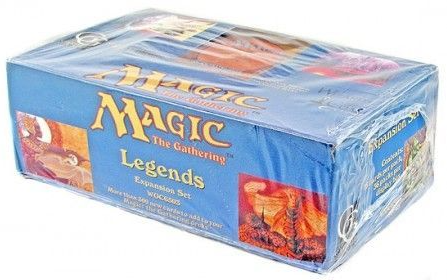 Legends was the third Magic the Gathering expansion released in June 1994, I know.. I was there and experienced it all.
I pre-ordered a sealed box from The Game Depot in Tempe and that was all I could have. The game store would not let anyone have more than a single box and it cost me the retail price, around $90 I think.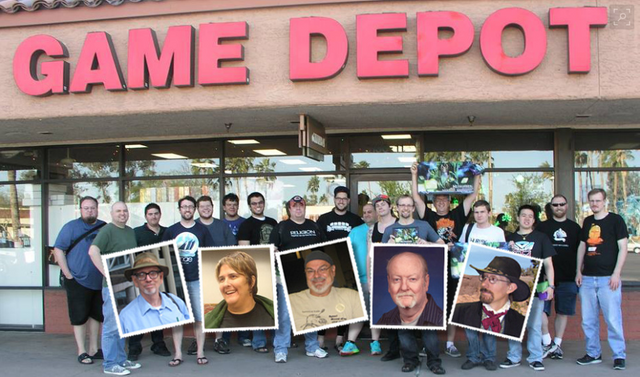 The Game Depot in Tempe, AZ still exists, but has moved to a different location since I bought my box of Legends!
I managed to get some more boosters from nearby game stores but it was a struggle. Every one of them had an embargo once you had bought your quota, around 3-4 packs. Such was the demand and the lack of quantity.
I remember opening my sealed box; Jacques le Vert was my first rare, there was also a Nicol Bolas in there. Funny how you remember some things?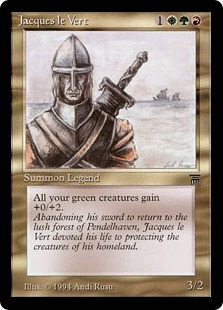 It seemed everyone wanted a full set of Legends, an impossible task as you just couldn't buy them anywhere after the first week.
Some of the artwork was so cool looking. Just look at All-Hallows-Eve, a card it took me forever to get a copy of.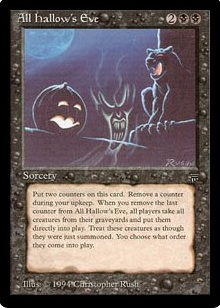 There was a game shop named Roaming Panther in Chandler and a middle-aged guy was sitting there with THREE of these cards, how the heck did he get all those?
In mid-June I attended Hex-a-Con 4 in Tempe, this was a game convention that happened every year. I persuaded to attend by the same work colleague who had introduced me to the game.
Peter Adkison (Wizards of the Coast) was there, and was also looking to complete his Legends set. In fact he was so desperate that for every rare you gave him that he did not have, he would give you a sealed Arabian Nights booster pack. Holy Moley, What a guy!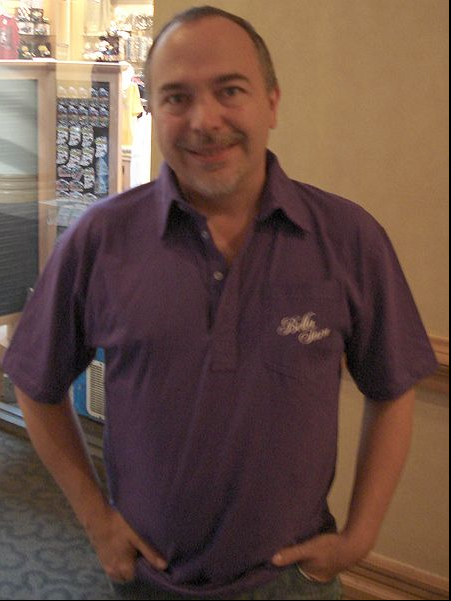 https://en.wikipedia.org/wiki/Peter_Adkison
I managed to extract FIVE said booster packs, and no they were not scanned! From one I pulled a Juzam Djinn, I can't remember what was in the others.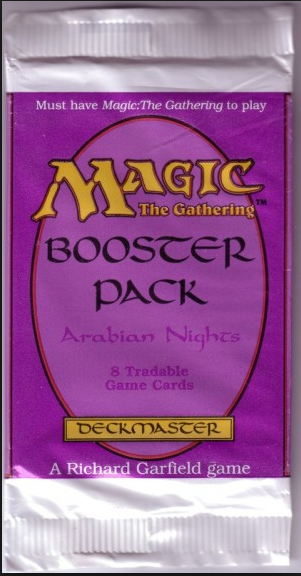 On retrospect, I was sitting on a fortune.
Arabian Nights booster packs sell on eBay for around $575 each.

Legends sealed booster boxes are almost non-existent in the world now, here's one on Troll and Toad at a cool $7999.

Even the single cards are gaining a lot of traction simply because they are old, there were not many printed and they are being snapped up by speculators and investors. I still have a few, but not many.
This is a STEEM reprint of a post from almost 2 years ago.. - I still have a few Legends left, and some on the reserved list. At some point, I need to sell them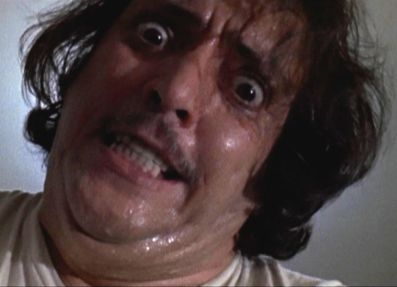 If you found this article so invigorating that you are now a positively googly-eyed, drooling lunatic with dripping saliva or even if you liked it just a bit, then please upvote, comment, resteem, engage me or all of these things.