I played and eighteen basket disc golf round this afternoon with my son and lost by one point. Neither of us were having a really good round and we were missing some easy throws. I had three putts go over the basket that I knew I could usually make. The wind was blowing just hard enough to be an issue for the throws.
We also played a nine basket round in the evening using only four discs. I wanted to try out my new Valkyrie disc that I just got recently. This disc flies nothing like the lightweight 148 gram Valkyrie disc that I lost in the river. It is a max weight 175 gram disc in Pro plastic and it flies very overstable for me.
I think once it breaks in a bit it will fly more like the one I lost but I doubt I will ever use it for the same type of throws. It makes a big difference how heavy a disc is and what type of plastic it is made from. I find the heavier discs more forgiving to errors in throwing and easier to control on really windy days.
I really like the color of this new disc - it is pretty easy to find in the grass and looks nice in the bag. The yellow green color in the center shows up better than a straight yellow disc.
I like orange the best for finding discs but I have two orange drivers and I mix them up sometimes. It is good to have something I can easily find in the bag with a unique pattern along the edge.
I tracked the route I took disc golfing with the GPS from my cell phone and my new Fitbit. It makes a kind of interesting looking map showing the pace. It would be nice if it had the terrain in the map so you could see about where the shots landed.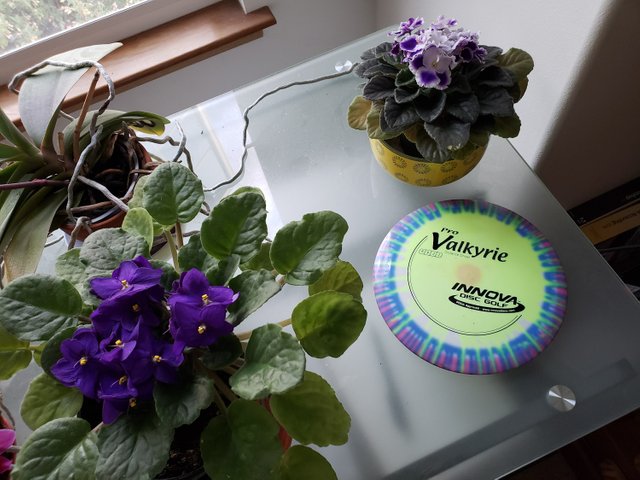 ---
Thanks for reading! I always value your support and comments. The pictures were taken by me with my Galaxy S9+. Text and graphics copyright lightsplasher & litesplasher.
---
<br><img src="https://cdn.steemitimages.com/DQmXv9QWiAYiLCSr3sKxVzUJVrgin3ZZWM2CExEo3fd5GUS/sep3.png"><br><table>   <tr>        <img src="https://cdn.steemitimages.com/DQmRgAoqi4vUVymaro8hXdRraNX6LHkXhMRBZxEo5vVWXDN/ACTIVITYCOUNT.png"> </tr>   <tr>        <div class="text-center"><b>10253</b></div> </tr></table><table>    <tr>        <img src="https://cdn.steemitimages.com/DQmZ6ZT8VaEpaDzB16qZzK8omffbWUpEpe4BkJkMXmN3xrF/ACTIVITYTYPE.png">  </tr>   <tr>        <div class="text-center"><pre><b>Daily Activity, Golf, Yard Work</b></div></pre></div>  </tr></table><div class="text-center"><img src="https://cdn.steemitimages.com/DQmW1VsUNbEjTUKawau4KJQ6agf41p69teEvdGAj1TMXmuc/A-5.png"><a href="https://bit.ly/actifit-app"><img src="https://cdn.steemitimages.com/DQmQqfpSmcQtfrHAtzfBtVccXwUL9vKNgZJ2j93m8WNjizw/l5.png"></a><a href="https://bit.ly/actifit-ios"><img src="https://cdn.steemitimages.com/DQmbWy8KzKT1UvCvznUTaFPw6wBUcyLtBT5XL9wdbB7Hfmn/l6.png"></a></div>