Kilka dni temu postanowiłem pobawić się troszkę z giełdą Justswap na blockchainie Tron.
Dziś kilka wniosków w temacie Energy i Bandwidth - nowych parametrów, których nie ma na blockchainie ETH.
Energy i Bandwidth na Tronie porównałbym do opłaty gas na ETH.
A teraz do rzeczy.
Korzystam z Portfela TronLink Pro. W portfelu mam dwa parametry: Bandwidth i Energy.
Przy dokonywaniu swapów na JustSwap jest pobierana "opłata" zarówno z Bandwidth jak i z Energy.
Bandwidth dostałem 5000 przy założeniu portfela. Energy miałem 0.
Oba parametry można podnieść zamrażając TRX na portfelu, jednak nie jest to obowiązkowe.
5000 Bandwidth wystarcza na kilkanaście operacji (swap, approve, dodanie do poola, wysyłka). Mnie zabiera średnio 350-400 za jedną transakcję.
Energy na swap potrzeba dużo więcej (50k-60k), approve coina kosztuje około 20k, dodanie do poola około 60k.

NAJWAŻNIEJSZE - jeśli nie masz Energy lub Bandwidth, to podczas transakcji jest pobierana z twojego portfela opłata w postaci TRX.
Przykładowy powyższy swap kosztował mnie 66k Energy, i pobrało mi za to 0.66 TRX czyli 0.02$ (w zaokrągleniu) - i to jest chyba najważniejsza informacja, bo pokazuje jak tanie są opłaty transakcyjne w porównaniu do Uniswap.
Poniżej przykładowa opłata za approve coina.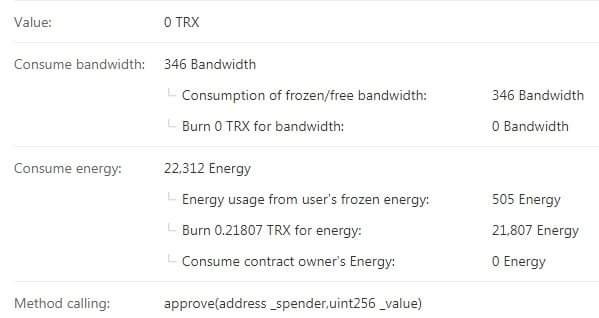 Zdecydowałem się zamrozić TRX, by sprawdzić o ile zwiększy się mój poziom Energy. Zamroziłem 1k TRX i otrzymałem za to 63k Energy - wystarczy na jedną operację. Dzięki zamrożonym TRX mogę również głosować na "delegatów", zarabiając w ten sposób niewielkie ilości TRX.
Zarówno Bandwidth jak i Energy odnawiają się w czasie rzeczywistym 100%/24h, czyli około 4.17% na godzinę.
To tyle (w skrócie) jeśli chodzi o te dwa nowe parametry.
Jeśli macie jakieś dodatkowe pytania, to piszcie w komentarzu, lub szukajcie mnie na Discord.
p.s.
Mam nadzieję, że kotek się nie dowali do tego postu, gdyż post ten jest rozszerzoną formą mojego wczorajszego komentarza na YouTube.
Nie potrafię dodać linku bezpośrednio do komentarza, jako do źródła, więc wrzucam link do filmu, pod którym zamieściłem komentarz.

This report was published via Actifit app (Android | iOS). Check out the original version here on actifit.io


18243

Chasing Pokemons, Daily Activity, Football