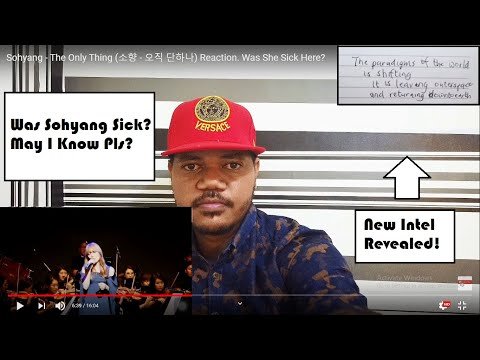 ---
Sohyang - The Only Thing (소향 - 오직 단하나) Reaction. Was She Sick Here?
#sohyang #sohyangreaction #소향
Sohyang hails from Korea. She is known to have covered powerful songs, from the likes of Whitney Houston, Michael Jackson, Mariah Carey, Celine Dion etc and for songs like Arirang Alone, Hug me, Breathe etc. She participates in Mask singer too etc However, many times she is ill or sick too. I have reacted to many Sohyang songs but i always forget that she may have been in these performance because many times her performances are very strong. She hits those So hyang notes and all that i forget to pay rapt attention to her state of health. Now, i interests me to know if she was sick per performance, to better grasp the extent in beauty of her performances and for other reasons too.
In this Sohyang reaction, she sings 'the only thing'. It doesn't appear like a popular Sohyang song but it is a Sohyang song all the same. She sang it powerfully and gracefully adding some mystery into the melody but was she also ill? Also is this a gospel song? For many of her Korean songs, i like some insight into the meaning of her lyrics. Incase, you know the story-line behind 'So hyang - the only thing', kindly leave me a comment.
This the original video that i have reacted to, incase you want to react to it too. It is titled '소향 - 오직단하나 (Sohyang - The only one) / 이천아트홀 170907':
...
Contact me: via 'comsilbronze4@gmail.com' or on https://www.marlians.com/@surpassingg....
Read a 70-minutes long publication about me:
https://www.patreon.com/surpassinggoogle
Kindly subscribe to my YouTube channel: http://www.youtube.com/channel/UCAcai...
IN KOREAN:
소향-유일한 것 (소향-오직 단 하나) 반응. 그녀가 여기서 아 Was습니까?
소양 # 소양 반응 # 소향
소향은 한국에서 왔습니다. 그녀는 Whitney Houston, Michael Jackson, Mariah Carey, Celine Dion 등의 강력한 노래와 Arirang Alone, Hug me, Breathe 등의 노래를 다루는 것으로 유명합니다. 그녀는 마스크 가수에도 참여합니다. 아프거나 아파요. 나는 많은 소향 노래에 반응했지만 그녀의 공연이 매우 강하기 때문에 그녀가 이러한 공연에 참여했을 수도 있다는 것을 항상 잊어 버립니다. 그녀는 Sohyang 노트와 내가 그녀의 건강 상태에 대해 맹렬한 관심을 기울이는 것을 잊어 버렸습니다. 지금, 나는 그녀가 공연 당 아프면 그녀의 공연의 아름다움의 정도를 이해하고 다른 이유로도 알고 싶습니다.
이 소양 반응에서 그녀는 '유일한 것'을 부른다. 인기있는 소양 노래처럼 보이지는 않지만 모두 소양 노래입니다. 그녀는 멜로디에 수수께끼를 강력하고 우아하게 추가하면서 노래했지만 그녀도 아 also습니까? 이것도 복음 노래입니까? 그녀의 많은 한국 노래에 대해, 나는 그녀의 가사의 의미에 대한 통찰력을 좋아합니다. 혹시'소향-유일한 것'의 비하인드 스토리를 아시면 친절하게 의견을 남겨주세요.
이것도 당신이 그것에 반응하기를 원한다면, 내가 반응 한 원본 비디오입니다. 제목은 '소향-오직 단 하나 (Sohyang-The only one) / 이천 아트홀 170907':