Not that much planned for me as yet, but I'll probably be outside enjoying the sunshine during the forking hour 😎 And return to see everything working perfectly, I hope.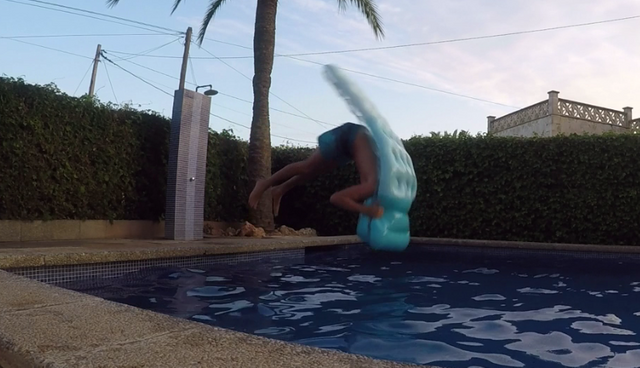 This week I'm away from the UK on a short visit to Mallorca, and the pool. It's the first time I've been in since last September, even though I left here in early June. The peak of summer has passed and the temperature in the day is a much more bearable 30c/86f, and the water is just right.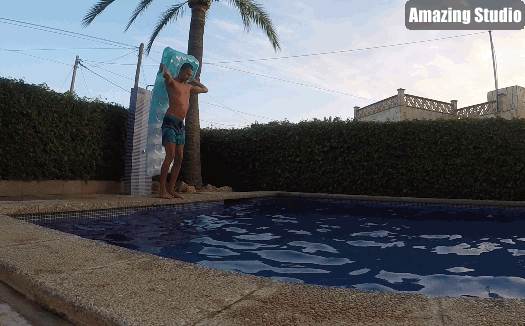 Who let this idiot in
That was last year, but I found the video again today and decided to use my new found (about 20 minutes ago) video reversing and gif conversion skills.
I've been painting my mum's place for the majority of the day today, which isn't actually that much fun in hot weather and with a dodgy knee. I woke up on Saturday and it was very sore and unstable but it's already feeling a lot better, although I couldn't really swim today when I sneaked out for half an hour just before lunch.
The other day I was reunited with the bike I gave to a bar owners daughter, he had it parked 'proudly' outside the bar to 'stop the cars parking in front', and said he'd been using it a fair bit as his daughter has since gone back to the UK - with a poorly knee. hmm. He asked if I wanted it and I said I might pop down and take it for the day sometime this week but I'll have to see how my knee is I guess.
The contract for my job came through via email and I (did) have 7 days to return everything by post. 'Luckily', they cocked up the the most important part of the papers and put a different salary to what I was told, so I have emailed them back today stating the error which may or may not mean I get to start next Monday.
Although I miss the summer here, I'm actually OK with heading back in a few days time knowing that I'll miss the quiet (and much cooler) 7/8 months that begin shortly. Time to start saving (STEEM) and planning the next escape, although that could well be a few years yet.
---
Sooo, HF 21, excited?
I've not really spoken that much about it thus far and have been getting my daily fill from the likes of Taraz (kp) and Mark (exyle). It's probably fair to say that accounts with a larger amount of Steem Power in the bank are more excited for the changes than those who will be casting dust on comments with 100% up-votes. The author/curation split (that we see in the Tribes) will certainly benefit larger accounts, but everyone should collect some more SP via voting each week.
(Skipping the part on the likely reduction in post rewards and I'll see you in the Tribes!)
What you don't want to be voting on is garbage, that is if people get away from the thinking that downvotes are violent, censorship, mean, etc, and use them to return 'unjust' rewards to the pool. I think that is what I will be looking for first and foremost - Is Trafalgar going to curate a little more? Will the bot owners use their huge inherited stake to downvote garbage which, for example, bots that don't have a Blacklist (let alone my preferred choice, a Whitelist) are turning a blind eye to?
The downvotes on poor content are a method to shift rewards to the better content and make up for the loss in author rewards.
Oh, and the DAO is coming too. @gtg posted a little more about it today and his proposal (which I have just Resteemed) looks essential. From the comments in that post I have learned that voting for proposals is available on steempeak at https://steempeak.com/proposals, and I so hopefully tomorrow we will be able to see a list at this link.
---
Just a note regarding the Tribes. I feel more and more confident each day that a growing number of them aren't going anywhere soon. And even if they do vanish into thin air at some point, that's no reason to not take advantage of them while they are here.
I have stake!
In PAL, LEO, CCC, STEM, SPORTS, BATTLE, SPT, STEEMACE, MARLIANS, NEOXAG (NEOXIAN), (and PORN) - stake which in some cases from tomorrow (cause EIP - 50/50), is worth about the same in STEEM as a vote from my main account. So yeah, take a look at the type of content in the trending pages and see if you have something to offer!
---
Alright, have a good one,
Asher