It has been a while, but I'm finally moved into my new place and have a new dressing gown and matching pajama bottoms to prove it.
The flat is nothing special and so I wont bore you with pictures and just say that it's clean, quiet, close to the bus stop for work and will do for the next twelve months. In this time I'm hoping that a) I've saved enough to get a mortgage or enough to warrant disappearing off to the continent again to enjoy the sunshine.
I moved in yesterday, and prior to this managed to organise with the previous tenant leaving behind their router, which meant that I could connect with just a phone call. The line is 150 MB up and down and the speedtest.net site reckons the connection is even a little faster than advertised. On the Island I was lucky to get 300 KB up the line which meant gaming/streaming/uploading to dtube was impossible or very slow going.
Yet another good reason to be in the UK, that brings my tally up to 3 :)
The house and job move have taken up much of my time of late, but I have been reading in, and taken a fair amount goings on in Bangkok in. It's good to hear a fair amount of positivity in the #steemfest content and I'm hopeful that 2020/21 will be better than 2018/19. If it's worse then we've all been barking up the wrong tree for far too long.
Equipping the flat with the basics has meant a lot of walking around, and those that follow my .sports account where I stick the Actifit posts will see my step count the last week or so is up on previous efforts. A visit to the gym this early evening (instead of the offer for a drink) should help - it's a real bonus to have some machines and weights downstairs and I'm really appreciative of that. I'm probably in the worst shape I've been in 20 years and I can't use old age as the excuse, I've just been a lazy git.
On my travels today, I thought it best to pad this post out with some photos and so I have for you firstly, a couple of pubs I need to visit when cash allows: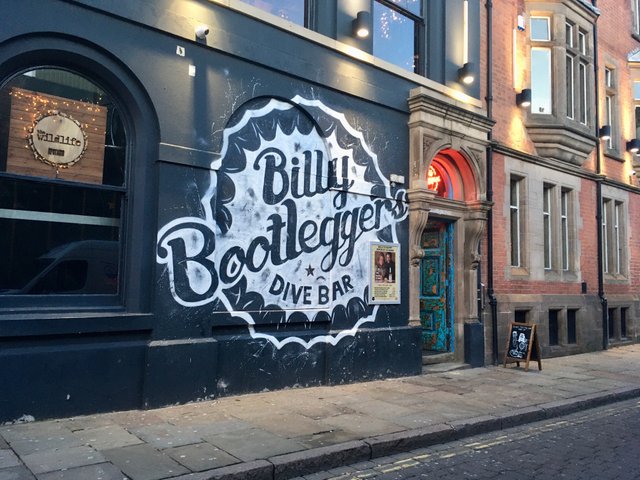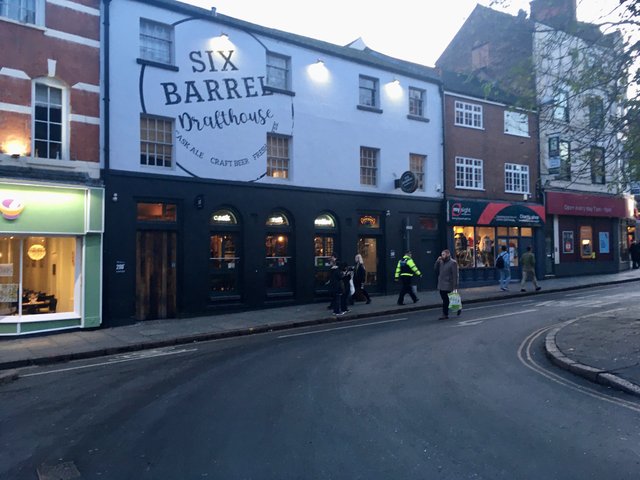 The round emblems appeal for some reason, and these places both look like they need a visit.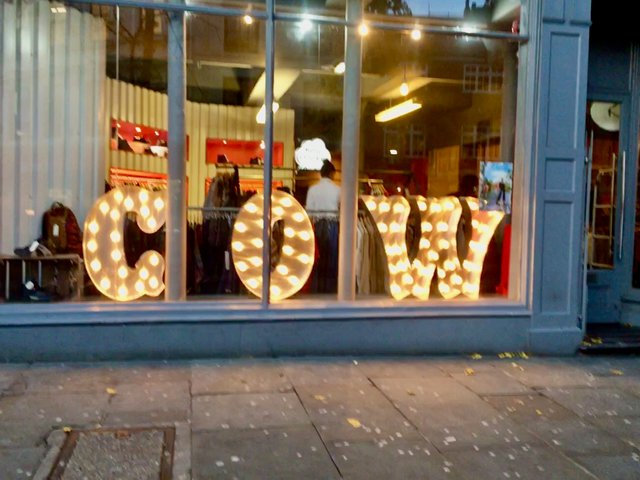 This place sells clothes and I wonder how well they are doing - maybe put an illuminated 'Fat' above the COW?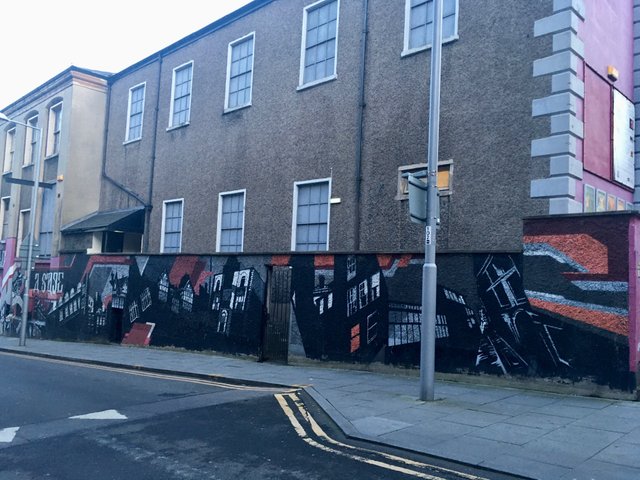 I took this for the graffiti and it is the side wall of the image shown below. What is going on with the road markings though? Maybe the painters had visited Billy Bootleggers first?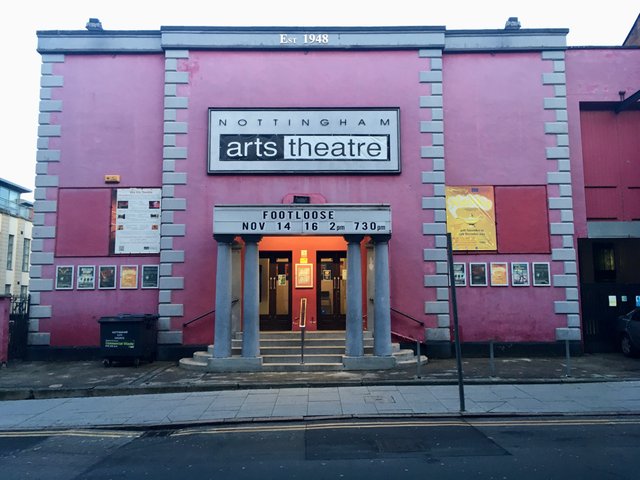 This weekend, Footloose, at the rather camp looking Nottingham Arts Theatre. Hmm, Theatre must be the English spelling as steempeak and busy don't like it.
And finally, this is what the real Nottingham is about. Trams, Cranes, and construction work wherever you go. It was around 2001/2002 when the (latest) trams arrived in Nottingham, I know this because I lived in a house where they were building a stop. They are now a major part of the city's travel network and the centre has few roads - most of which are one way.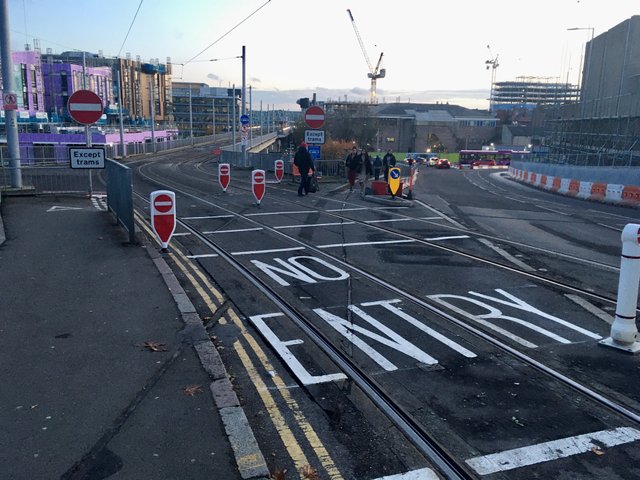 Enough No Entry signs? You would think so but it still doesn't stop cars occasionally taking this road to nowhere, smart.
So I've got my cup, a plate, a bowl, and splashed out on a set of knives, forks, and spoons. You'll have to wait until next payday before you can visit unless we are ordering takeaway, served out of the delivery box. I can iron your clothes, but if you want toast in the morning then you'll have to test out the oven grill (if there is one). Mind you don't slip when you get out of the shower and I probably need a bath mat, but there is plenty of loo roll if the takeaway is a hot one.
Work starts again on the 25th November, and before then I do hope to write a bit more, see my daughter once or twice, and collect a couple more items to make this place feel a little more homely. If I can fit work, Steem, the gym, friends, and of course my daughter into the week on a regular basis, I'll be happen enough here, for now.
Have a nice evening,
Asher