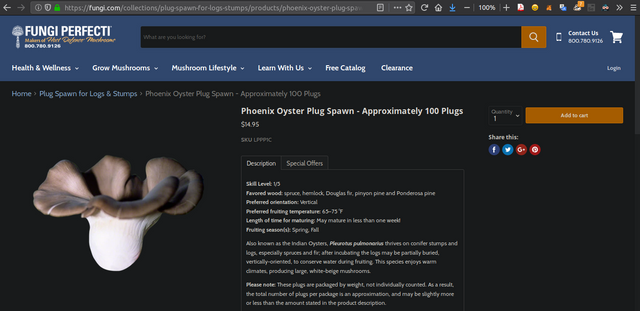 Today has turned out pretty cool! I had a conversation with @stortebeker following this comment on my post.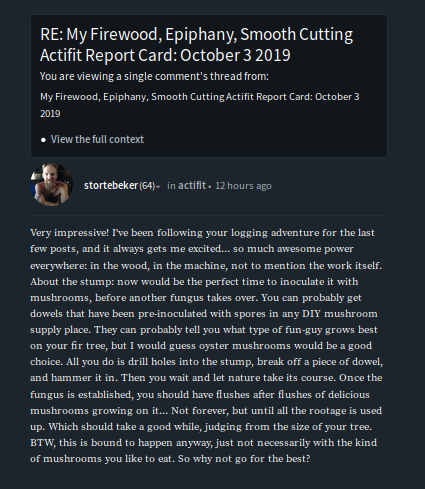 https://steemit.com/actifit/@stortebeker/re-flemingfarm-pyuw6h
You can read the post for the details but that lead me to find and order the above mushrooms in dowel plug form. I will be using the fir stumps on the southeast and southwest corners of the house and hopefully have enough time before the full freeze sets in for them to take hold and have some roots.
A massive THANK YOU to @stortebeker for the idea. I am super stoked and am seriously looking forward to inoculating my stumps. This could potentially provide 50+ pounds per year of delicious oyster mushrooms!!!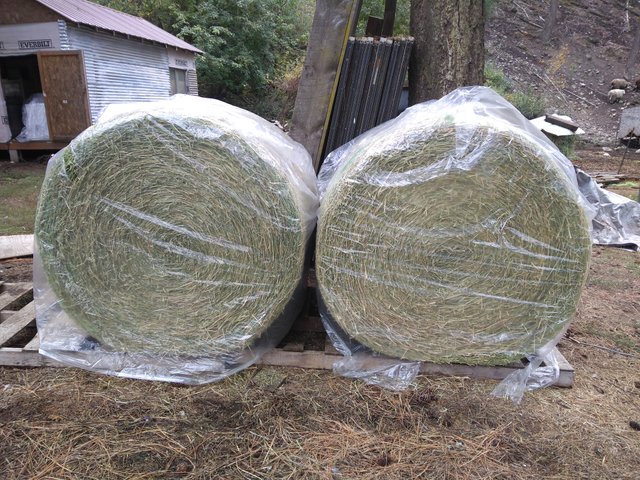 This afternoon I was scheduled for a 4pm hay appt. As I was waiting for J to get off the bus I got a call asking if I could arrive sooner, so we rushed back to the house once he was off the bus, got both boys in the truck and went for hay.
Art gave me a handful of pallet bags and they are the PERFECT size to fit a round bale. I have 4 bales covered with one just under the tarp. I asked him to save me more so I can have the entire winter worth of hay setup for success. This should work wonders by compartmentalizing each bale so if one molds a bit it won't infect others around it. Plus it keeps the deer away better than just a tarp.
Tomorrow is J's first scout outing to our local camp. I say local because it is a 20 minute drive north of us on Diamond Lake. It is a day camp but has the option for overnight camping tonight, which we did not do. The activities will go towards their achievement awards and is the basis of learning for the Scouts.
My dad was an eagle scout, I made star, and now J is in the first steps. The journey can be long or short, it all depends on the focus and dedication of the child.
This also gets me out of the house and interacting with people. I have been in a hermitage for far too long and it is a hard path to stray from. Scouts is a familiar thing and is pretty much what my life consists of, the bulk of the lessons are my day to day life. It will be good for me to get back into it and to help J progress through the next years and also help the den, pack, troop and whatever else.



13431

Daily Activity, Gardening, House Chores, Walking, Weight Lifting, Yard Work