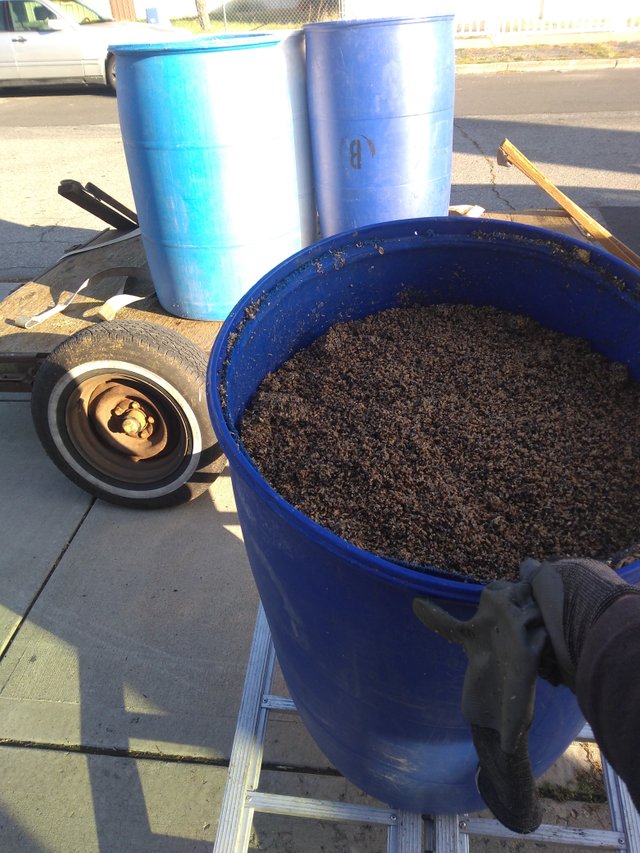 Finally got into town to pick up 4 barrels of grain yesterday morning. This is my setup for loading the barrels onto the trailer. I roll the barrels to the foot of the ramp and then slide them up onto the trailer. I used to load into my truck bed and it got to be obnoxious how hard it was. Now the trailer is so much lower and easier to load, it takes me just 10 minutes to unload empties, load up the full, strap them down, and be on my way home.
The grain got dumped in the animals' pen
so they could devour it. The grain is wonderful to augment the hay. It makes my bales last up to 4 weeks instead of 3.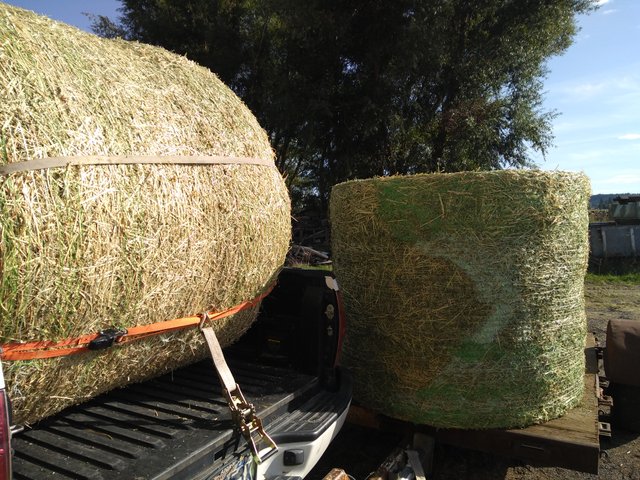 Speaking of hay I got 3 more bales. This puts me at 8 bales on hand so I need just one more to make my goal and should have enough to make it till June as long as I can keep them all dry. Round bales are about the easiest for me to handle by myself. I am able to roll them into the pen, cage them off with fencing, and cover to protect from rain. This year I am using pallet covers to individually cover each bale, then covering with a tarp.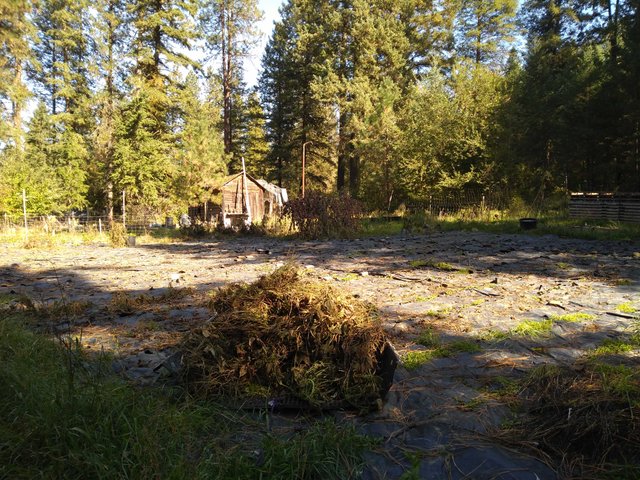 I spent nearly 2 hours in the garden working on cleaning out the dead plants. I got through all the 1000s of bean plants but still have tomato and some squash plants yet to pull. The plastic needs to be folded and irrigation rolled before the heavy freezes hit and stay. End of season seems so much harder than beginning. Maybe it's because everything is dying or preparing for winter rather than sprouting fresh growth.
Today I am going to keep at the garden cleanup, haul bark and wood to the yard, and work on cleaning the yard of more debris.
These actifit/dailies are working better for me to post most mornings since I am pretty well done by the time I would post at night. My mind pretty well stops and I find myself with little ambition to type and post. So thankfully we have the post prior day total option.



13439

Daily Activity, Gardening, Shoveling, Walking, Weight Lifting, Yard Work