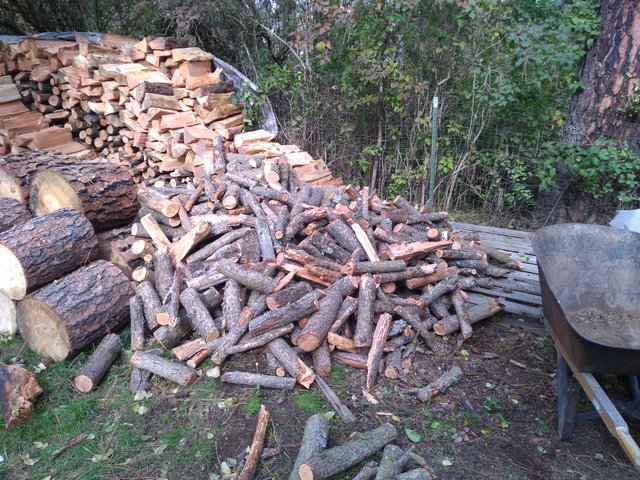 With the amount on the ground it is seeming a constant. Yesterday I spent a few hours hauling cut up branches from the various piles around the farm and dumping them next to the wood pile. After the multitude of trees that I have dealt with the past month there have been little piles of branches left everywhere, so it was time to get them gathered before the weather really hits.
It took me 8 heaping wheelbarrow loads like this one, with some being pushed hundreds of feet to make it to the yard and wood pile, to get the bulk of it moved. I will admit that half the loads were moved all of 50 feet, but still a lot of tossing, stacking and moving was involved. This reminds me I need to air up the tire on my wheelbarrow today.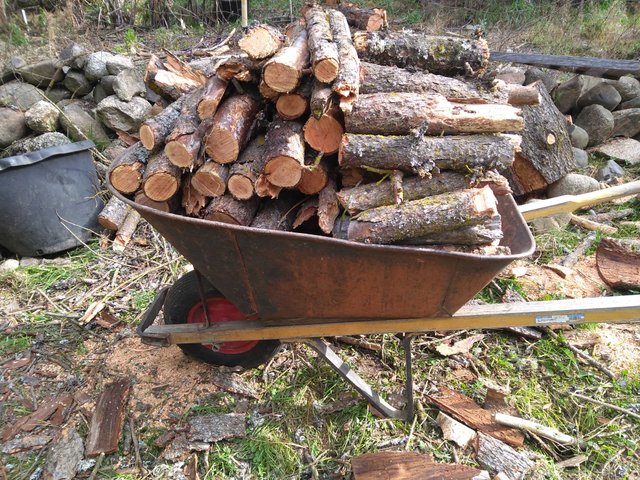 I managed to get all the wood stacked up and now have 4.5 cords of wood stacked. I have had to figure out the math, which is simple, for the volume of the stack. 4x4x8=128 cu ft for a normal wood pile cord, so I am taking 128 and dividing by 4 (width) which is 32. I then divide 32 by the 6 ft height which equals 5 1/3 feet. So for every 5 1/3 lineal feet of the wood pile I have 1 cord of wood. I have 24 feet stacked which is 4.5 cords of wood.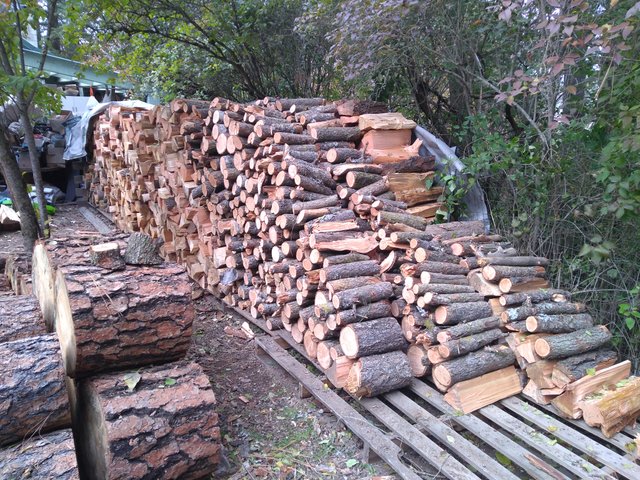 A bit later I removed the black plastic I had up on the patio rails to protect against the rain splashes and installed a pair of dual wall lexan sheets. They make the patio a lot nicer by having the translucent coloring and rigid structure. This will help keep the patio drier this weather season. I would like to fully enclose the patio so we would have another area that we could count as living space year round. It wouldn't be the warmest but would insulate better than nothing.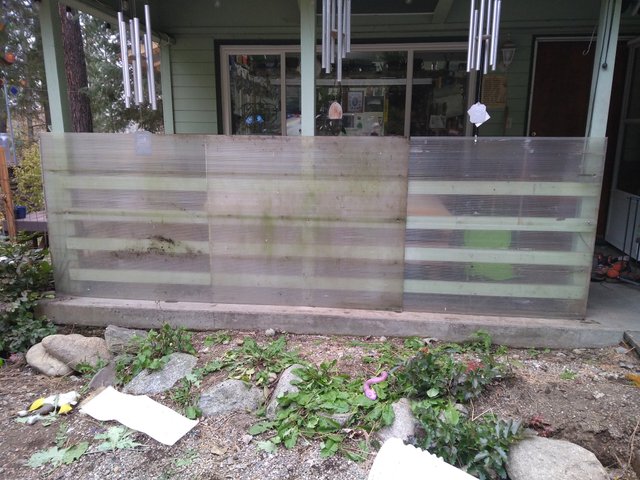 Today is more of weather prep and yard cleanup. Part of the problem with having young kids, land, and busy days is that I neglect to clean up their mess for too long. I find myself getting annoyed at the messes but just don't take the time to clean them up. Prioritization is hard when everything seems like a top or high priority.



15933

Daily Activity, Gardening, House Chores, Walking, Weight Lifting, Yard Work