Chinese is one of the best cuisines for me. I love to eat Chinese food every-time I go out. If you have ever been to China, you would actually find out that the kind of Chinese dishes we prepare in India are very different from the actual taste that China has to offer. But because we have grown up eating Indian Chinese food, that has become our preferred taste.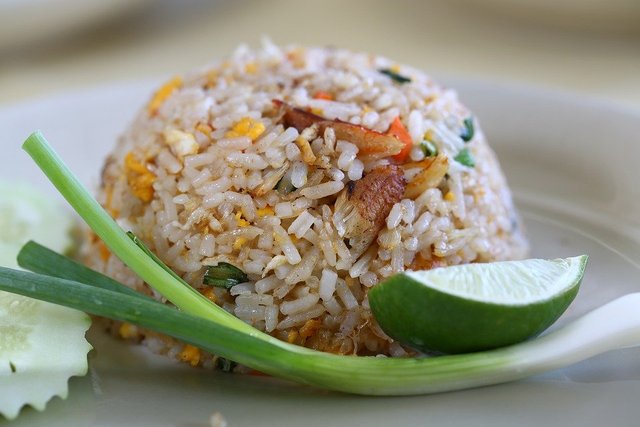 Source: Pixabay
Fried Rice can be made using White or Brown Rice, based on how health conscious you are. I usually don't like Brown rice so prefer using White rice only. It has a lot of vegetables making it a delicious and healthy recipe.
Cooking Time: 30 minutes
Kitchen Standing Time
15 minutes
Servings
4 people
Accompaniments
Manchurian, Chinese Gravy, Thai Curry
Ingredients:
• 1 glass rice (approx. 150gms)
• 1 chopped onion
• 1 chopped carrot
• 1 chopped capsicum
• 2 chopped green chillies
• 3-4 Chopped garlic cloves
• ½ chopped cabbage
• 7-8 Chopped Beans
• Salt to taste
• ½ spoon black pepper powder
• 2 spoons Soya Sauce
• 2 Spoons Vinegar
• 1 glass water
Method
Step 1: Wash the rice well and soak for about 30 minutes.
Step 2: Now boil the rice with around 3 glasses of water. Drain out the water once the rice are nicely boiled. Keep the rice aside.
Step 3: In a pan, add the chopped onion. Let them turn brown.
Step 4: Add green chilli and garlic cloves and let them turn a little brown in color.
Step 5: Now add all the other cut vegetables and saute for about 7-8 minutes. Cover the pan for quick cooking.
Step 6: Add all the spices and sauces and mix well.
Step 7: Now mix the boiled rice with the vegetables and cook for another 5 minutes. Ensure the rice don't stick and are well separated.
Step 8: Serve hot with any Chinese gravy.
Your tasty fried rice are ready now to eat. Try this recipe and home and enjoy the winters! Happy Cooking!