Sometimes we don't feel like cooking in the evening, yet we have to eat and ensure the food is not unhealthy. For me the food has to be healthy for sure and with that should be interesting.
We all know about the famous Indian street food "Golgappas". Golgappas are a popular street food in India and are prepared differently in different parts of the country. It comes with a variety of waters. These days, people have starting preparing fruit flavored water too.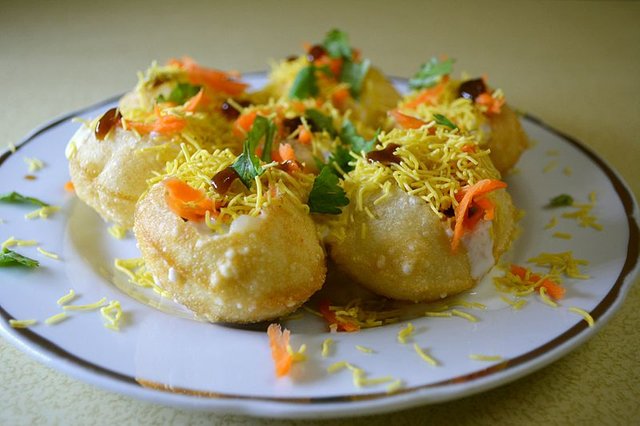 And then there is this famous Bhalla Papri which contains sweet curd with Vadas. It is also one of the most popular snack available in the country.
Now my recipe is a mixture of golgappa and Bhalla Papri – Stuffed Golgappe. Let's see how I make it.
Cooking Time
10 minutes
Kitchen Standing Time
10 minutes
Servings
4 people
Ingredients
• 20 Golgappas (can be bought from market)
• 1 Boiled Potato
• 1 Chopped Onion
• Chopped Coriander leaves
• Curd mixed with Sugar
• Salt
• Red Chilli Powder
• Coriander Powder
• Dry Mango Powder
• Chat Masala
• Mint Chutney
• Imli Chutney
• Sev (Aloo Bhujiya)
Step 1: In a bowl, mash the boiled potato. Add chopped onion, coriander leaves and all spices. Mix well to make an even mixture.
Step 2: Now take each golgappa and fill it with the potato mixture. Make sure the potato mixture is enough to bring taste but not too much to over power the taste.
Step 3: Add Curd to each golgappa. Now pout imli chutney and mint chutney on top of the curd.
Step 4: Sprinkle some chat masala and Sev on topand eat with wide open mouth.
Try this recipe and home and enjoy the snacky evenings! Happy Cooking!
Image has been taken from Wikimedia