This year we're celebrating 150th birth anniversary of Mahatma Gandhi. The day before, it was his death anniversary. On this occasion, animal rights activists across India has united for demanding justice for all animals and their liberation.
Today, hundreds of animal lovers, animal rights activists and citizens across the country are observing 12 hours fast as part of the Animal Satyagrah movement.
Satyagrah is the word coined by Gandhiji for non-violent resistance and was used as the key tool in the Indian independence movement. It comprises of two words "Satya" meaning truth and "aagrah" meaning insistence. So Satyagrah means insistence for truth or holding on to the truth non-violently (with ahimsa).
Passive resistance through Satyagrah involves various techniques like non-cooperation, civil disobedience, Hijrat, fasting and strike. But non-violence & spiritual strength is the essential ingredient of each of this technique.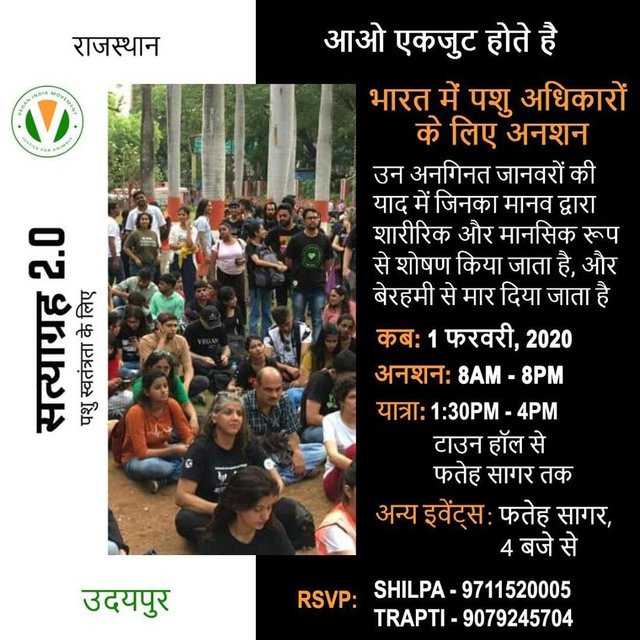 It's the first time this technique is being applied to the Animal Rights movement. It started today at 8am with a symbolic fast by all participants upto 8 pm, wherever they reside in India.
Apart from fasting, many activists are also holding various events like foot march, talks, street plays, songs & poem recitation for animal rights etc.
At our city, we are organizing a march which will culminate into staging a dharna (sit-in) and a tribute to trillions of innocent animals systematically tortured and slaughtered by humanity. Alongside animal statues, we are also paying tribute to Gandhiji with his photograph placed on the same deck.
Hope this Satyagrah movement will get more intense and spread all over the world to achieve liberation for all animals!
Let truth prevail!