Many communities outside of towns (at least in the southeastern US) have a
water tower
to assist in supplying water to residents, but few of them are painted with designs. This one is quite distinct with its red-and-white checkerboard pattern.
Water towers help to regulate the pressure in the water lines and provide additional water flow during peak-usage times or emergencies (fires, power outages). [1]
The following is my artisitic processing of the photo of one such tower in the county, which I hope will allow the use of the #creativecoin tag. (If any leaders of the CreativeCoin tribe disagree that this counts as a "creative" image, please let me know and I will remove the tag.)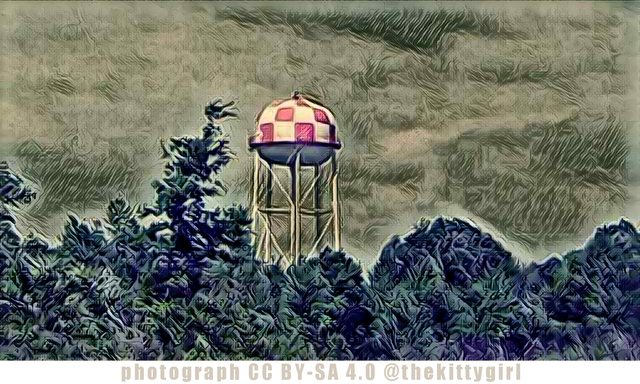 The day I took this photo, It was hot and humid, which is typical for summers in The Deep South. The temperature was in the low-90⁰s (33⁰–35⁰ C) with Heat Indices giving a "real feel" in the low 100⁰s (38⁰–41⁰ C). During high-heat/high-humidity conditions like that in The South, the blue sky looks more grayish, and the contrast between the slate-gray clouds and the blue-gray sky isn't very marked. The entire landscape often takes on a rather hazy appearance, as can be seen in the original photo, below.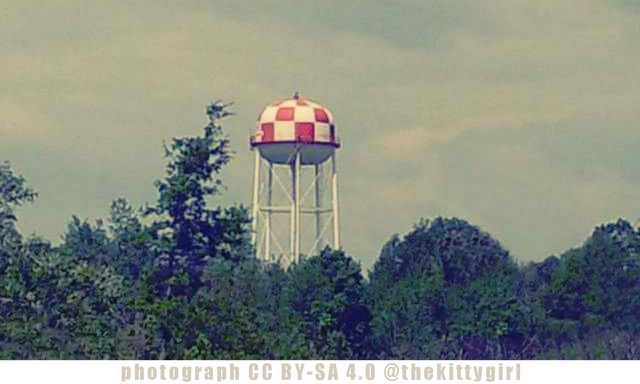 Have you seen a water tower with an interesting paint job? If so, share the story in the comments! I wish I had stopped to snap a few more photos of them over the years.

 😊
SOURCES
   1 Wikipedia: Water Tower

!steemitworldmap 34.828275 lat -82.693889 long Pickens County, SC D3SCR




06-Sep-2019