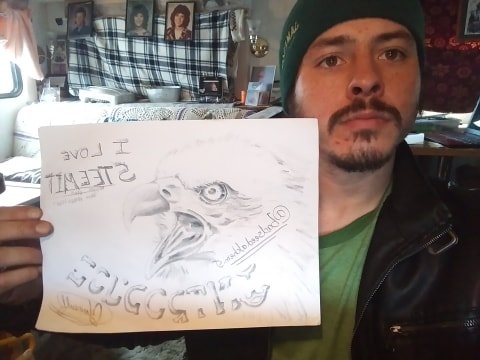 Hi, my name is Jonathan Caleb Williams. I have never done one of these posts for the #introduceyourself tag, so, I figured that I might as well get one in. Here we go:
I am me.
Who is, "me?"
I'm a regular kind of guy. Jack of all trades, master of a few, and gaining on the rest.
I'm a musician. I have played piano since I was five years old. I picked up a guitar when I was fifteen. I never put it down. I taught myself how to play it by ear, and I also taught myself how to sing. I write music, play music, and now I even create music using LMMS a little (I'm learning). I recently released a ringtone called, Deep Web (The Nodes), which will be featured to buy in iTunes and Apple Music on the 16th of January, 2020.
A few music links:
Show Me Something (Original Live Acoustic: captured on a samsung tablet near the ocean)
Unsteady (Hold onto me) singing cover
I'm an artist. I create art in various different mediums. I prefer black pen, or pencil and a shading stump. Lately I have been re-introducing myself to doing graphic art using gimp images. You can see a couple of my graphic art pieces at these links. The first link is also the picture that will be featured with my ringtone at iTunes and Apple Music stores. The picture of the eagle above, was a quick, free-hand sketch that I did for this post. It took me about 20-30 minutes to do this and it is not intended to be remarkably impressive. I got it from a post that I saw on STEEM earlier.
A few art links:
Deep Web (The Nodes) graphic art for my ringtone
Relentless211: Graphic/Drawing art that I did for a website I ran for a while
The Drawing of an eye that I used for that graphic art This picture was rather large, in person.
I am a writer and a crypto-enthusiast and advocate of all-things-crypto, (and of course STEEM!!) I write quite a bit about the topic of block-chain technology, trading (in various markets), the future of things such as STEEM and STELLAR's, Pi. My writing spans to many different topics and styles. One day I might write a fictional short story for fun. The next day I might write humor. Then, the same day I'll explain the reasons behind high crypto trading fees and quote the CEO's of Binance and FTX because of a webinar that I was listening to. Maybe I'll finish off the evening with some heartfelt poetry that I wrote to my girl @audiefaith. Then, I'll write about my dog's incredible love, and pair it with a post for travelfeed.io about Burgers, Bridges, Boats and Bays. I do what I want, and I like it that way. I try to make sure that the quality of all my posts is up to par with something that I myself would read, every time.
A few links to my writing:
Tioga: The Haunted Temple of Coos Bay, Oregon
Burgers, Bridges, Boats and Bays in North Bend, Oregon
You may have already read some of my posts or listened to a little of my singing or music. If not, you can check them out in my blog. Or by using some of the links that I have added into this post. My wonderful girl, as previously stated, is @audiefaith. She just recently started posting some short articles with photographs, but she has been behind me the whole way. I love her and our Jack Russel Parsons, Spencer, dearly. I love, STEEM, lots, as well.