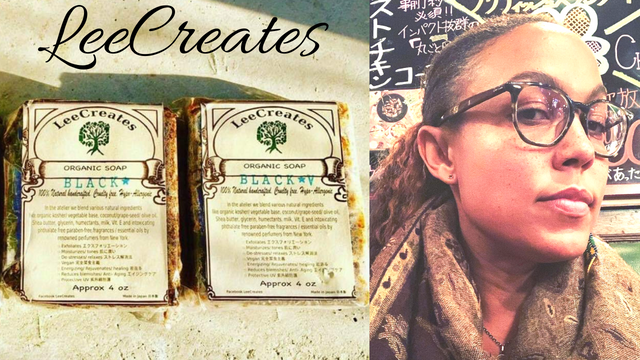 Lee- Ann Haslam of LeeCreates ( BA, Arts History and Studio Art, Minor in Arts management, Graphic Design ( Fordham University NYC). M.A. Creative glass (Tokyo University of Arts, Monbukagakusho Scholar) Nationality: Jamaican
---
The picture above is the one Lee-Ann wanted me to use. Below is the picture I wanted to use LOL. Imagine that, a few days after doing surgery on her knee, Lee-Ann shows up to the Autumn and Artsy event on crutches. That is dedication and hustle at its finest. ( Lee-Ann, b#"tch all you want I am not taking down the pic hehehe)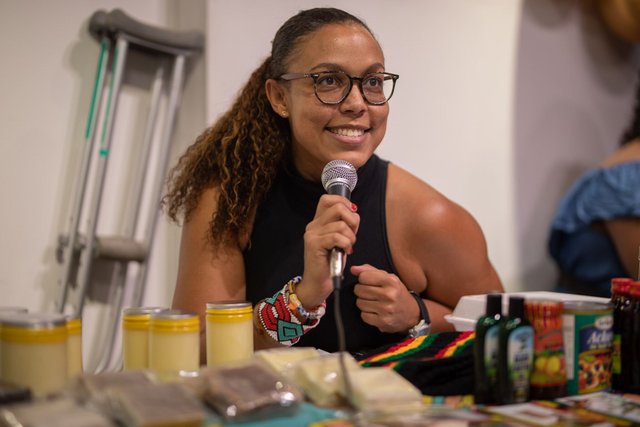 If you look to the left in the pic you can see some of the Jamaican products I sell here in Japan @ irie876.com ( Shameless plug)
I have known Lee-Ann for quite some time and she has actually known my older brother even longer. About once a year we link up to sell our products at the Jamaican festival usually held in Tokyo, alongside Cine our sistrin who is the organizer of Autumn and Artsy event.
Lee-Ann has a very interesting line of natural products for the skin and hair, (soaps, scrubs butters and more). On the other side of the spectrum she does artistic pieces, paintings on canvas, as well as on glass. ( I really love the glass art).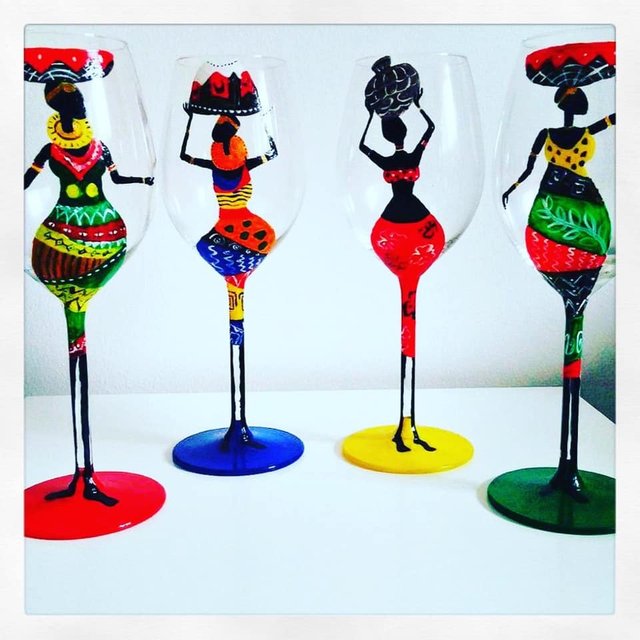 Interestingly, in Jamaica she is more known for her artistic pieces like the ones above.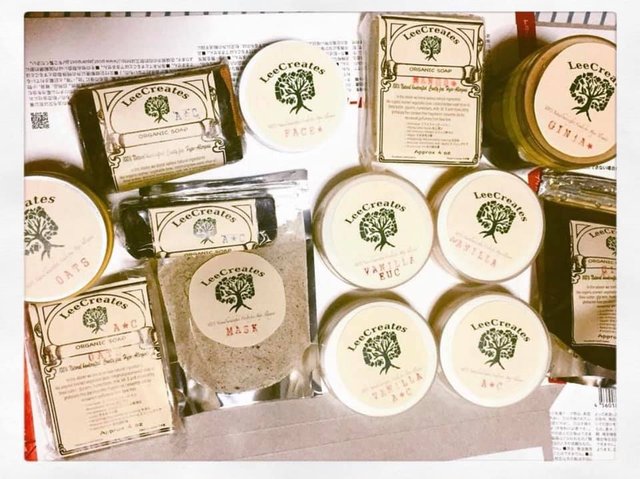 In Japan she is known for her natural skin products. Combine all these amazing creations and what you have is LeeCreates.
Lee- Ann has a knack for sales combined with a fiery passion for her creations. On top of that, she has the type of personality that attracts aliens from the other side of the moon. Being beside her at a booth at an event is mind blowing. Customer after customer, sales after sales. When I asked her how she does that, she said it was the Law of Attraction.
let's do a little interview with Lee-Ann Haslam and find out about LeeCreates
When and why did you start LeeCreates?
"Actually I can't remember the exact year. But it was about 5 years after I started living in Japan and I have been here for about 14 years. I do remember it was during the X-mas season. I couldn't find things for my hair and skin that were natural. Most of the body products contained whitening and chemicals. So I started to experiment, what could be used, what could be done, I started doing research. I also had friends ship over products from LA. Then I just started to make my own products and I gave my family and friends to use and they really liked them. Their friends requested the products and my mom asked if I wouldn't turn it into a business and I said...hmmmm why not."
That is awesome. I like when things naturally come about, not forced or copied. So what does LeeCreates specialize in?
"LeeCreates has a wide range of products especially soaps, scrubs and butters that are organic and it is geared towards people who don't want any whitening in their skin products or those who have sensitive skin, allergies or individuals that just really love their bodies and want to give it the ital treatment it deserves. I also make customized products for individuals who may have specific needs like a man who can't use ordinary shaving creams or the mom who wants to get rid of those stretch marks using natural ingredients. The way I see it, the body is our temple in this life and we have to pamper it and make sure it is looking and feeling great, outside and in. And ...... how could I forget my lovely hand painted glasses. They make the perfect gift, my scrubs and soaps as well."
Very true words, my body could go for some pampering. And yes the glasses are extremely awesome. So how do you make your products?
"Yes! Dean you need to pamper your temple. You know where to find me hehehee. Well regarding how I make products, my mom was an aesthetician for Estee Lauder and she taught me a lot about making things for skin and hair. There are many processes for the soaps and butters, hot and cold procedures but it also depends on what the person wants and what I am trying to help with. It is not a regular bar of soap or butter, the products truly are something special."
They are truly special indeed. I remember the feeling after using one of the soaps that already had a scrub thingy in it. So what are the benefits of using these products?
"The benefits are beautiful glowing healthy hair and skin, exfoliation, learning what is possible for your specific skin and it also benefits individuals by teaching them how to pamper and treat their most precious asset which is their body."
What are your best selling items?
"Hmm well there are many. Off the top of my head I'd say:"
Activated charcoal soap, it is anti-aging/anti-blemish and fights acne.
Eucalyptus butter, it is anti-bacterial that is good for your face, body and skin.
Then there is the mango soap bar and scrub for those who like a more sensual smell.
Mothers like my stretch mark creams.
There is the oats, anti eczema and anti rash for the entire family and it is especially good for babies with sensitive skin.
Older customers like my face creams. "
That is quite a lot of "best sellers". I personally have seen you sell them all. So how can people buy your products ?
"People can get my products by writing me through LeeCreates Facebook page, emailing me, or on Instagram. I ship globally."
Instagram:hazzie79
Email: leecreates@yahoo.com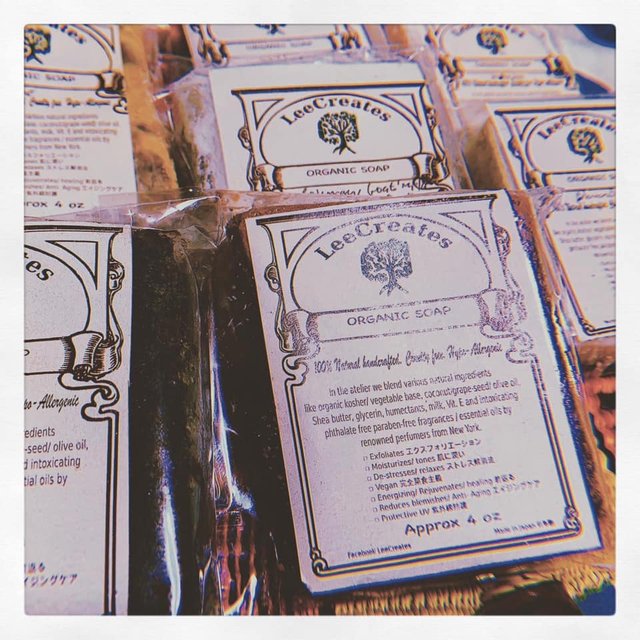 Here's a complete list of everything LeeCreates Products. All prices are quoted in ¥. All products are organic with the finest hand selected ingredients from around the world.
| Category | Item | use/price |
| --- | --- | --- |
| Organic Soaps: | | |
| | Apple Oatmeal Crisp (bar soap) | specialty face and body:) increases moisture, fights acne, redness, eczema, rashes.. Leaves skin blemish free, clean, smooth, healthy, and glowing. 1200¥ |
| | Rhassoul Vanilla Bean shampoo bar | specialty hair. This is a cleansing, moisturizing detangler and defrizzer that fights dandruff and leaves your hair silky, shiny, healthy and stimulated. Promotes hair growth and has an amazing scent! Contains, Shea, eucalyptus oil, and coconut oil among many other wonderful organic ingredients. 1500¥ |
| | | |
| | Oatmeal Tea tree(soap bar) | specialty face, body and hair. Clarifying, anti-fungal, anti-viral, naturally soothes itchy scalp and skin. Also prevents many hair problems such as dandruff, baldness, psoriasis, and even head lice. Keep you skin and hair clean healthy and beautiful. 1200¥ |
| | | |
| | Activated charcoal soap for acne | for acne, beautiful clear skin, anti-aging, anti-fungal. A soap, scrub and mask for face, hair or body in one. Deep cleanse, Moisturize, heal and deodorize (limited supply only 14). |
| | | |
| | Mango moisturising. | Yummy full of vitamins. Aromatic, relaxing, and therapeutic. 1200¥ |
| | | |
| --- | --- | --- |
| Gentle Moisturising Scrubs: | | |
| | Aromatic and Therapeutic: Eucalyptus vanilla (Best Seller), Hazelnut spice, Citrus, Green tea Blossom, Blk vanilla, Warm Tropics, Ginger (helps circulation, can also be used as a hair mask to promote hair growth and anti dandruff), Lemon, Herbal Garden, Coffee (anti-cellulite), Apple Cinnamon... | |
| | | |
| | For face, and body - fine and coarse scrubs available all infused with vitamins, minerals, Ayurvedic oils, shea... After you bathe with a LeeCreates superfatted soap, while still in the shower use a scrub rinse with warm water then apply a butter (vitamin enriched, full of moisturizing goodness) and luxuriate in your super moisturized Magical skin. Sizes. S pouch 1500¥ *S jar 150g 1800¥ *M 300g 3000¥ *L 550g 4000¥ | |
| Face Masks: | | |
| | Rhassoul Plain 2500¥- exfoliates, deep cleanses and tightens pores, detoxifies, softens skin, reduces scarring, soothes skin irritations like eczema, redness etc. Leaves you with a lovely radiant glow;). | |
| | Rhassoul with Activated Charcoal 3000¥- same as above but extra extra goodness added: fights blemishes, anti-aging and gets rid of dark spots. | |
| Butters : | The hair and body butters (Light easily absorbed Moisture and creamy) Three sizes are:S jar 150-180g 1800¥/2000¥ *M 300g 3000¥/3200¥ *L 500g-550g 4500¥/4800¥ | |
| | | |
| | All butters are organic Handmade with Shea, Ayurvedic and coconut oils among other wonderful ingredients.I can also add a little anti bacterial eucalyptus oil. For example Vanilla Eucalyptus is a beautiful scent.Eucalyptus vanilla, hazelnut, lemon, Apple cinnamon, Blk vanilla, Island coconut, Mango, Citrus, Green Tea Blossom,Island Coconut Hazelnut, Light floral | |
| Face creams | | |
| | | |
| | 2000¥: Sweet orange, Citrus, Unscented, Lavender Vanilla...light, gentle, super moisturizing, acne/ blemish fighting, anti-aging. | |
| | Eczema Intense Cream 2500¥ | Contains Rose Geranium, Lavender and other ultra-Moisturizing and eczema fighting organic ingredients. Please apply to area day and night.*One for liver spots now available |
| --- | --- | --- |
| | Deep Condish | 550g 3000¥. Herbs, Essential Oils, humectants+ other Natural moisturizing ingredients to create a well ph balanced protein moisture, anti-pack |
| MISC | | |
| --- | --- | --- |
| | A creme for stretch marks | 2000¥ |
| | Under eye cream | 2000¥ anti-puffy, anti-aging, moisturizing |
| | | |
| | Natural mosquito repellent spray | balm/ oil. 1500¥ |
| | Baby powders, oils ... also available on request | |
Wow, now that took longer than expected to get that info into a table. Don't forget, LeeCreates also has these cool hand painted glasses as well. I call them Reggae Art on Glass.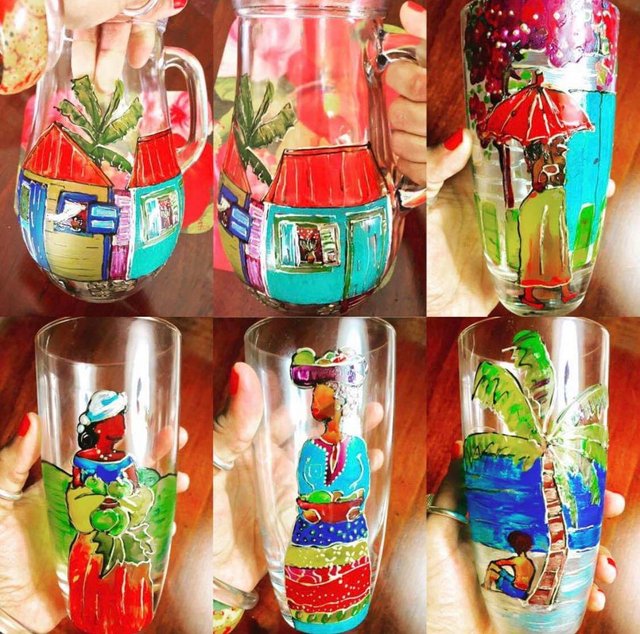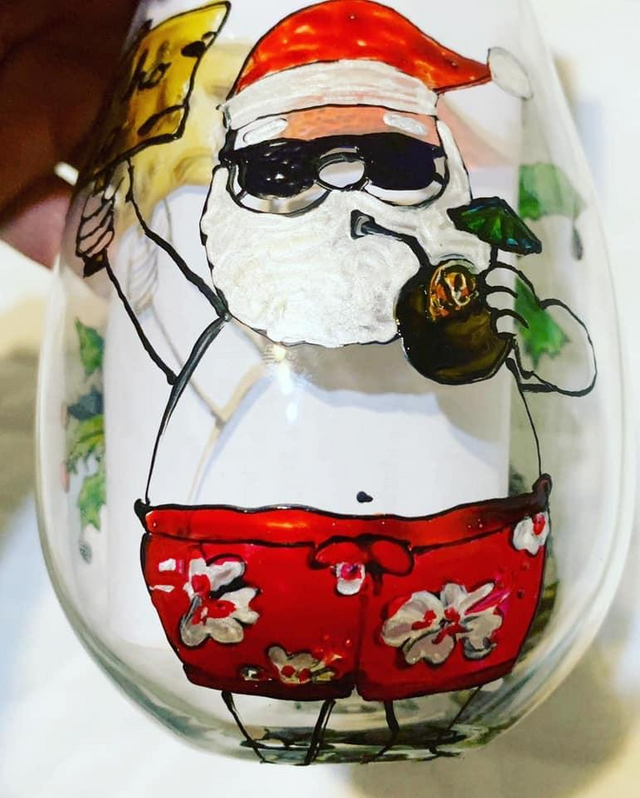 But wait, there is more!
Lee-Ann also does an event now and then called "Lime & Paint" in which individuals can come and network while painting on canvas and sipping their favourite drink. Don't worry, prior knowledge of painting not necessary. It's the perfect event for business retreats or good old bonding. Here is a link to her past event page.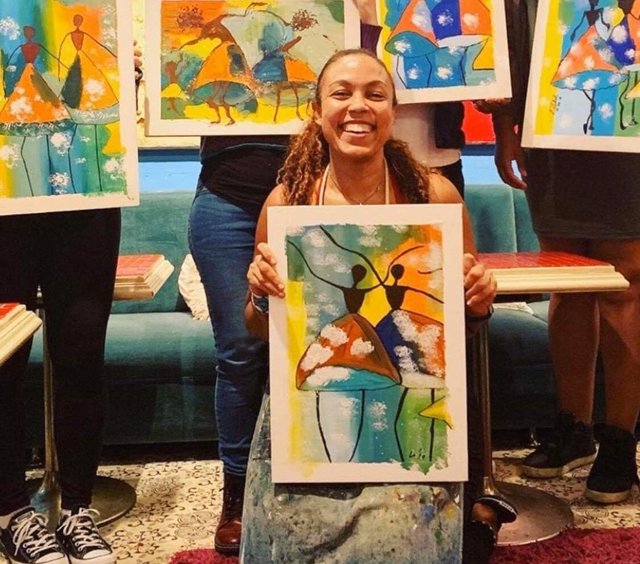 Here is a link to LeeCreates online portfolio of kids art and her own via drop box.
---
---

Want to earn cryptocurrencies for your Reggae/Jamaican/Caribbean content? Join ReggaeSteem by signing up for a Steem account here. Watch the video below on how to sign up for an account. Note: Accounts may take up to a week to be confirmed and activated as the demand is high. However, if you want to get started right away, fill out the form here and we will consider you for an instant account.