Hey-Oh Wise Jess
I come to you but a humble servant, a human who lives to error and can't keep his pants from being oiled repeatedly and forgets to wash behind the ears. People must take a look at me and have one thought this person is entirely incompetent, how could they possibly be going through life the way they are and survive or thrive?
So I clearly need the opinions of every person with a mouth and time to waste so they can tell me all the things I'm doing wrong and how they would do it. I paid for four years of lectures in marketing that were utterly useless. So why would I want to get your free lecture and think I'm going to derive any value from your so-called expertise?
Being force feed
Most times, I try to avoid it. But for the sake of social protocal, I often have to subject myself to listening to the complete beginning, mundane, biased, mistaken, miscalculated misinformed opinions of others. I am by no means a super-genius, but I think it's safe to assume I'm able to figure out things on my own. I'm sure you did too, so why rob people of their right to explore the world.
Unsolicited advice to me is the adult version of telling kids there is no Santa. Like WTF? It wasn't needed, it benefits no one, and you're just a miserable dick!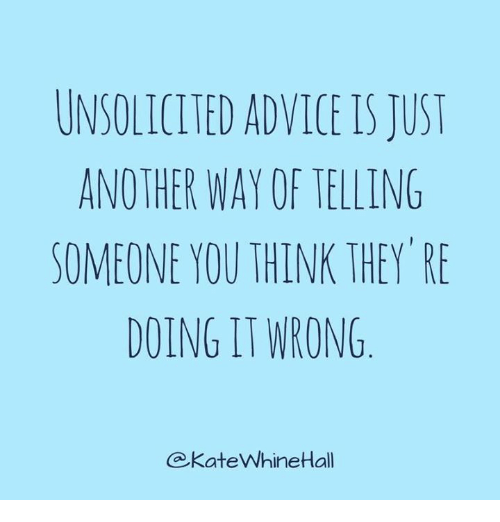 Image source: - me.me
The motivation is real
Everyone seems to be an expert on everything these days and must have my total best interest at heart with just handing me the essential secrets to better my life and achieve happiness, clearly, that's why they so inspired to spread the good news. I think unsolicited advice-givers fall into some of the following categories:
A busybody
A drama queen
Jealous
A know-it-all
An energy drainer
Bored
Unaware of people's boundaries
Sabotager
To stupid to realise they are stupid
Or you could be seen as a bully.
As you can see you're in the company of some exceptional alumni and I'm sure many of you would love to walk around with this prestigious accolades as you hand our your turds, I mean peals of wisdom.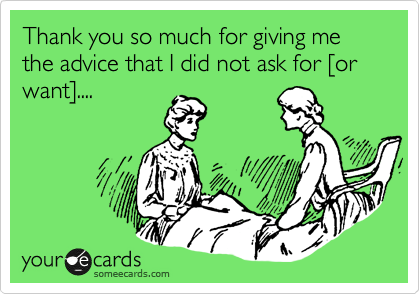 Image source: - medium.com
Empty vessels make the most noise
I think that with the way human interaction has evolved everyone seems to think they have this intrinsic value in them that thing they push out has some sort of benefit. Just because you can turn your shit into mulch for your garden doesn't mean everything you produce is life-bringing.
I think people should start to say less and think more and the world would have less engagement yes but more meaningful connection. Let's stop talking for talking's sake but talk when we actually have something to say.
Let's connect
If you liked this post sprinkle it with an upvote or resteem and if you don't already, consider following me @chekohler


---
| Buy & sell STEEM | Donate LikeCoin For Free | Earn Interest On Crypto |
| --- | --- | --- |
| | | |