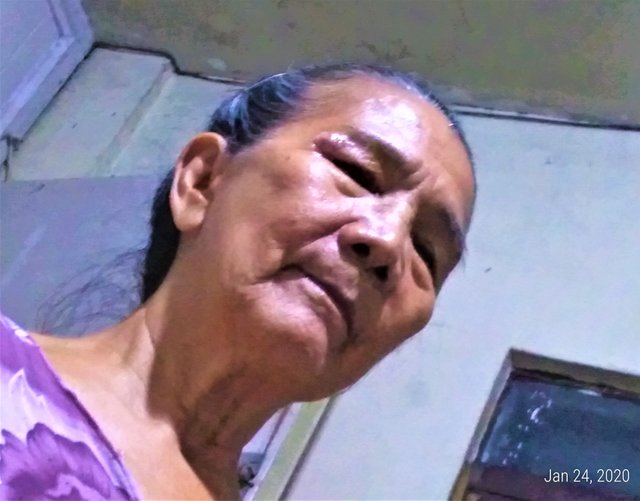 I just took this photo of my mother about a meter and a half away from me to zoom in at her face to show the operation site near her eyelid. No wonder that her eyelid got swollen about two week from now because of a certain cyst or maybe a boil that actually got ruptured already.
The good thing was that she finally take the necessary steps to have it checked-up by a doctor to see what causes the swelling of her eye. Little that we knew that it was caused by some cyst beside her eyelid.
So the doctor just took it off and possibly the sack therein to make sure it would not come back. My mother said to me that it got ruptured already from within maybe because of her constant application of hot compress or so.
But I am glad that it was over and got cleaned up and she is now on antibiotic treatment to make it heal. She will just go back to the doctor next week to have the sutures removed. By that time I guess that her operation site is completely healed already. So I just thank God that it was all over, I couldn't afford my mother to get sick whatsoever and i am glad that she is also a healthy eater and doesn't like oily foods, just some simple fish dish and some vegetables is already okay for her and my father already.
I just pray to God to grant my parents some healthy and long life. I am in turn is just striving with the blessing and mercy of God to make their lives better in the future via these cryptocurrencies which I hope would perform better and sooner. I do not have much luxury of time but maybe I can still last a few more years to make some of my life and health goals a reality.
One of the life goals that I wanted to happen is the renovation of this house which is very old indeed as shown by our ceiling, the flooring, walls, the half-eaten by rust corrugated steel roofing which now drips when it rains. Overall the house is not only old but ugly.
I just wanted this house to be clean-looking, safe, and functional, comfortable with a better air circulation and parts where we can stay outdoors with privacy and a separate place to do laundry and maybe even a little gardening. That would be a good thing to happen in my short lifetime where I just want to make sure that my parents would be able to live comfortably when I am no longer around.