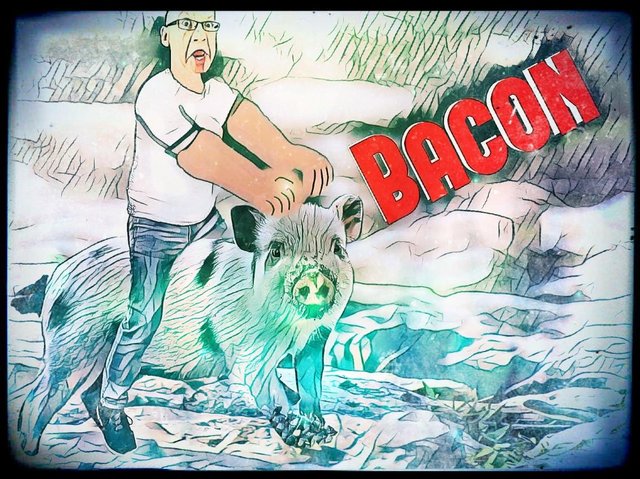 Are you feeling alright?
The Good Lady gave me the kind of look that you give one of your car tyres when it makes a farting noise after a kick.
Who me? I'm fucking amazeballs, why?
I said through a mouthful of bacon.
She sat down across the table from me, still looking at me curiously.
I dunno, something doesn't seem right?
I paused in the shovelling of bacon into my mouth.
Nonsense. Everything is perfect. In fact, everything is hunky dorey.
I mumbled.
Hmm, are you sure?
She tilted her head to the side in that way that ladies do to look compassionate but actually just makes them look like demented meat-eating dinosaur birds.
Yeah, baby-girl. Totally sure. I can almost 100% guarantee that there is nothing untoward going on with me.
To emphasise my point I made swirly motion in the air with my spoon.
The Good Lady's eyes widened as she tracked my spoon looping through the air.
Why on earth are you using a spoon to eat your bacon!?
She asked incredulously.
Oh, the spoon? I like eating bacon with a spoon.
I said with a determined nonchalance as if I was a Spanish waiter avoiding a tourist's eye.
Don't be silly, let me get you a bloody fork.
My spoon clattered down onto the plate out of my suddenly lifeless fingers.
Oh no. Please. No. Please, not another fork?
The Good Lady paused on her way to the kitchen.
Shush, you are getting a fork.
She shook her head at the daftness of men and proceeded out of sight.
I wiped the sudden sweat that had sprung up on my brow and whispered softly to myself.
Not another fork. No. I can't take it...