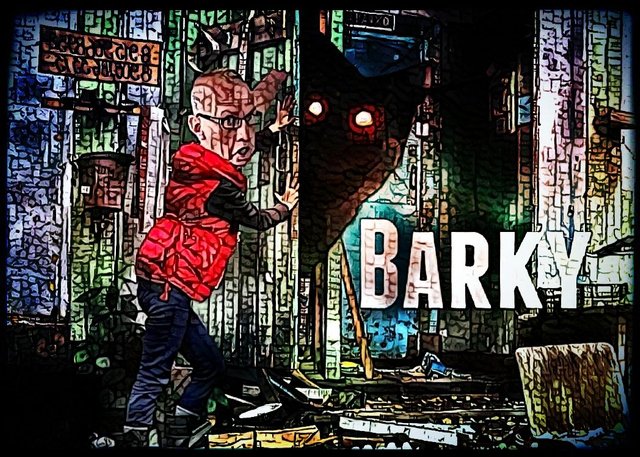 RARF!! RAAAARF RAAARF RAAARF!
I looked up from the exceptionally complex and business critical pie chart on my screen to see what on earth the mad barking commotion was about.
Holy shit!
A mere fifty feet away the door had been blasted off its hinges and a barking thing of nightmares had leapt through the debris.
It's face was a gnarled, contorted wrinkly mass and it's eyes glowed red as if the fires of hell itself burned within.
Snarling, it threw its head from side to side before fastening its foul gaze on a terrified and petrified Business Analyst nearby.
Nooo... Please?
He managed to squeak before the demonic dog thing sprung forward and clamped its ravening jaws around his head.
There was a muffled squeak then the dog thing jerked its head swiftly up and to the side.
A gout of blood sprayed up from the severed neck of the unfortunate Business Analyst.
The dog thing contemptuously spat out his chewed up head where it forlornly rolled to a halt near a waste paper basket.
Oh shit, oh shit. We're doomed...
Whispered my colleague Old Bill sitting next to me.
A Project Manager, not realising that a hound of hell had broken down the doors of the place and was proceeding to devour the souls of the ICT innocent, rounded a corner directly into the path of the hideous dog thing.
Ah... Aaah. Aagggh?
He stuttered apologetically as it slowly opened its glisteningly slaborous mouth and bellowed a deafening roar of rage and seething fury.
The Project Manager wilted in the face of such terror. His head melting and running down his shirt in globulous red rivulets.
The dog thing paused. The office strangely quiet now besides its evil snuffling.
Suddenly it whipped its awful head in my direction.
RAAAAAAAR!!
It stampeded toward me. It's leathery clawed feet thudding and scraping at the floor as it rapidly closed the distance between us.
Shit, she's seen us!?
Whimpered Old Bill, sounding as though his back bin had slopped its contents out into his pants.
Time seemed to slow and I noticed that indeed it was a she. It's sinuous and demonic form almost gracefully feminine.
Then it was before me.
And you, weren't you meant to send me something?
It snarled.
I smiled as if I had wrapped a face-cloth around my penis and was showing everyone my ET on a bike impersonation.
Yeah, sent it this morning. First thing actually.
I crossed my legs like a male Sharon Stone and smiled winsomely at Barky, our formidable new Innovation Manager.
Her grizzled face relaxed slightly.
Oh, thanks. Sorry, not checked my mails yet.
She turned heel and trotted off in the search of more meat.
Oh my god, she's terrifying!?
Muttered Old Bill his face twisted with fear as if his wife had found out about his clam fetish.
I nodded in approval as I willed my own dog thing back in its kennel.
I smiled.
Aye. A wee bit