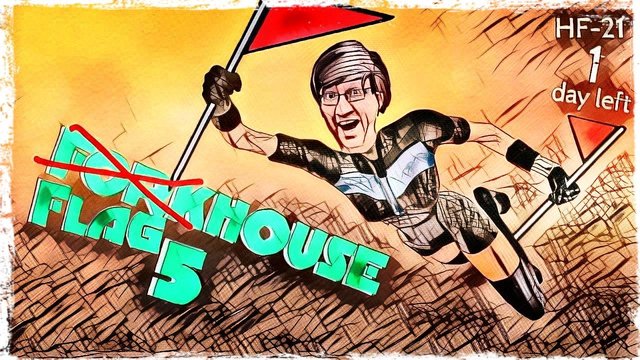 So, who's going to throw the first flag, you?
I stopped in front of Random Steemian 2 and pushed my face up close to his.
Well?? Don't I get an answer!?
I stepped back, Random Steemian 2 had gone red and was shuffling his feet.
Shaking my head, I paced to and fro in front of the rest of them.
Damn, they were a motley crew of carpet baggers and fly-by-nighters. If this is what we had to defend the pool then we were in trouble. Deep deep trouble.
Out of the corner of my eye, I noticed Random Steemian 6 attempting to surreptitiously roll a spitty little cigarette. I set my mouth in a grim line as I eyed his motley clothing and flat cap, bloody artists.
Surely someone is going to throw a flag? Anyone?? ANYONE??!?
Random Steemian 4 was a small lady with floury fingered hands. She wrung said hands together.
I'm just a food blogger, I'm not here to flag anyone?
She wailed.
Yeah, I 'm here for Steemmonsters, man. I ain't into all that shit?
Chimed in Random Steemian 7
I snorted like a bull with a sore penis and stormed back and forth angrily.
This is fucking disgraceful! So, none of you will flag a damn thing? No-one is going to defend the chain? The EIP won't work if we don't start flagging?!
Random Steemian 3 stepped forward, he was terribly overweight and had a lazy eye.
Actually, I believe that flagging is an act of violence upon the person and I certainly won't be flagging ANYONE.
He stated proudly.
What??! Fucking violence?! A flag??? Jesus, you have obviously never been punched in the fucking face?!
I bellowed.
Well, no. But that's beside the point.
I waved a hand dismissively at him as if he were one of those fish that nibble feet skin.
I stopped and faced them.
You craven dogs.
I snapped.
We're not craven! We are all really good friends actually. We don't want to go about flagging out friends.
Said Random Steemian 4 defensively.
I threw my head back and laughed like I was flagging someone called Doggo.
FRIENDS!? DON'T YOU UNDERSTAND?? There ARE NO FRIENDS HERE!?
They all gaped in horror as if I was wearing my pyjamas and complaining about the dog's erection.
Yeah, That's right. I said it.
I stormed out.
We could be forked.