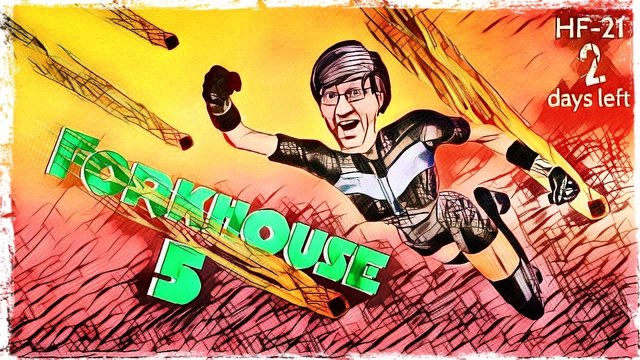 Two days left till Hardfork 21, our feeds are littered with twoddle from people who should really know better, telling us how it is going to be when it hits.
It would be churlish of me not to join in too.
Come with me in the almost penultimate part of my most meta series yet...

Might I say it is a great pleasure to speak with you, Mr Bohm. I have long been an admirer of your work.
Heather Bandersnatch smiled welcomingly at me.
It is a great pleasure to be on your show, Heather. A great pleasure.
I smiled back.
It wasn't often than someone such as myself got on such a famous show with the reach that this one had. I was pleased to have been asked.
So, as one of the world's foremost experts on Hardforks, perhaps you can tell us why do people fear them quite so much.

I took a sip of water and crossed my tweed trousered legs carefully before answering.
Well, the thing is, Heather, that historically, Hardforks have been very very bad, their effects felt far and wide. It is fair to say that as a community we have been lucky to survive some of the worst ones.
I said in my most reassuring tone.
Lucky to survive... Just how bad can a hardfork be?
Heather looked unsettled.
I leaned forward, warming to the topic.
How bad? Well, I wouldn't say bad exactly. Perhaps... Catastrophic in some cases?
I said with the casual air of a magician sawing someone in half yet knowing that all the time they were safely contorted up in the top section of the box.
Catastrophic?! In what cases could they be catastrophic?
Heather was definitely struggling to keep her cool which surprised me, she was normally such a calm anchor.
There is no need to be alarmed. Such events are rare indeed. I mean for such a hardfork to be catastrophic it would have to be a large one, one with many changes rolled up into it... Perhaps even a change to the curve...?

Heather's eyebrows were reaching dizzying heights on her forehead.
Don't worry though, the chances of such a thing happening are incredibly small. Almost non-existent, actually.
I resisted the urge to reach out and pat her leg reassuringly. After all, this was the #metoo age.
Heather took a big deep breath, she had gone quite pale.
Mister Bohm. What would you say, if I told you that we had received information that such a Hardfork was due to strike in only a couple of days from now?
I took my glasses off and looked severely at Heather.
I would hope that you were grievously mistaken, Miss Bandersnatch, grievously mistaken indeed...