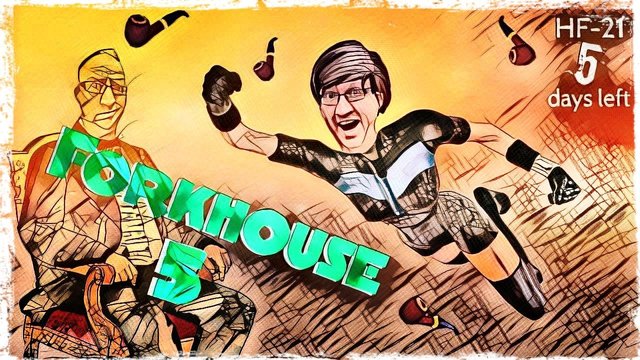 With Hardfork 21 now mere days away, our feeds will be littered with nonsense from people telling us how it is going to be when it hits. It would be churlish of me not to join in.
Join me in the third part of my most meta series yet...

I think this Hardfork will be a good thing.
The figure across from me said thoughtfully.
He looked a cruel yet commandingly handsome fellow despite having a face like leathery old vaginas glued together.
You think? There are some that say it spells doom for us all?
I ventured nervously.
It seemed wrong to contradict him. He did not seem the sort to brook any nonsense.

He didn't seem offended, instead he uttered a gravelly chuckle whilst reaching into a pocket and producing a long and peculiar looking pipe.
Doom, no? I see only opportunity. Take the SPS, I already have my proposals drafted. This is precisely what the platform has been needing for a long time.
He stuffed his pipe with a malignant looking tobacco.
I don't know that much about the SPS. Just that it takes 10% from the inflation.
I admitted nervously.
The fellow raised his pipe and nodded as he lit it.
Will, one mustn't dwell on the particulars.

He chuckled and took a deep draw on his pipe. The stench from the tobacco was eye-watering.
The gentleman noticed me blinking and coughing.
You like my baccy? It's a fine thing, one of my friends bought it back from the Americas. Reminds me of cinnamon and rot.
He laughed out loud and reached over to a small side table, pouring himself a large glass of Whisky.
A thought struck me.
Didn't you die?
I blurted out.

The gentleman drank his whisky in one long gulp then poured another before fixing me with a cold and steely gaze.
I am quite the hard man to kill.
He took another puff of his outlandish tobacco.
There was silence for a moment. I searched for something more to ask.
What about the change to the rewards curve, doesn't that disadvantage the smaller accounts that don't earn much?
Well, it doesn't do to let the peons get a leg up now, does it? You worry too much, relax. It will all be fine.
The gentleman chortled as if someone had told him a joke about a dark snarler and a shaved hamster.
So, you think it will be alright then?
I asked trying not to sound too desperate.
The gentleman took a puff of his pipe and let the smoke trickle slowly out of his mouth as he gazed upward.
He snorted and snapped his gaze back to me, a wry grin on his face.
Well for me it most certainly will be.
He levered himself out of his chair with an unexpected grace and took a step toward me, his grin widening.
But for you? Well...