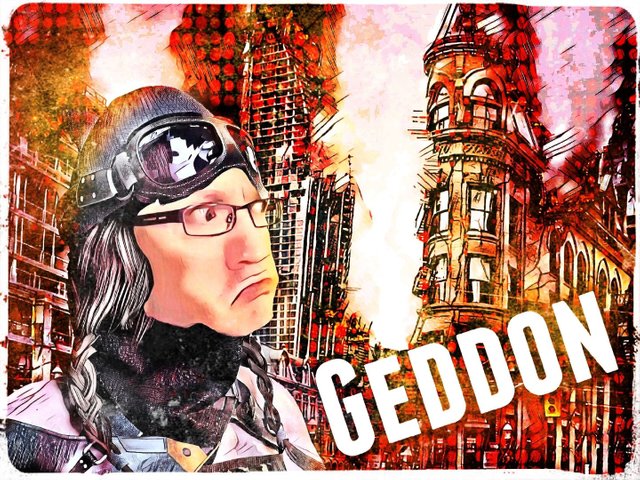 GIVE ME THE STICK!!!!
Screamed the Little Lady affectionately at her brother.
MINE!!
He screamed back.
The Good Lady, like a seventies hippy, attempted to intervene with slow flapping hands like a fat heron attempting to fly.
Guys, guys. Let's all calm down and consider each other's feelings?
Ignoring her, the Little Lady narrowed her eyes and started tugging at the stick in the Little Boom's hands.
MINE!!
She somehow shouted through gritted teeth.
NOO... MIIIIIINE!
Yelped the Little Boom in response, tugging and hauling at the stick like a beaver trying to sabotage a rival's dam.
The stick. which was actually an ornate twig with snow for the bottom of the Christmas Tree came loose from the Little Boom's hands and he wailed in anguish even as the Little Lady careened backwards into the half decorated Christmas Tree.
OOOOOWOWWWWWWW!!!!
Screamed the Little Lady as a cascade of little hangy things tumbled from the branches onto her head.
The Little Boom, seizing the moment, leapt forward and stamped the side of her head victoriously.
OOOOOWOWOOOWOWOOOOOOOO!!!! MUMMY!!!!
More stuff fell from the tree and the Good Lady frantically grabbed the Little Boom to stop him stamping his big sister's head into a pancake.
No... No! We do not hit. Do you understand, little man? I will not let you hit your Sister!
The hippy facade dropped from the Good Lady as she attempted to wrestle the thrashing, now screaming Octopus of a toddler away from his sister. She, in turn, was now wailing and sobbing desolately.
Daddy-Bear... A little help over here would be appreciated?!
The Good Lady grunted as the Little Boom attempted to both swing out of her arms and lob a boot in the direction of his prone sister.
To top it off, the Christmas tree which had been swaying back and forth decided to fall with a thatchy qumpch on top of the little Lady who screamed even louder than before.
It's on my HEAD!!!
She yelped, trying to drag herself back out from under it.
DADDY, SOME HELP PLEASE?!
The Good Lady Barked.
I looked up from my slumped position on the couch and chuckled.
Oh, I think you have it all in hand. No need for me to run in.
I said, trying not to giggle at the bedlam of screams and torment.
The Good Lady whipped the Little Boom round and in a masterfully ninja-esque moment pulled one of her norks out and stuck it in his mouth almost at the same time. He instantly quit thrashing and stilled.
The Little Lady pulled herself out from under the tree and glared at us all.
I'm going to my room!
She stormed out.
All was silent.
I let out an accidental burp followed by a giggle. The Good Lady peered over at me quizzically.
What is that you are drinking anyway?
It's the mulled wine. Remember, I asked you if you wanted some and you said after the tree was up.
I said cheerily, attempting to keep both eyelids open at the same time.
It smells quite strong. I can smell it from here?
She sniffed at the air like an awful demonic dog scenting the blood of a hoomy-wuman.
Brandy. I always put brandy in my mulled wine. Itsh the secret sauce. Ho ho ho.
I shoogled my head back and forth merrily.
Oh my god. You're drunk and it's not even three!?!
The Good Lady stared at me in disbelief.
I would like to disagree with your fine assessment, my lovely lovely wuvvly wife. But. I fear, on this occasion, you may be correct.
The Good Lady sighed hugely and rolled her eyes to the ceiling.
I started singing snippets of random Christmas songs.
This was fun. I love Christmas!