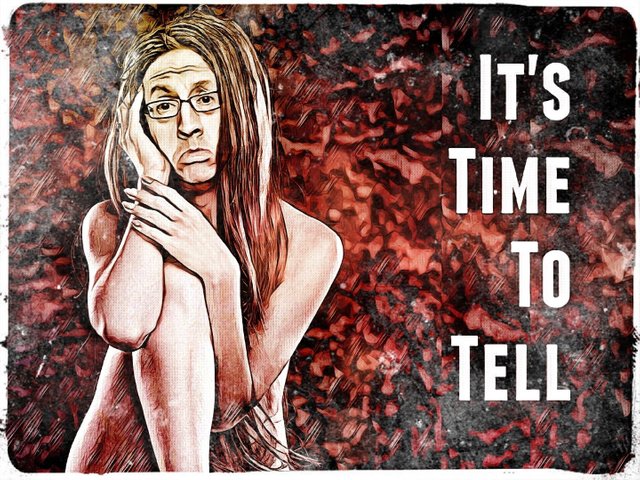 This is going to be hard.
I sighed to myself in the bathroom mirror. I had been bottling it up too long. It was time the Good Lady knew the truth.
The real truth.
We had been together a long time, she and I.
No secrets we had always said. Relationships are hard enough without secrets burning a hole through them.
Slowly, I made my way downstairs. It would be a lie to say that my heart wasn't heavy with the task that now lay ahead.

But she had to know the truth. She deserved to know.
It was a dark and troubling secret and it had burdened me for too long now. It would be a relief to be free of it.
I wondered what she would think. She could be a fiery one. What if she tried to fight me? Would I have to put her down like a dog?
These thoughts and more plagued me as I went down the stairs to the lounge.
On entering, I could see that the Good Lady knew something was amiss.
Daddy-Bear, you ok? You look weird?
She said, beginning to rise from her seat.

I motioned her to remain seated and flumped down across from her.
Listen, lass. We have to talk.
I said heavily.
Oh God, what is it? Is it serious??!
The Good Lady looked panicked as if I were about to impart something terrible. Something that perhaps might change everything. Perhaps she saw our little family, torn apart and her living in a cardboard box with a flea-bitten dog called Simon.
Oh well. Here goes.
Baby-cheeks, I'm sorry, there is no easy way to say this. You know that cheaper toilet paper you bought that you think is amazing and saving us a fortune? It's not amazing. In fact, it's shit. I hate it.
The Good Lady made to speak but I silenced her with an upraised hand.
I know. I know. This is upsetting for you.
I stood and took a step toward her and clasped her hand.
I know it. But my fingers keep poking through it. It's a nightmare. On every toilet visit I end up with choc-fudge-fingers. It's no way for a man like me to live?!
I gesticulated toward the unseen toilet Gods in the sky.
I want to go back to the way it was before?!
I cried in anguish.
Can we?
I half asked, half begged.
Alright, Daddy-Bear. Don't get your knickers in a twist. We will go back to the more expensive good stuff. I didn't like the new stuff much either.
She looked at me and smiled.
I smiled too. Maybe just maybe, we could get through this.