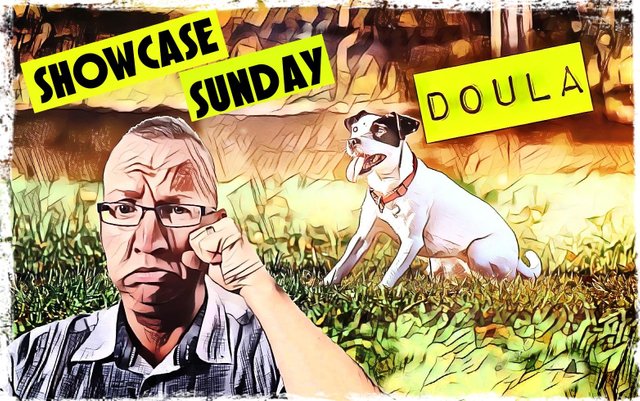 Showcase Sunday: I admit, I was just a regular Joe before having kids. The world seemed simpler, easier to understand. I had no idea of the kinds of horror and stramashery that lay ahead.
Today, I am resurrecting a post that marked the beginning of what can only be described as a strange and eye opening chapter in my life. No, not Parenthood itself but the mysterious and witchy world of... the Doula.
Let's go back two years...
---
Doula. Is it wrong that I have never heard of a doula before?
Have you?
My good lady had what can only be described as an awful first birth. See - The Bloody Octopus.
Today she approached me somewhat tentatively. A voice in my head instantly screamed raise shields cap'n!! When my good lady looks nervous, I get nervous. I gritted my teeth and smiled a madman's smile.

What was it? Granted the grass out the back was getting a little long but I could still see my cats tails when they went prowling so it couldn't be that.
Had I left the toilet seat up again? When will I ever learn?!
Or had she found all the bookmarked guitar sites on my chromebook and realised that I spent wistful hours late into the night perusing the soft golden curves of many a Gibson guitar?
It's about the birth. It was quite a traumatic time for me and I felt the hospital staff didn't listen.
I nodded and tilted my head reassuringly to the side the way dogs do when puzzled. She seemed to gain confidence from this and continued.
If we can afford it, I would like to get a Doula to help with it all?
She looked at me expectantly.

My thoughts raced. A Doula? I hadn't heard of the breed specifically but flipping heck, how could I say no! I have always wanted a dog. It sounded like one of those short haired Albanian breeds. Maybe it was those ones with the shiny grey fur?
Of course darling, it doesn't matter how much it costs! What matters is what helps you!
I gathered her close and gave her a big squeezy hug.
So, if it makes you feel better we can definitely get one.
I couldn't stop grinning. I wondered if we could get a puppy Doula. Aren't puppies just the cutest! And this coming from me, a cat man!
I did a bit of phoning around, there is one coming round to talk to us in an hour.
Hang on, dogs don't talk.


I ran upstairs under the pretense of needing the toilet. Before you could say spring-heeled jack I was on google.
What is a doola.

Oh. It wasn't a dog.
It appeared to be a woman wise in the ways of birthing. And I had spelled it wrongly.
I traipsed downstairs sheepishly.
The good lady looked at me, her head tilted reassuringly to one side the way dogs do when they are puzzled.
Did you google it?
Yes. It's not a dog.
Aw poor baby. No. It's not a dog.
She gathered me close and gave me a big squeezy hug.