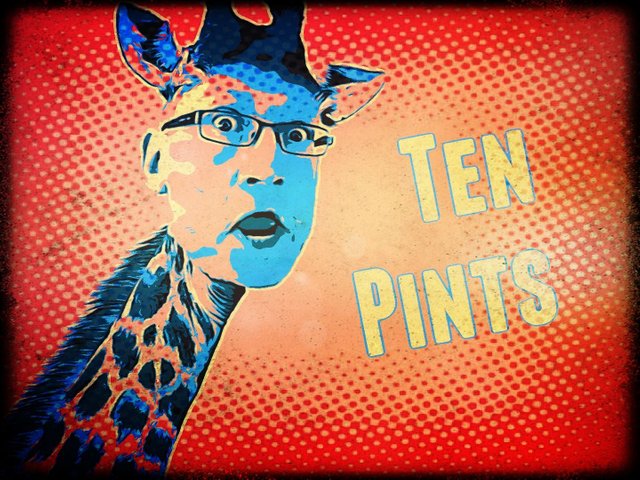 Ten pints. Ten pints or you're a fanny.
Exclaimed Fenton-The-Cat-Smuggler.
I beg your pardon?
I replied primly as if I were a school teacher who had just picked up a handkerchief smelling of hot fish yoghurt from the floor of her son's bedroom.
Fenton-The-Cat-Smuggler looked at me witheringly.
Ten pints, man. Anything less and you are a fucking LOSER!
He high-fived Gonk, an unfortunately-haired Java developer to his side.
Amarite!
He yodeled victoriously, puffing his chest out as if it was time to get the top off and start rubbing vaseline into his nipples with his male compadres.
Ten pints!
Chortled Gonk his head wobbling back and forth as if his spine were severed.

So are you in, BoomDawg. Can you take it? Are you man enough?
Fenton-The-Cat-Smuggler faced me challengingly like he were a bull and I were a greased mitten tied to a post.
Am I man enough? For what, ten pints?
I asked raising an eyebrow.
Aye, ten pints. On the night out. The challenge is on! This is how the men DO IT!
Fenton-The-Cat-Smuggler roared and slapped Gonk on his side shoulder almost causing him to ejaculate with the manly Broham-ness of it all.
You are both going to drink ten pints on the night out?
I asked looking puzzled.
Aye, at least!
Gonk decided to chip in.
So, come on then. Are you man enough. Are you going to be a ten pinter?
Fenton-The-Cat-Smuggler looked around him, shaking his head as if he already knew the answer and that answer was going to be no.

I don't know guys. I mean think of the state of you at the end up, your knees all chapped and sore, eyes all bloodshot, hair all matted with jizzum..?
I sighed.
I just don't feel that kind of behaviour is my bag.
I finished, nodding regretfully at my lack of mannity.
Fenton-The-Cat-Smuggler threw his head back and made to roar victoriously at calling the good ship BoomDawg out.
Then he snapped his gaze back to me, eyebrows furrowed.
Hey, what do you mean, __'hair all matted with fucking jizzum!?!'
He barked.
You know, if you suck off that many dudes, you are probably gonna get some spillage. You'll end up all matted and caked in it. Ten pints is a lot. In fact, I don't think it's possible to suck that many guys off unless you hit lucky with some half pinters?
I shrugged.
Gonk's eyes widened with horror and he started making gagging noises. Fenton-The-Cat-Smuggler staggered back as if the first half-pinter had just let loose a load at him.
I don't mean spunk, you cheeky BASTARD!? BEER! WE MEAN BEER!? Ten pints of BEER!??
His face contorted with indignation like a moustachioed lady-juggler.
Oh, you mean beer?
I winked and started walking away, calling merrily over my shoulder.
Lol. Yeah, of course you do...