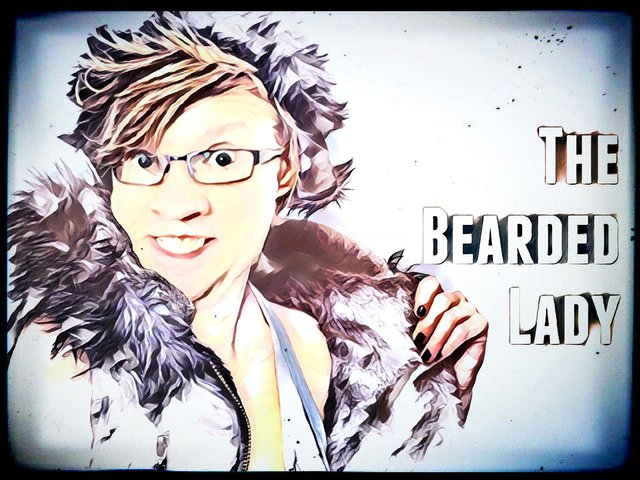 Oh, look at me, I'm a lady!!
The Bear-Man sashayed out from behind his counter and ran his hands up and down his sides in a strange and terrifying attempt to look... seductive?
I had just arrived at his beer shop and was soaking wet and not in a good way. Outside, the storm battered at the doors as if it wanted to give me another good hosing.

What the fuck are you doing?
I asked bemusedly.
The Bear-Man was now moving toward me wiggling his hips as if he was channeling his inner Shakira.
It wasn't the best look for a sixteen stone, bearded man.
He continued to shimmy towards me and I began to feel a mounting sense of horror.
What if... all this time... I had thought that the Bear-Man had wanted to puggle me up the chocolate macaroon but in fact he didn't...
What if he actually wanted me to get out the pork baton and get all Hong Kong cop on him?

Oh noes. This was an affront to my sensibilities.
Time slowed to a crawl as thoughts bounced rapid-fire through my head.
The Bear-Man stopped in in front of me, one hand on a hip and the other held to the side like an obscene hairy teapot.
I bit my lip.
I would have to kill him. It would be a kindness really.
I wondered if it would be possible to skin him and attempt to wear him for a week or two whilst trying to transfer ownership of his shop to myself?
Them I remembered he had a wife.
Damn, doing the hoky-poky with a strange lady whilst wearing the bearded skin of her murdered husband might be a hard one to pull off.
I nodded grimly to myself.
Who says life's easy?
I raised an iron hand for the killing blow.
Whatcha think then?
The Bear-Man produced a can as if from nowhere and brandished it at me.
Bearded Lady it announced proudly on the front.
Get it?
TheBear-Man did a little dance again
Oooo, look at me. I'm a lady!
He grinned.
So it was a joky reference to a can of beer?
I lowered the iron hand and took the can from him.
It looks like he gets to live... for now.