I was met with this as I got off the bus at work this morning but these early starts on the homeland are hard to get used to.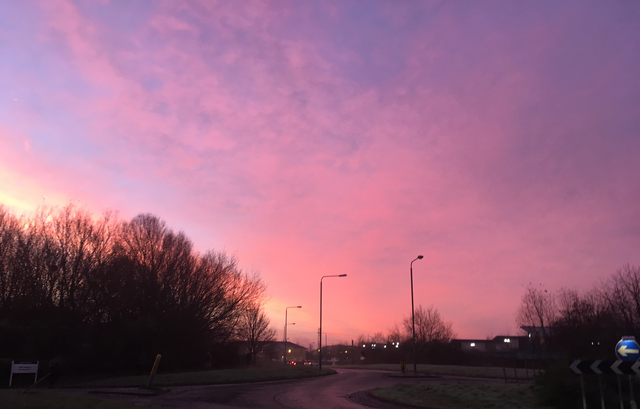 The time was approximately 7:45am, a good hour and a half after my alarm went off, leaving me enough time to eat, shower, and get the bus which is about a 25 minute ride to the business park.
This is my first winter in the UK since 2014/15 and even though the sun rises a few minutes later 1500 km away (mostly due south) in Valencia (similar longitute to Mallorca), take a look at the sunset times. Almost 2 extra hours of daylight, meaning for those that are up at the crack of dawn get a good hour or so of good light when they leave the office after the day shift.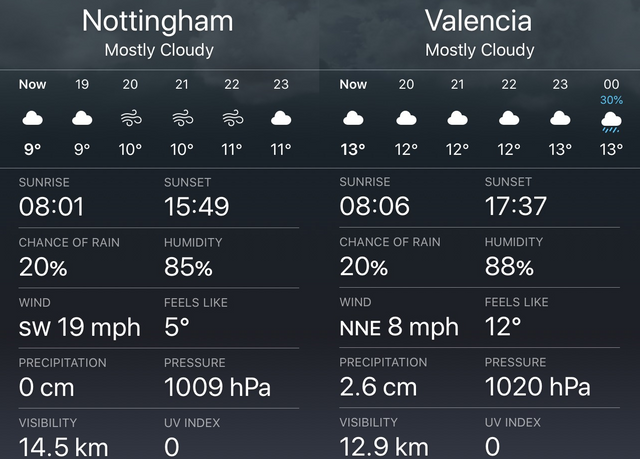 As well as that, I've had the luxury of not needing to be up at an particular time for a few years, and being able to 'work' at any time. This set schedule is leaving me nodding off on the settee after my evening meal, which is the only time of the day i have to myself to do things like chores, and Steem. I've already had a short nap with the laptop on my knee, but have forced myself to write a little today if only to detail my excuses for doing so little over the past couple of weeks.
The new job, apart from the early get-up, is already looking far more interesting than the last and there looks to be plenty of areas I can focus on to have an impact and feel useful. There do seem to be a lot of chiefs, or 'principles', 'directors', and 'managers', and I think the reason for this is that the company have in the past (and continue) to buy out small businesses, taking on the lead staff. I can see this being an issue as the company grows, but I'll wait a little longer before starting to push the 'too many chiefs, not enough Indians' line.
My boss, who I did think at the interview was a lot of talk and not much walk, is actually pretty sound and has a decent level of tech knowledge. He also took the team out for Go Karting, food, and drinks on Tuesday night and paid for the lot, which was a nice introduction for me. He asked how I was finding 'it' so far, and I replied something like 'less that two weeks in and Go Karting and free beer, pretty good thanks!'. The main work Christmas Do is a week tomorrow as well and that's laid-on by the company, and we also paid a little earlier in December so overall, I think I joined at a good time.
I'm sure there is plenty of work ahead but I'm much happier and see myself being of far more use for this place than the last. I think, as was the case at The University not long after the IT was centralized, there will be a fair amount of business analysis involved in the work as there are none of these at the company yet. Knowing what the business are looking for, and being able to document this and then buy/tweak/develop a suitable product is an important role, and perhaps I could make it my own as long as I don't get bogged down with support tasks.
---
It's been almost a month since I moved into the new flat and so far I've not had a single visitor. In fact, none of my friends know exactly where it is (might be the reason!) but that will change at the weekend when my daughter comes into town for the afternoon. Last week, a Steemian told me that I must buy at least some sort of Christmas decorations, and her visit could well be the motivation I need to do that - I don't want her to think I'm a lonely Scrooge, even though it's sort of the case this year. At least I'll see her over the Christmas period, the biggest bonus for returning to England, and if the company keep their word, she'll get something nice. On Sunday I'll be going to watch her swim again, and I'm hoping she's fully fit and wins a few races.
Apologies again for the lack of interaction on your posts, @misterengagement won't be happy. Hopefully this will change following the new year when the light returns.
Cheers
Asher