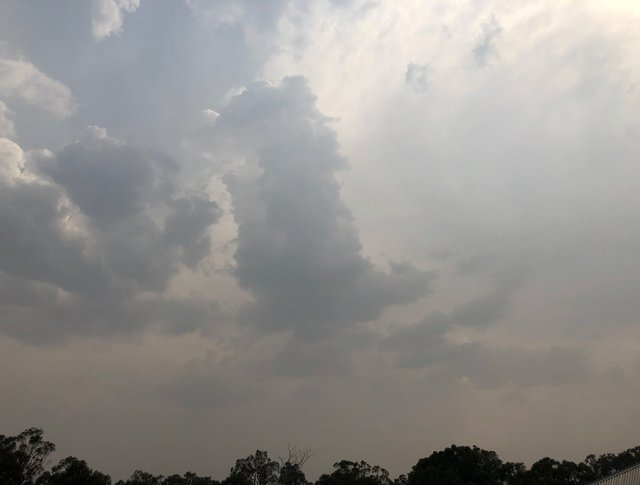 Here is my entry for this week's Love the Clouds contest, hosted by @tobetada.
As you can see, it's rather hazy. It's been a little difficult lately to get a nice shot of clouds, as we are getting a lot of smoke settling across the area all the way from the catastrophic bushfires in the north of New South Wales.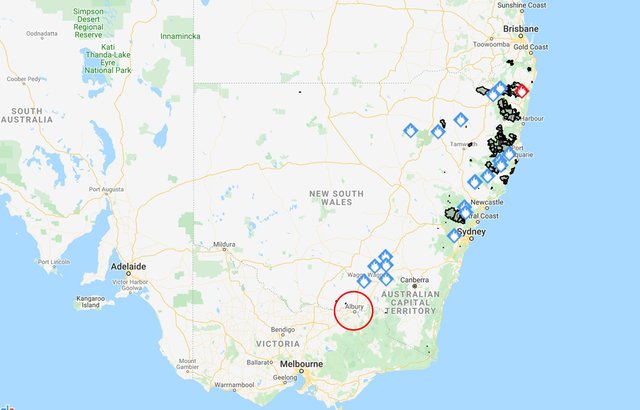 To give you an idea of distance, it is about 550km driving distance from where we live in Albury (circled in red on the first fire map), to Sydney. So while we have some very small spot fires here and there around our area, this smoke haze has travelled across the state to reach us. Imagine how bad it is up there!
To give you another idea of size, of how big Australia is compared to Europe, see this photo:

Source
The latest update from the NSW Rural Fire Service reads, "At 9am there are 67 bush and grass fires, with 25 yet to be contained (in NSW alone). Over 1,300 firefighters are in the field today ... Winds are forecast to strengthen tomorrow which will prove challenging for firefighters."
It is not even summer yet. We are still in November. Summer begins for us next month, in December.
Some scary facts:
Some 1.6 million hectares of land have been lost - more land loss than the entire 1993/1994 season combined. You may have heard of the fires in the Amazon this year—that was 960,000 hectares burned.
Firefighters are battling a fire front of some 6000 kilometers, the equivalent distance of a return Sydney-Perth trip
More than 420 homes have been destroyed in the past fortnight alone.
More than 530 homes have been destroyed in total and six people have died so far in the most widespread bushfire season in a quarter-century in New South Wales.
Source
Click here to view images of the bush fires here in NSW, Australia.
---

---
You can support me using Steem Basic Income